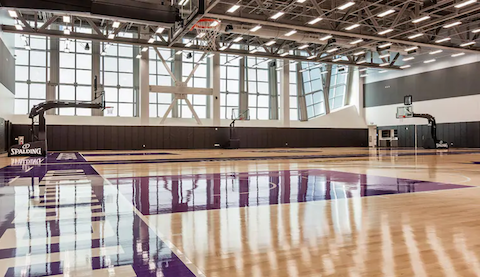 Welcome to Around the Realm, where we look at the top news stories from around the league. If I missed any notable stories, feel free to discuss in the comments!
The Nets have quite the coaching staff
Mike D'Antoni and Ime Udoka have joined Steve Nash's coaching staff with the Brooklyn Nets, according to ESPN's Adrian Wojnarowski.
Udoka spent seven years on Gregg Popovich's staff in San Antonio, and has interviewed for several head coaching jobs. He spent last season with Philadelphia. Jacque Vaughn is the Nets top assistant coach. Nash has built a strong staff for his first season as head coach. https://t.co/apfndGdlnM

— Adrian Wojnarowski (@wojespn) October 30, 2020
Nash was hired with the expectation that he could relate to Kevin Durant and Kyrie Irving and manage the egos of the roster. The Nets have done a nice job hiring a support staff around him to cover the day-to-day coaching responsibilities that Nash will still need to learn.
For bonus fun, check out the replies to my tweet observing the fact that Nash, with no coaching experience, has a staff full of people qualified to be a head coach.
Steve Nash has three assistants that are all better qualified to be head coach of that team lol https://t.co/6hQkL5Vwvz

— Gregie McCormick (@gwiss) October 30, 2020
It seems Nets fans are very sensitive to any perceived criticism.
(I actually think the Nets will be very good this season)
Negotiations continue
The New York Times' Marc Stein reports the latest volley in the negotiations between the players and owners regarding when to start the new season. The owners are essentially saying "Sure you can start later, but we can't end later, so you'll play fewer games and make less money."
NBA players may only be offered a 50-game season, I'm told, if the union insists on a mid-January start rather than the Dec. 22 proposal, because the league's television partners do not want the 2020-21 season to stray past mid-July ... or clash with the Tokyo Olympics

— Marc Stein (@TheSteinLine) October 30, 2020
A 50-game season would reduce player salaries significantly in 2020-21, since NBA pay adheres to a regular-season schedule

The NBA's 72-game model calls for teams to play roughly 14 games a month through May, followed by the playoffs through mid-July -- before the Olympics begin

— Marc Stein (@TheSteinLine) October 30, 2020
The Pacers' Malcolm Brogdon, who is on the union's executive committee, told @Rachel__Nichols yesterday he expects today's deadline on talks to be extended for the fourth time this year.

But a resolution in the standoff is expected by next week with all sides antsy for clarity.

— Marc Stein (@TheSteinLine) October 30, 2020
My guess is that the players end up blinking on this. The owners have positioned it so that beginning December 22nd is the only option where players get their normal pay. If an agreement isn't reached and the CBA is ended, we're likely looking at a lockout and that would benefit nobody.
Practice facilities are open
The NBA announced that practice facilities can open for group workouts, with limitations.
The NBA has informed its 30 teams that they are now allowed to open practice facilities for group practices, workouts and scrimmages with up to 10 players, sources tell @TheAthleticNBA @Stadium.

— Shams Charania (@ShamsCharania) October 30, 2020
NBA players must be tested every day for the coronavirus and return a negative test each time to be allowed to participate in offseason workouts at team facilities, according to a memo shared with teams today.

— Adrian Wojnarowski (@wojespn) October 30, 2020
We've seen that quite a few Kings players are still in Sacramento and practicing, but not in group workouts.