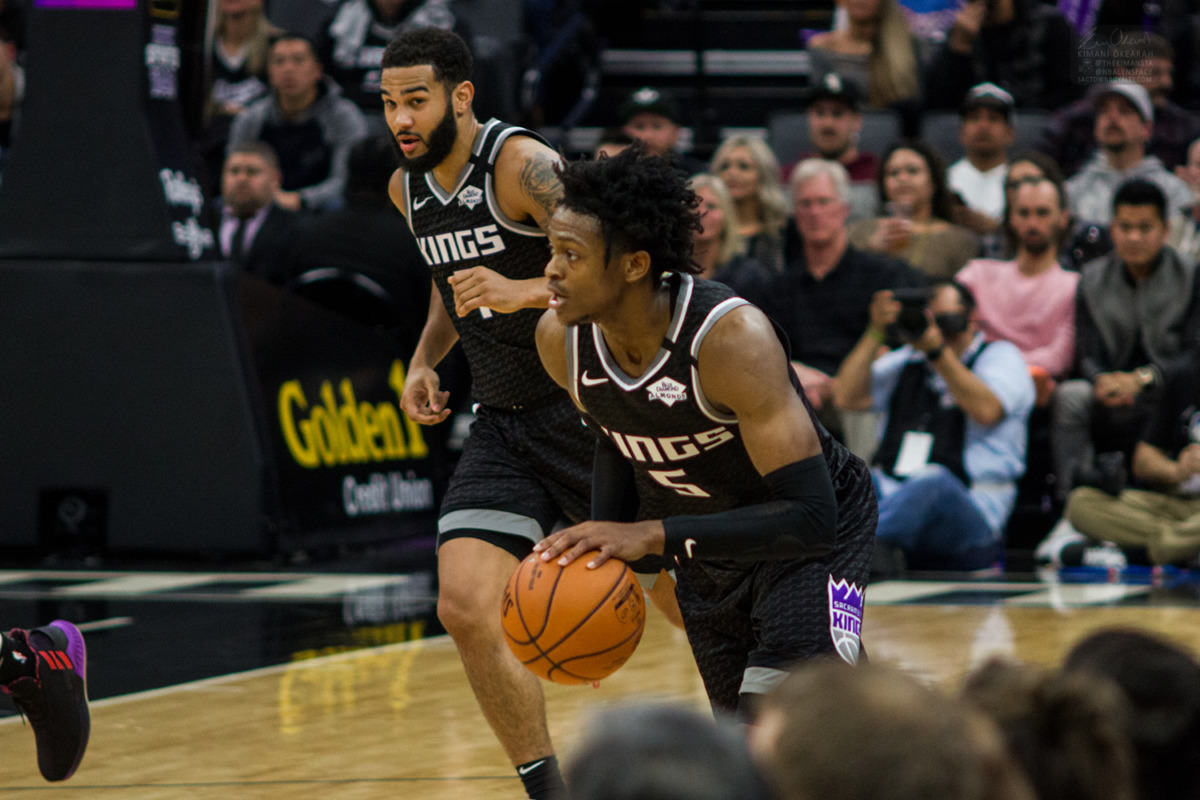 The Sacramento Kings are only one season removed from Cory Joseph's lucrative $37 million contract and only one unequivocal conclusion remains: Sacramento needs a new backup point guard.
The notion of signing a backup guard for $37 million definitely needs additional context. De'Aaron Fox is the centerpiece of this roster, so committing a significant sum of money to his backup forces you to analyze the move more critically. Why would the Kings splash such cash for a backup?
When Joseph initially put pen to paper last summer, I felt optimistic that his defensive identity and intensity would diversify the backcourt. The Kings typically don't house solid-to-elite defenders, so when a player of Joseph's caliber booked his flight to Sacramento, how could I not be intrigued? Based on Joseph's previous seasons, he established himself as a premier perimeter defender. The potential influence that Joseph could've bestowed upon Fox would have seen Fox's defensive development reach new heights.
Fast forward to the conclusion of another disappointing season, Joseph's name makes an appearance on the list of discouraging outcomes from the once-promising campaign. Though Joseph wasn't culpable for all the stains this season caused, he owned a sizeable slice of the mishaps.
Joseph didn't envision a starting role when he signed his contract, but Fox's early season ankle injury pushed him into that spotlight. The Kings signed Joseph to lift the defense but instead, he became tasked with a weighty portion of the responsibility to keep the team's head above water until Fox returned.
Predictably, Joseph's offensive limitations and substandard pairing with Buddy Hield resulted in an appalling on-court product. Joseph spent 74% of his 1705 minutes running the point, generating 108.3 points per possession which placed him in the 28th percentile, per Cleaning the Glass. Not only that, but the offense turned it over 15.2% of the time when Joseph ran the point, ranking in the 27th percentile, per Cleaning the Glass. The circumstances were far from favorable for the veteran, but evidently, he wasn't right for the roster.
Defensively, Joseph supplied a limited impact. When Joseph was on the floor, the Kings allowed 110.8 points per possession, ranking in the 53rd percentile, according to Cleaning the Glass. Just a season ago with Indiana, his involvement led to the Pacers placing in the 94th percentile with 105.1 points per possession allowed. Indiana certainly had better defenders, but Joseph's individual numbers declined from last year too.
Joseph's steals per game: 1.1 to 0.7
Defensive field goal percentage overall: -1.6% to -0.6%
Defensive field goal percentage on two pointers: -0.6% to 3.7%
Defensive box plus/minus: 1.7 to 0.1
Defensive win shares: 2.9 to 1.1
These numbers include the production, or lack thereof, when Fox returned as well. Joseph distinctly struggled, but the shallow depth behind him didn't help Sacramento either.
Yogi Ferrell, as fun as the name chant is, has seen his production steadily dwindle since his days at Dallas. Sure, his minutes have fallen too but it's not a shocking consequence when you analyze it. There's no need to lay all of Ferrell's numbers out as he'll be an unrestricted free agent this offseason, but the ones worth highlighting aren't satisfying.
Now seeing 10 minutes a game, which were often garbage time minutes, Ferrell scored 4.4 points a game on 42% shooting (3.8 attempts), 30.4% three-point shooting (1.6 attempts) and 1.4 assists.
Ferrell's gaping decline in effective field goal percentage stands out the most. Last season, Ferrell had an eFG% of 52.1 that placed him in the 68th percentile, per Cleaning the Glass. This season, Ferrell fell to the 16th percentile with an eFG% of 46.9. Yeah, pretty bad.
Supplying a sufficient backup behind Fox has become an issue since he was drafted. George Hill wasn't signed to be a backup right away, but he tumbled to that role anyway and we know how that dilemma unraveled. Last season saw Frank Mason feature in a more prominent role with Ferrell presenting competition, but Mason didn't look too promising either (naturally, Mason was this season's G-League MVP).
Kyle Guy turned in a fantastic rookie season with Stockton, but limited NBA minutes still leaves more questions than answers for the sharpshooting youngster.
So where do the Kings go from here?
We won't have an idea of this team's direction until a new general manager comes in. Until then, we can only assume Luke Walton will maintain head coaching duties and if last season wasn't transparent enough, not much will likely change. Joseph probably doesn't return to form and the same can be said about Buddy Hield and others.
On the bright side, Ken Catanella's contract magic allows Sacramento to trade Joseph a little easier, as the final year of Joseph's contract is partially guaranteed, so it's essentially an expiring deal. But that will be easier said than done.
Looking towards the draft
With the Kings slated to pick four times in this year's draft, there's a good chance that at least one point guard is selected.
The Kings could attempt to draft a point guard with the #12th pick as names like Cole Anthony and Tyrese Maxey jump to mind. But the big question with that is should the Kings really be picking a guard when the wing is a more pressing need? If a guy like Devin Vassell or Pat Williams is at 12, surely you pick them instead, right? Especially considering that drafting a point guard would mean them playing backup minutes to start, it may not be the best utilization of that pick (though if Maxey is available, he's worthy of extra consideration).
Holding three picks in the second round, the Kings would be better suited to take a point guard there. There should be a plethora of options to pick from with names like Malachi Flynn, Cassius Winston, Devon Dotson, Payton Pritchard and more available. I wouldn't be upset if the Kings utilized two of their second rounders on a point guard either.
Who's available in free agency?
Bear with me here. The available names in free agency aren't the best, but it also doesn't help that the Kings are massively struggling financially due to the ongoing pandemic. The financial troubles may seriously restrict who the Kings can target.
Veteran options:
Shabazz Napier, UFA: The 29-year-old veteran held ball-dominant roles during his time with Minnesota and Washington this season. Napier struggled with his shot in Minnesota, but bounced back in Washington with a 3P% of 35.8. Napier also averaged over 10 points per game in 24 minutes, so he could bring an offensive spark. He made $1.9 million this season, so he'll definitely make more now.
D.J. Augustin, UFA: Augustin has spent the last four years with Orlando, providing quality shooting in the 2017-18 and 18-19 seasons. This year was a slight down year for the 32 year old, but he looks to have one more good contract in him that may scare Sacramento off. Michael Carter-Williams will also be a free agent, so Orlando should be competing to retain Augustin's services.
Reggie Jackson, UFA: Jackson spent time with Detroit this season before signing with the Los Angeles Clippers later on and is still playing in the playoffs. The nine year veteran still brings good spot up shooting to the table, with an overall 3P% of 39.3 this season. The downside to signing Jackson is you won't get much effort defensively or someone who can make the right reads with the ball.
Younger options:
De'Anthony Melton, RFA: The second year player is one of the better names available at point guard. He's spent his two seasons playing for two different teams, but Memphis, an actual young team, holds the leverage of one of their younger assets. Melton finished this season averaging 7.6 points on 40.1% shooting and 28.6% from deep along with 3.7 rebounds, 2.9 assists and 1.3 steals. He fares better on catch-and-shoot triples (32.7%), but the 22 year old needs to enhance his playmaking skills to a new level.
Kris Dunn, RFA: The 26-year-old has four years of experience, but after a solid 2018-19 campaign, Dunn suffered from a down year. His minutes, (30.2 to 24.9), 3P% (35.4, 2.2 attempts to 25.9, 2.1 attempts) and assists (6.0 to 3.4) all decreased. A chunk of that falls on the shoulders of Jim Boylen, so I'm not positive if Dunn will bounce back under Luke Walton. Dunn would provide good perimeter defense as well, with a defensive field goal percentage of -1.5 on three pointers.
Jevon Carter, RFA: The 24-year-old Phoenix Sun hasn't experienced a breakout or "prove it" season yet, so that's something to consider for a more prominent role. But on a positive note, Carter's shooting percentages look very appealing on paper. He went from 30.3 FG% (4.7 attempts) and 33.3 3P% (2.6 attempts) in Memphis to 41.6 FG% (4.2 attempts) and 42.5 3P% (2.5 attempts) in Phoenix. Both are significant increases, but the attempts don't make it a significant difference. If Carter can be snagged for cheap, he could be a decent third stringer as he possesses defensive upside too.
I'll write deeper dives on each potential target as free agency approaches, but Sacramento's current backups won't cut it. If they can somehow get Joseph's contract off the books this season, it would be a major money-saving move that could allow the team to chase other players.