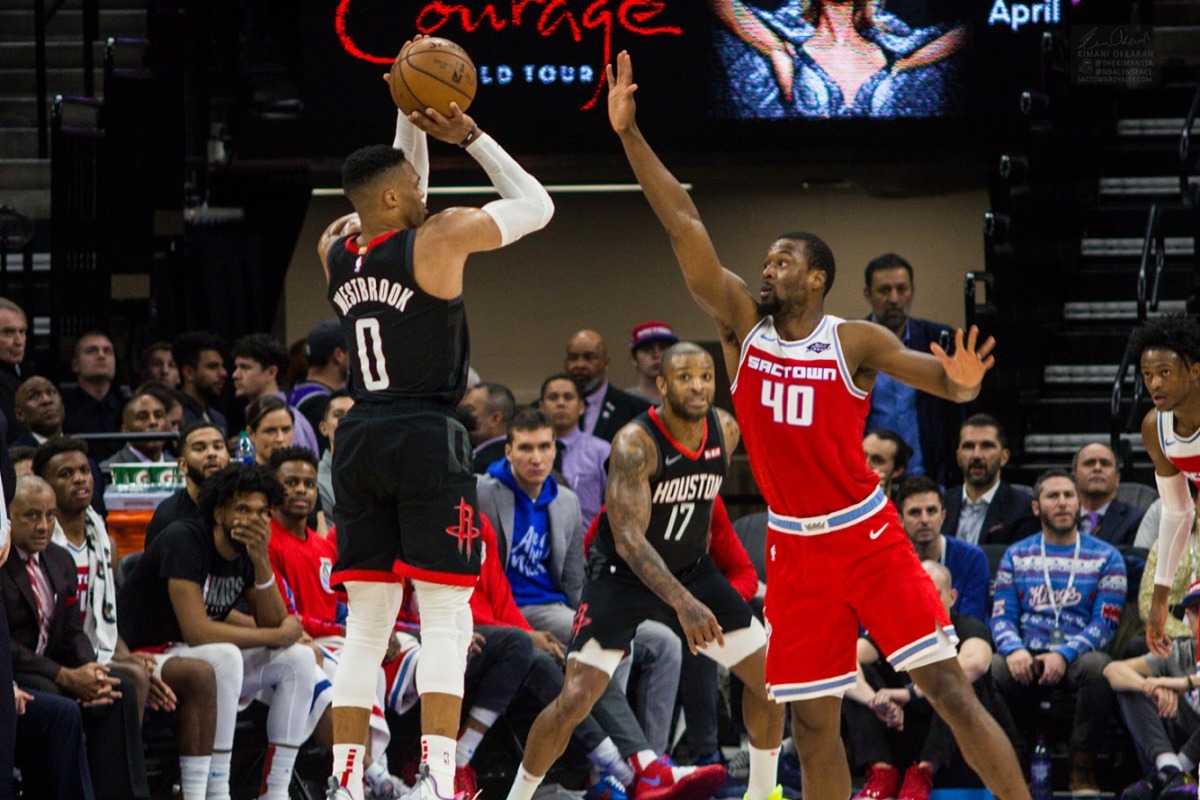 It's not every day that a 32-year old former MVP becomes available. Especially one that is still producing at a high, though inefficient, level. But that's where we're at with Russell Westbrook. After one season in Houston, Russ wants out.
Rockets' Russell Westbrook wants out of Houston, sources tell @TheAthleticNBA @Stadium.

— Shams Charania (@ShamsCharania) November 12, 2020
The Athletic followed that report with a lengthy exploration on the dysfunction in Houston. It goes far beyond Westbrook.
Before we get to the reasons why it doesn't make sense for the Kings to chase Westbrook, let's first look at what Westbrook still brings to the table. This past season Westbrook averaged 27.2 points per game, 6 points more than Kings leader De'Aaron Fox. He gets to the free throw line 6.7 times per game, tied with Kings leader De'Aaron Fox. He averaged 7 assists per game, slightly ahead of Fox and double that of any other Kings player. His 7.9 rebounds per game is behind Kings leader Richaun Holmes (8.1) but ahead of every other King. His 1.6 steals would lead the Kings as well.
There are many reasons not to trade for Westbrook, and we'll get into them, but make no mistake: Russell Westbrook would be the best player on the Sacramento Kings if they acquired him.
The first issue, and the biggest issue, is Westbrook's contract. Westbrook will earn $41 million this season, $44 million the next season, an has a player option for $47 million the year after that. Westbrook is a great player, but has an insane contract. Salary matching for the Kings would be easy. The Kings could send Cory Joseph plus either Harrison Barnes or Buddy Hield. Send two of the team's three worst deals and the math works. But that highlights just how much Russ makes.
The second issue is fit. Adding Russ would raise immediate questions of how he fits next to De'Aaron Fox. Westbrook is a high usage player who has the ball in his hands most of the time. He was less effective in Houston because he was sharing the ball with Harden, but it's hard to see Westbrook deferring to a younger, less accomplished player like Fox.
The other red flag is Westbrook's efficiency, or lack thereof. Russ shoots 25% from 3, but shoots from 3 as often as Harrison Barnes did last season. Russ shots 47% overall from the field, which would place him just below Fox but ahead of Barnes, Bogdan Bogdanovic, and Buddy Hield, so it isn't that he can't score well overall, it's just that Westbrook takes shots with no regard to how good those shots are. His efficiency at the rim gets offset by his inefficiencies elsewhere.
The final concern is team direction. What kind of team is Monte McNair building? Does adding Westbrook take the Kings towards long-term relevancy? Chasing an over-30 talent upgrade who doesn't pair well with Fox feels like a Vlade-esque move that views the 8th seed as a finish line instead of a first step.
To be clear, there's no indication at this time that the Kings are pursuing Westbrook. The closest connection is that McNair came from Houston, where Westbrook spent last year. That's it. The Kings front office has been quiet since taking over, so there's no reason to think the Kings will chase this.
However, McNair has talked about having flexibility to take a big swing when the opportunity presents itself. This would definitely qualify as a big swing. If it did happen, it could also mean a domino effect of other moves. I don't see that as likely, but this is the Kings. Stranger things have happened.