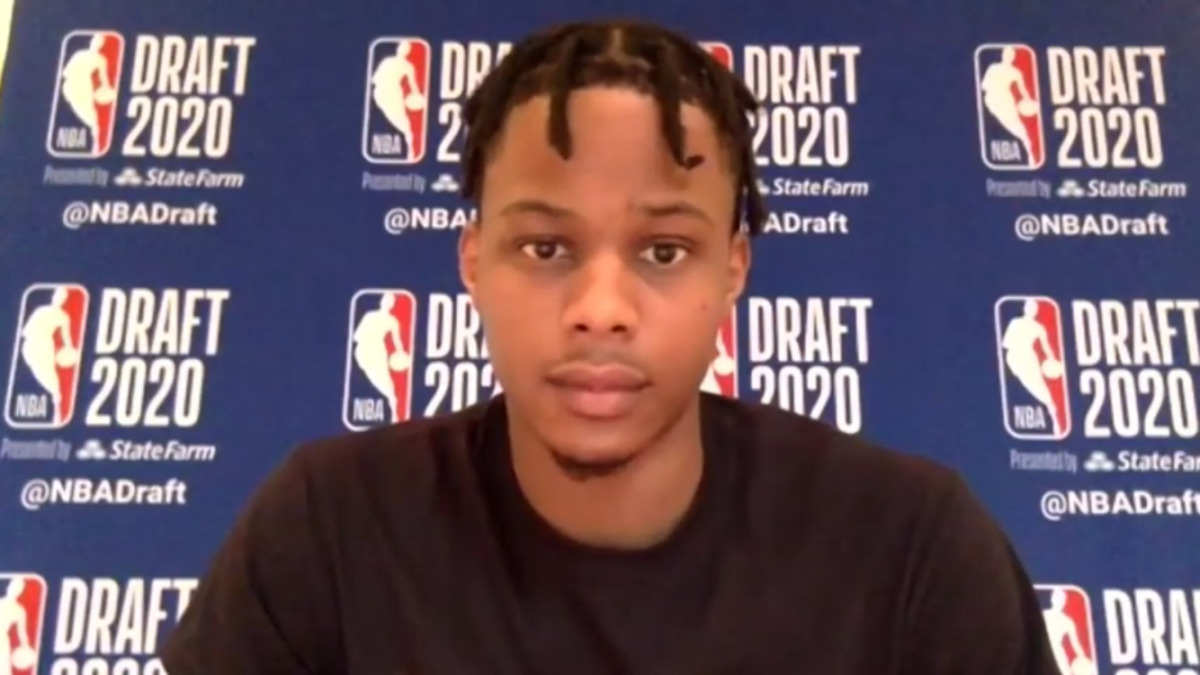 The unending, runaway freight train that has been the 2020 Draft is barreling towards the end of the tracks as we head into the last week before players all finally picked and I had the pleasure to sit in on the NBA Draft interviews and listen to just what everyone had to say about themselves, the longest wait ever for an NBA Draft and just what they think of the Sacramento Kings. Here's a lightly abridged version of players comments as they pertain to the Kings.
Aaron Nesmith (Vanderbilt)
Aaron was one of the few players that was interviewed this week that actually mentioned that he had a meeting scheduled with the Sacramento Kings coming up. The 6'6" 21 year old year old guard from Vanderbilt said that they hadn't spoken yet, but had something planned "later in the week". Neismith spoke for a moment on De'Aaron Fox mentioning that "In my opinion, [De'Aaron Fox is] probably the fastest person in the NBA right now..." and then also said he liked the fit with Fox in the backcourt: "If I'm on the wing, sprinting down the sideline, spotting up in the corner or wing for them open threes... it's an easy assist for him, easy money for me."
Saddiq Bey (Villanova)
Saddiq Bey was one of many during this process who stayed quiet on who he'd spoken with and who he had worked out for. Bey did have praise for the Kings, mentioning that it would be a blessing to play for the organization and then gave a preview of what Kings fans could expect if Sacramento did, in fact, draft him: "I always try and contribute on both ends of the floor at the highest level I can possibly be at" Bey also mentioned that he wanted to do what ever it would take to get the team a win "That's what matters: being the best we can be as a team".
Isaac Okoro (Auburn)
I'm big enough to admit that Isaac Okoro has made me nervous in the past. While he projects to be a good to great defender in the NBA, the comparisons I see to Stanley Johnson and others had me spooked. That being said, Okoro was impressive in his interview and it eased a lot of my concerns if he slipped in the draft and the Kings decided to pick him.
When asked about what separated him from others in the 2020 Draft class, Okoro spoke confidently about his drive for success: "What separates me from everybody else in this class is my will to win -- my willingness to do anything to help the team win, coming in and just playing my role and being a defensive player". Fans of Okoro know that his defense is good enough to come in and be successful right away, but when pressed on what he could contribute on the other end of the court, Okoro stated: "I feel like I can contribute on the offensive end by attacking the rim, drawing contact and getting to the free throw line, and also just driving and finding open teammates."
Okoro did not mention any contract with the Kings. He has spoken with the Chicago Bulls, Atlanta Hawks, New York Knicks, Phoenix Suns San Antonio Spurs and Washington Wizards and he's worked out for the Minnesota Timberwolves, Golden State Warriors and Cleveland Cavaliers.
Tyrese Haliburton (Iowa State)
Tyrese Haliburton is another one that has not spoken to or worked out for the Sacramento Kings, instead mentioning his workouts for T-Wolves, Warriors, Bulls and Pistons. The intriguing 6'5 guard is certainly in the Kings range though and while he said he didn't think he had other interviews or work outs scheduled, that could change. During his interview, Haliburton spoke on what separated him from other point guards in the draft: "Probably my IQ. Obsess with the game. Spend a lot of time watching film or studying the game. I think I'm the best shooter in this draft and have the highest bball IQ." Haliburton also spoke about his mentorship by former Wizards great, Gilbert Arenas. On the advice her recieved from Gilbert Arenas: "We talked about angles. He talked about how I can shoot the ball really well, but you just want to work on your angles and finding your spots to get to that. Don't make things more complex than they have to be."
R.J. Hampton (New Zealand Breakers - Oceania)
RJ Hampton, one of the biggest enigma's in the NBA Draft did mentioned that he'd spoke with the Sacramento Kings recently, however, there wasn't a workout that went along with it. I will say that while RJ is one of the guys that I lean more towards passing on that taking at the #12 spot, his interview was impressive. He gave long, thoughtful answers and expanded on topics that reporters asked. I can understand why his stock has risen in recent weeks. RJ specifically mention that he felt that due previously playing professional ball, he felt that he, along with LaMelo Ball, were the most NBA-ready players. When specifically talking about his fit in Sacramento, he mention that €œPlaying with the Kings and playing with De'Aaron, one of the fastest guys in the NBA and me bringing that speed and athleticism to the backcourt, I think that's a great opportunity.€ The 6'5 shoot guard has worked out for Pistons, Nets, Magic, Cavs, Wizards, Celtics and Nuggets.
These 2020 NBA Draft interviews run through Tuesday of next week and I should have plenty more of these player insights and Kings news as they become available!