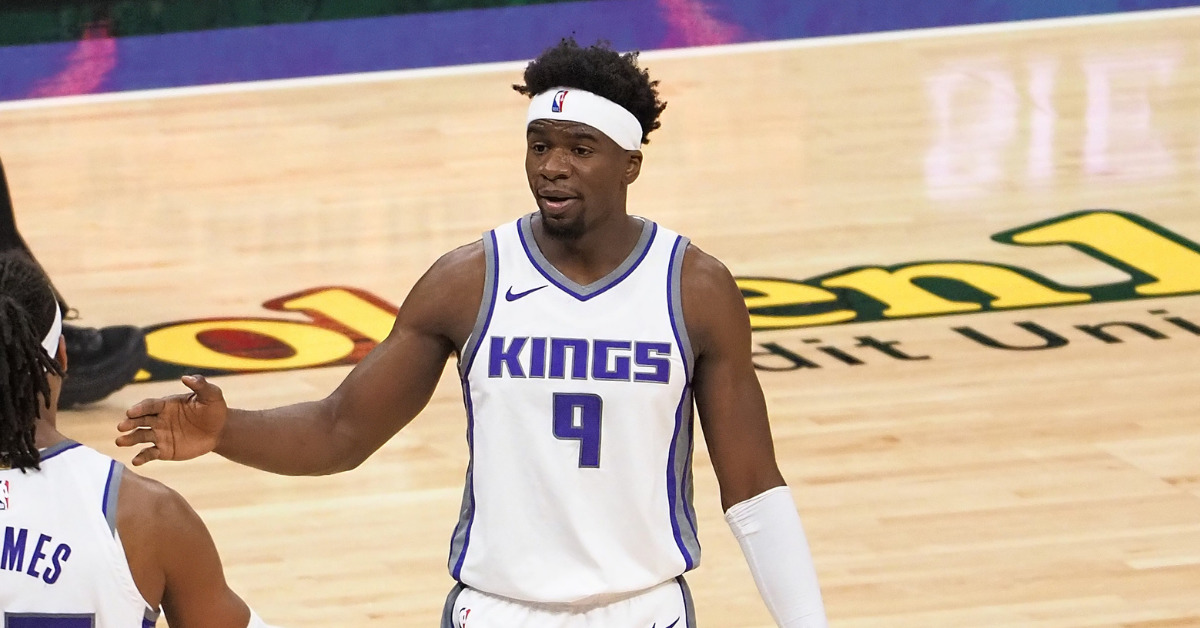 The Sacramento Kings acquired Terence Davis from the Toronto Raptors at the trade deadline for nothing more than a second round pick. In Sacramento, Davis averaged 11.1 points, 3.3 rebounds, 1.7 assists, and 1 steal per game. When Davis entered games he brought energy and hustle and excitement. For a 23-year-old shooting guard, for a player so instantly productive, a second round pick seems like a pittance. So why haven't we written a single article dedicated to Terence Davis in the time he's been with the Sacramento Kings?
Because it was no secret that Davis was a talented basketball player. The reason Monte McNair was able to acquire a young player with Davis' talent has nothing to do with his on court abilities and everything to do with his off court question marks.
In October of 2020, Davis was brought up on seven different charges related to domestic violence accusations. Davis allegedly slapped his girlfriend, broke her phone, and in the process of the scuffle allegedly knocked over her son.
In February Davis reached an agreement in which 5 of the seven charges were dropped, with the remaining two charges set to drop if Davis paid a fine and remained out of trouble for a year.
We obviously will never know the full truth of what happened between Davis and the alleged victim and her child. But these events cast a cloud over Davis.
Davis also faced scrutiny from the Raptors and the NBA for arriving to a game wearing a mask with a hole cut in it. Davis publicly questioned the legitimacy of Covid-19, which as of this writing has killed 592,000 Americans and 3.7 million people worldwide.
Terence Davis is a very talented basketball player. But there's a reason the Toronto Raptors were willing to give up on a talented young player for so little. I can't count the number of times this season I watched him play and thought "wow, I wish Davis didn't have so many off court reasons for me not to like him", because if it wasn't for those off court issues Davis would be a true fan favorite.  I know some fans won't care about domestic violence accusations, or will dismiss them as something that he was never convicted of, and I know some fans won't care if Davis took Covid seriously. But I and many others do.
Davis enters free agency this summer as a restricted free agent, assuming the Kings tender a $1.87 million qualifying offer. The Kings will likely tender that offer, allowing them the right to match any contract Davis is offered. That doesn't necessarily mean Davis will return to Sacramento, as the Kings could decline to match an offer, or they could end up rescinding the QO if they no longer wanted to retain Davis' rights. Extending the initial QO is likely a formality, regardless of Davis' off-court concerns.
For what it's worth, Davis stayed out of trouble and out of the spotlight in Sacramento. Perhaps he's reformed and learned lessons from his past mistakes. I have no idea.
I truly, truly wish I could simply gush over Davis' on-court production, because he was a very fun player to watch. Davis can score from all over the floor, has athletic finishes, seemed engaged on defense, and was a productive player in a variety of ways. But I could never bring myself to fully set aside those other issues, and they clouded any enjoyment I could have found from his play.
Normally I'd implore the front office to retain a talented young player in restricted free agency, but with Davis I will feel no sense of loss if the Kings choose not to match or retain him. If the Kings do keep Davis beyond this season, I'll continue to have reservations about rooting for him, but will be hoping that he's moved beyond the mistakes of his past.