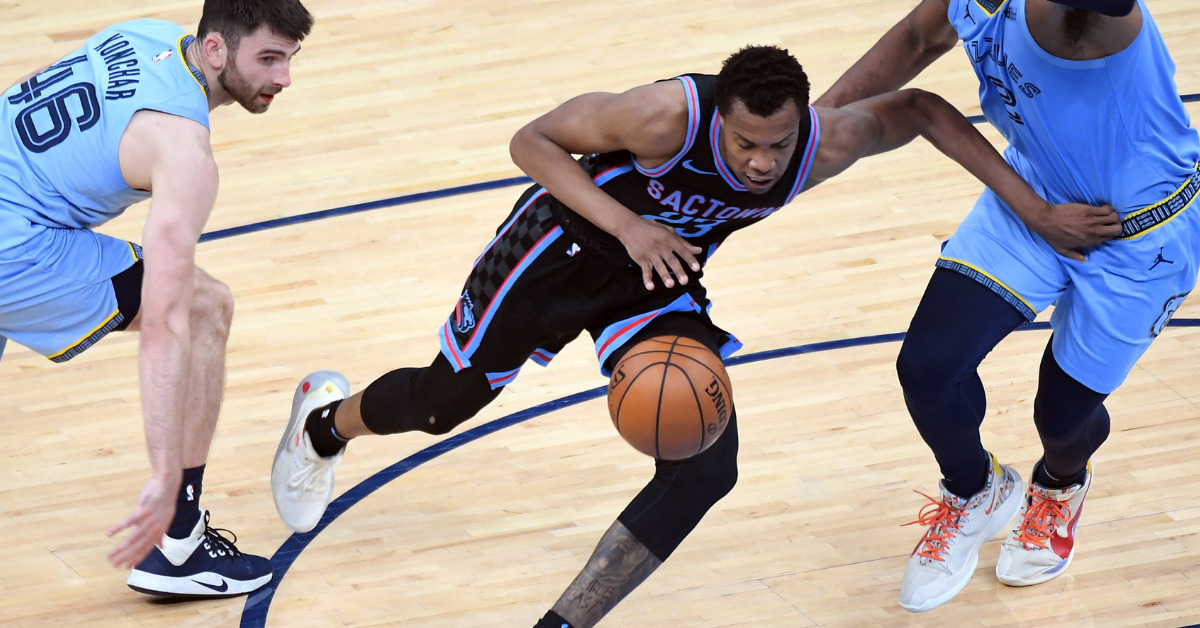 For our season review series, we're reviewing each player who ended the season with the Sacramento Kings. With a player like Louis King, that poses a particular challenge. King played just 6 for Sacramento, for a total of just 85 minutes on the court. In fact, if it wasn't for the final two games of the season, we likely could have ignored Louis King entirely in this exercise and it's unlikely anybody would have noticed.
In King's first four games with Sacramento, he totaled under 24 minutes of play, and averaged 1.3 points per game. These were uneventful minutes in garbage time.
In the final two games of the season King was given extended run and a chance to show what he could do. King's best game was in the next to last game of the year, against the Memphis Grizzlies. King finished with an eye-catching 27 points, 9 rebounds, 3 assists, 3 steals, and 2 blocks. In the final game of the season King had a less impressive but still notable 12 points, 3 rebounds, 3 assists, 3 steals, and 1 block.
So what do we take away from two good games when Sacramento had nothing left to play for?
We've seen bench players have big games at the end of the season. Whether it's been Skal Labissiere or Ike Diogu, Kings fans know that two games do not make a career. Louis King proved he's a talented basketball player in the same way that every NBA player is among the top 425-or-so basketball players in the world.
Louis King has likely earned himself a second look with the Kings, although it would probably come in the G League. King came to the Kings on a two-way contract, but according to Spotrac it was only a one-year agreement. King likely will not receive a qualifying offer, but could be offered another two-way contract by Sacramento. If King is inclined to accept, I would not be surprised to see the Kings bring him back to play with the Stockton Kings. In his introductory media session, new Stockton Kings coach Bobby Jackson indicated he expects to have King on the roster.
Louis King has shown glimpses of potential, but he still hasn't proven that he belongs in Sacramento's rotation. But he has certainly shown enough for Kings fans to hope he ends up in Stockton next year so the organization can get a better look at him.