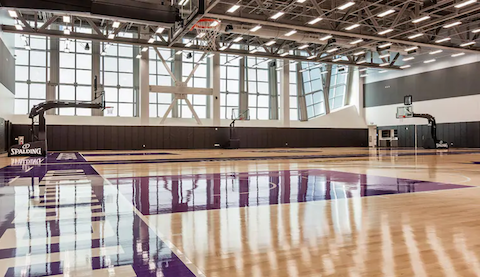 The Sacramento Kings are shutting down their practice facility after a member of the team's traveling party tested positive for coronavirus, according to a report from The Athletic's Sam Amick. The team is scheduled to fly to Orlando on Wednesday.
Source tells @TheAthletic the Kings have shut down their practice facility after receiving a positive coronavirus test within the team's traveling party on Sunday. The facility is not expected to reopen before the team departs for Orlando on Wednesday.

— Sam Amick (@sam_amick) July 6, 2020
The Kings become the latest team to shut down their facilities after a positive test. Earlier on Sunday the Milwaukee Bucks also shut down their facility.
The Denver Nuggets, Miami Heat, Brooklyn Nets, and Los Angeles Clippers have also been forced to shut down facilities.
This shutdown can be seen one of two ways. It can be seen as an ominous warning of dangers teams will face as they head to the so-called bubble in Orlando, or it could be seen as a sign that the testing procedures are working as intended and catching cases before they spread to the rest of the traveling party.
There's been no indication of who tested positive and it's unlikely we'll know unless that individual identifies themself publicly. Medical privacy laws and journalistic standards generally mean individuals will not be identified publicly unless they choose to identify themselves.