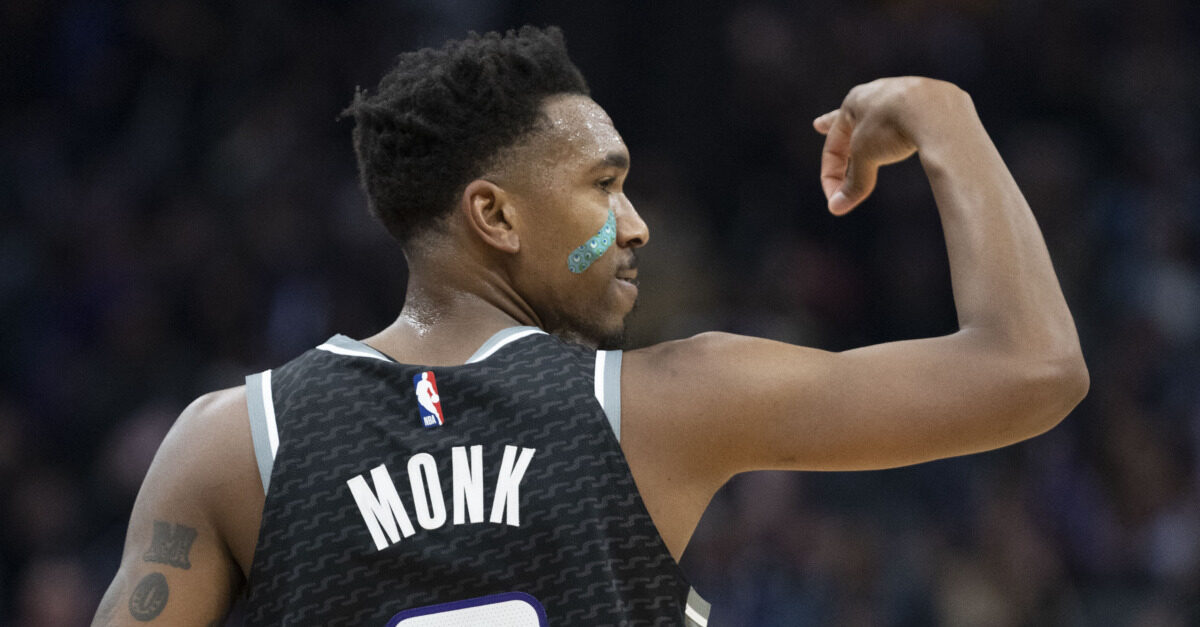 This Sacramento Kings team just feels different. They've now won eight of their last 10 games and five in a row to improve to an 8-6 record on the shoulders of their elite offense.
After winning a huge nationally televised game against the Brooklyn Nets on Tuesday, it would've been easy to overlook one of the worst teams in the Western Conference, the San Antonio Spurs. While the second and third quarters were a bit concerning at times, the Kings turned it on in the fourth and came away with a 130-112 victory on Thursday night.
Here are five takeaways from Sacramento's fifth straight victory.
De'Aaron Fox is that guy
Coach Brown told De'Aaron Fox on Thursday morning that he was going to be essential against San Antonio later that night.
"I felt, this morning, that we needed a big game from him to help us get over the hump tonight. And he came out and was a plus 36 when he's out on the floor," Coach Brown said postgame. "On top of that, 28 and eight, and then the job he did defensively was fantastic. So, he showed up for us tonight and we needed him to."
28 points on 15 shots is just absurd offensive production from Sacramento's star point guard. His ability to hit the paint, knock down timely triples, set up his teammates, and continue to convert his free throws is essential to the Kings having the second-best offensive rating in the NBA (117.5).
It's pretty much expected for Fox to put up impressive numbers on a nightly basis at this point. He deserves the buzz that's starting to build around him potentially playing his way into All-Star candidacy.
Davion Mitchell's defensive pressure changed the game
With Keegan Murray unavailable due to back soreness, someone was going to see more minutes than usual. Terence Davis got the start, but he was even more erratic than usual on offense. Sacramento's coaching staff ended up going with small-ball lineups toward the closing stretch.
At the end of the third quarter, the Kings jumped out to an 89-82 lead over the Spurs and continued to expand that margin largely thanks to Davion Mitchell's defensive presence setting the tone and inspiring his teammates.
The tone Davion Mitchell set defensively down the stretch is really what sparked the Kings late run.

Davion again earned himself extended minutes late in a game, hounding players at the point of attack and navigating screens with ease. pic.twitter.com/0Ql9EGe1xU

— Kings Film Room (@SacFilmRoom) November 18, 2022
"The game changed because of Davion," Coach Brown said. "His defense, especially down the stretch, in that second half was unbelievable. I've been in the league 31 years, I think, now and there's only two players that I can think of that when they pick up full court nobody wants to dribble up against them. Obviously, we saw that from Davion tonight, and then Gary Payton II..."
Mitchell played 28 minutes and spent longer than usual playing alongside Fox. KZ Okpala is the only player who comes close to Mitchell's ability to disrupt opposing defenses.
San Antonio Spurs Head Coach Gregg Popovich echoed the fact that it was Sacramento's defense that allowed Sacramento to run away with it at the end of the third quarter and the beginning of the fourth. That was all Davion Mitchell, who drew three offensive fouls Thursday night.
If Mitchell can knock down open shots within the flow of their halfcourt offense, he could find himself with more opportunities as the year goes on to improve the defense.
Band-Aid Malik Monk
Malik Monk is a known bucket-getter, and he has been for years now. It was just one of those nights for Monk against San Antonio. He ended the night with 26 points, two assists, and four rebounds on 11/19 shooting including 4/9 from beyond the arc.
His triples were as timely as it gets. While Mitchell was pestering the Spurs' ball handlers on one end, Monk was helping extend the lead on the other. He knocked down a three at the end of the third quarter and carried that positive momentum into nine points within the first five minutes of the fourth to take the lead into double-digits and they never looked back.
Yet, while his stellar shooting is essential to Sacramento's offense, his playmaking may have been his most impressive skill.
"I know I draw a lot of attention because I'm able to shoot the ball and get to the rim as well," Monk said postgame. "I just try to get everybody involved."
When Fox is on the bench, Monk's ability to get into the paint and make plays himself or set up his teammates for easy buckets is crucial. With Murray unavailable, Coach Brown considered starting Monk but decided to not mess with a good thing and continue to have him come off the bench.
"He's so talented, with the ball, without the ball, but his athleticism, his quickness, and his IQ help out a ton," Coach Brown said. "When he gets in the paint, if you don't step up to him, he's quick enough, athletic enough, or explosive enough to finish at the rim in traffic. But, the neat part about it is because he has such a good feel for the game he can find [Domantas Sabonis] in the pocket. He can find [Chimezie Metu] above the rim as a vertical threat. He's done a good job of kicking out to shooters too. He's changed a lot of games for us with his aggressiveness and we need him to continue doing that now as games go on."
The bench frontcourt
Chimezie Metu seems to have gotten comfortable in his role as Sacramento's backup center behind Domantas Sabonis. The Kings switch everything on defense when Metu is on the floor and he's made that work, but it's his primary impact has come on the offensive end of the floor.
Last season, there were quarters where Metu was shooting a handful of threes in a single quarter, despite his subpar shooting percentages. Metu has attempted 12 threes through ten appearances into his fifth NBA season. During that same time frame, he's converted 14 dunks.
His ability to catch and contort his body to finish mid-air has proven valuable to Sacramento's offense. The explosiveness of his throw-downs helps energize his teammates and the crowd at Golden 1 Center. There's no better example than the lob he caught from Davion Mitchell on Thursday night.
Davion Mitchell with this lob to Chimezie Metu was sick, and Mezzie's pose with Chima Moneke afterwards was hilarious. pic.twitter.com/4Ft0oHzkdk

— Sean Cunningham (@SeanCunningham) November 18, 2022
This somehow wasn't even Sacramento's best dunk of the night, which came from Sacramento's third Kentucky alum, Trey Lyles. "I was just trying to be aggressive and go to the basket," Lyles said. "Someone just got in the way."
🚨 TREY LYLES POSTER + STAREDOWN 🚨 pic.twitter.com/qjEvihDJ7N

— Brenden Nunes (@BrendenNunesNBA) November 18, 2022
Lyles, who has become a regular contributor for Coach Brown this season, ended the night with 14 points, three rebounds, and one steal on 5/8 shooting.
Also, just want to give a quick shoutout to Harrison Barnes. After a slow start, Barnes seems to have found a comfortable rhythm and flow within Sacramento's offense. He ended Thursday's game against the Spurs with 16 points, eight rebounds, two assists, and two steals on 4/7 from the field, including 7/8 from the free-throw line.
Continuing to trend upwards
Even when the Kings were 0-4 to start this season, Coach Brown repeatedly stated that he felt his team was trending upward and that if they continued to do so the wins would come sooner rather than later. That held true, but even as Sacramento has won five straight and eight of their last ten, Coach Brown is constantly looking to improve.
Trey Lyles said Coach Brown told the team that he didn't think they played that well offensively against San Antonio. The Kings scored 120 points while shooting 57.8 percent from the field, 40.0 percent from three, and 91.7 percent from the free-throw line and recording 28 assists.
"I thought it was sloppy," Coach Brown said about the offense postgame. "It turned into a rat race quite a bit and I thought we overfilled a little much. We always preach to our guys to hit singles... there were a few times we got a little carried away with the ball and ended up with turnovers and they're out the other way... we can play better on that end of the floor."
It's difficult to have a more efficient night than the Sacramento Kings did on Thursday against the San Antonio Spurs, but it's easy to believe Coach Brown when he says they can be better when they currently rank second in the NBA in offensive rating.
The league is starting to recognize what is happening in Sacramento. They are not pushovers and opponents better come into Golden 1 Center ready to play or risk the Kings running up the score.
"The pace they play at is really tough to guard. They're physical on defense," Coach Gregg Popovich said postgame. "They're just a better basketball team and they're really buying into what Mike's trying to do. So I think that they're going to just get better and better."