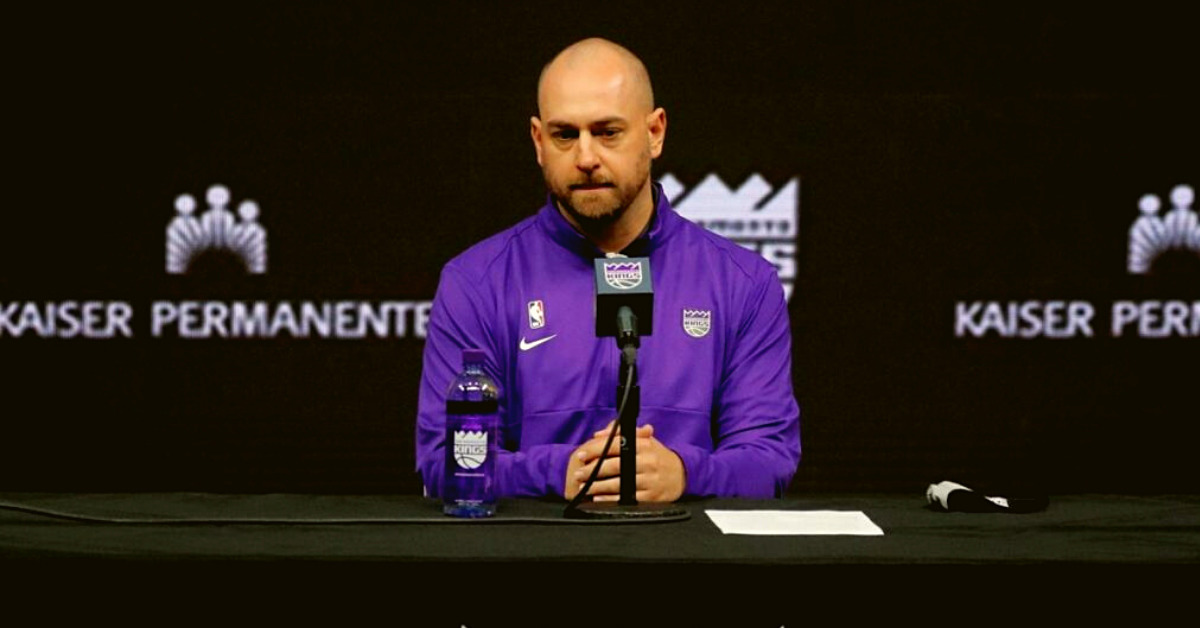 Five weeks ago, Sam Amick and Jason Jones of The Athletic published the details of Monte McNair's plans for the Sacramento Kings. To put a long, well-detailed report as simply as possible, the Kings weren't planning on winning for at least a year. Instead, financial flexibility was viewed as a priority, both for the sake of Vivek Ranadive's pocketbook and due to the bloated cap sheet that Vlade Divac left in his wake. A postseason push also wasn't going to happen, as a top-tier pick in the stacked 2021 NBA Draft was viewed as the ultimate prize. Even thought they would never admit it, the Kings were lowkey tanking.
To kick off the offseason, Monte McNair followed his plan to a tee. In a non-winning move, he allowed restricted free agent Bogdan Bogdanovic, arguably Sacramento's second-best player from the year prior, to walk to the Atlanta Hawks for absolutely nothing after a failed trade with the Milwaukee Bucks. In coordination with that decision, the Kings also refused to spend any cash in free agency. They didn't utilize their standard mid-level exception, a spending tool of up to 3 years, $30 million, that would have enabled them to snag a quality contributor, and they also ignored the rest of free agency, signing the dredges of the open market like Glen Robinson III and Hassan Whiteside to veteran minimums at the last possible moment. The Kings were designed to lose.
Under those circumstances, retaining Luke Walton for a season made at least a little bit of sense. He's a bad coach and would cost more victories than an average leader, such as Alvin Gentry. And the plan worked. As of March 5th, the date of Amick's piece, the Kings had posted a record of 14-22, they were on pace for 28 wins, and their run of winning six of seven games in late January and early February was destroyed by a nine-game losing streak immediately thereafter.
The only thing missing was a prioritization of fringe young talent over bench veterans, but overall, everything seemed to be going smoothly. Sacramento was tied for 6th in the lottery, De'Aaron Fox and Tyrese Haliburton were looking like future All-Stars, and some of the overpaid veterans had even recouped some of their value heading into the trade deadline. A top-five or six pick, plus the assets added from a Harrison Barnes or Richaun Holmes or a Buddy Hield trade would have launched the Kings even further along Monte McNair's multi-year roadmap.
So what happened to the plan?
Unfortunately, the Kings won a few games against average, bad, and injured teams, and the organization somehow convinced themselves that this roster, the team posting one of the worst defenses in NBA history, a team that was never designed to win, could win.
Monte McNair added long-term salary at the deadline, and he actually spent a few minor assets rather than gathering them. The Kings hung onto the majorly ballooned salaries of Buddy Hield and Harrison Barnes, while also not adding any significant talent for any sort of run. Delon Wright is certainly a better player than Cory Joseph, but Wright is also nothing more than a solid backup point guard, not nearly enough of a difference-maker to convert a bad team to good, or even average.
The results of those moves, and non-moves, have been as predictable as a Kings performance against a bad team. Since the trade deadline, Sacramento has posted a record of 2-7, tied for the third-worst mark in the league, and they've fallen four games out of the last spot in the play-in tournament. The playoffs aren't going to happen, nor were the ever going to happen for this roster and this coaching staff.
And yet, the Kings still haven't changed the plan, or better said, they haven't returned to their original idea of a gap year. Despite losing seven consecutive games, Sacramento sure as hell isn't tanking - they're just awful. Teams that aren't trying to win, teams like the Houston Rockets and the Oklahoma City Thunder, follow a tried-and-true game plan. They bench or trade their veterans, no matter how effective or ineffective they are on the court, and they focus their minutes and attention on the development of their young core, from future stars to potential role players to two-way guys and 10-day contracts who probably won't be in the league next season. It's an easy way to guarantee yourself a bunch of losses while also helping your future, not only through a high draft pick, but by also getting inexperienced players some floor time.
In a maddening exercise, the Kings have done the exact opposite of their much smarter counterparts. They're desperately trying to win, despite being mired in their second losing streak of seven or more games this season, despite sitting 10 games under .500, and despite being on track for just 29 victories this season. Any focus on player development has been completely suffocated by the ineptitude of Luke Walton, a lame-duck coach trying to save face amidst his fifth failed season as a head coach in this league. The bane of Sacramento has benched the likely Rookie of the Year in Tyrese Haliburton, one of the Kings two good young players, for the ghost of Moe Harkless, who has been plain bad for multiple years. Robert Woodard, Jahmi'us Ramsey, Kyle Guy, and Chris Silva are nothing more than travel companions for their teammates, while DaQuan Jeffries was recently cut.
Of course, the defense that's often offered for such a failed change in plans is that the Kings can't afford to try and lose because of De'Aaron Fox and his play this season. And yet, wasn't that the plan just a few weeks ago? Isn't that what the Oklahoma City Thunder are doing with Shai Gilgeous-Alexander, a young, up-and-coming point guard right on Fox's level? Didn't De'Aaron just sign a five-year maximum-scale rookie extension that proved the organization's faith in his long-term future here? The Kings can lose with De'Aaron Fox. They could've lost with De'Aaron Fox all season long. They could've lost with De'Aaron Fox after shedding veterans for assets at the trade deadline. They could've lost with De'Aaron Fox by tanking hard over these last few weeks.
Want proof? Watch the last seven games, or really any part of the season.
And now the Kings once again find themselves in positional purgatory because they couldn't commit to, and execute, a plan. Because they weren't sellers at the deadline, they haven't lost enough games to get into that bottom-five range, and they'll also walk into the offseason in a worse cap position than they were in when Monte McNair took over. Conversely, management didn't make any real win-now moves, so the Kings also aren't good enough to hope for a playoff spot. They've chosen to continue to employ a bad head coach, a head coach who is instilling terrible habits into a losing squad, yet that bad head coach also isn't being directed to prioritize player development, or if he is, he's not being made to listen.
Unfortunately, the Kings can't salvage another wasted season in which no progress has been made in either direction. They didn't get younger or cheaper or gain any assets, and they also didn't win any games, but management can still salvage their plan, or at least part of it. Monte McNair needs to accept the reality that the team he built to lose is going to lose, and that the playoffs aren't happening. If he's going to keep Luke Walton on board as his fall man, Walton needs to be instructed to prioritize young players over veterans and meaningless wins, and if Walton is unwilling to do so, he can be shown the door 18 games earlier than expected. The priority at this point must be youth and the 2021 draft pick. Anything less should be considered nothing more than a continued failure on the part of Monte McNair. It's past time to get back to the plan.