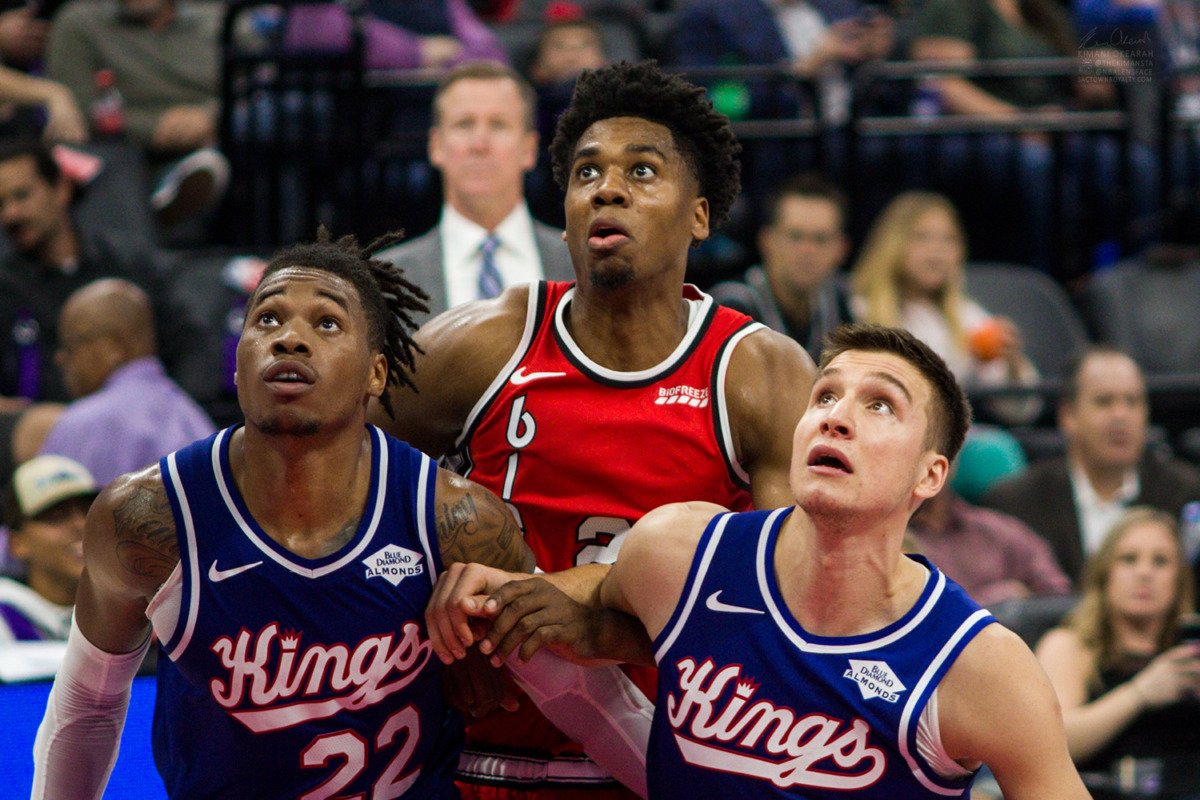 Welcome to 20Q, a variation on our usual 30Q series. With the abbreviated time until the season begins, we'll just do 20 questions this season finishing up right before the season begins on December 22nd.
After five years of watching Vlade Divac scramble to overpay middling veterans as soon as free agency opened, Monte McNair's first offseason in Sacramento has felt oddly docile. While De'Aaron Fox's five-year max rookie-scale extension has been universally praised, McNair's other priorities and motivations have felt rather tepid, or even shortsighted.
The first controversial call was allowing Bogdan Bogdanovic, the team's most versatile player, to join the Atlanta Hawks for no compensation after the Donte DiVincenzo trade fell through. Instead of matching Bogi's offer and dealing him in a year or two for some sort of value, the Kings cited one of Vlade Divac's favorite catchphrases when justifying the decision: financial flexibility - not exactly the most inspiring game plan for a fan base wallowing in a 14-year playoff drought.
From there, the only new players who have been brought into the fold have been draft picks and low-level veterans, despite the team having access to the non-taxpayer mid-level exception, a spending tool worth about $9.3 million. Last year, the Kings snagged Richaun Holmes with a similar exception. In 2020, they've refrained from using the MLE. Outside of re-signing DaQuan Jeffries, the team hasn't exactly gotten younger either, bringing in the 31-year old Hassan Whiteside, 27-year old Frank Kaminsky, about to be 27-year old Glenn Robinson III, and a project big in the 23-year old Chimezie Metu. For a team that's unlikely to battle for a playoff spot, bringing in a coterie of in-prime players has been a bit head-scratching.
Despite the discomfort of some of these moves, they begin to make some sense when viewed through the lens of a quick reset around De'Aaron Fox. If the Kings are actually going to try to win games and push for the playoffs this year, they likely wouldn't have let Bogdanovic walk. At $18 million per year, his production would have been well worth the price, especially when considering the Kings wouldn't be over the luxury tax, and Bogi would be a tradeable asset down the line. However, if Sacramento is planning on shedding overpaid veterans, acquiring young players, and earning a high draft pick in the stacked 2021 class, moving on from Bogdanovic begins to click. Not only would Bogdan make the team a little too good on the court for a top-5 selection, but taking on his salary would also force Monte McNair to try and move three highly paid contracts in a few short months. Bogdan Bogdanovic, Harrison Barnes, and Buddy Hield would have combined to make over $65 million, and that's not even considering the additional $25 million in salary for Cory Joseph, Nemanja Bjelica, and Richaun Holmes. No matter what sort of value some of those players carried, moving $90 million worth of contracts in a year or two would have been almost impossible.
Following the same train of thought, if McNair is planning on ditching a failed playoff run for a quick roster turnaround, his offseason signings also begin to transform from frustrating to potentially intelligent. Each of the players who were brought into the fold can replace more highly paid, valuable guys in front of them. Glen Robinson III, a wing who can defend and reliably knock down shots from beyond the arc, can slot in for Harrison Barnes. Frank Kaminsky, a stretch-big (okay, a sorta, kinda stretch big), can try to take on Nemanja Bjelica's role if the Serbian sharpshooter is moved. Hassan Whiteside, a rim protector and rebounding machine, is a potential substitute for Richaun Holmes. Some may be frustrated by giving theoretical future minutes to unexciting veterans rather than throwing a bunch of young projects on the floor at the same time, but bringing in competent if unimpressive contributors will help to bridge the development gap for De'Aaron Fox, Tyrese Haliburton, and Marvin Bagley. Haliburton throwing lobs to Hassan Whiteside is a much more sure bet for his development than throwing them to Thon Maker or Justin Patton. Complete chaos and fringe or non-NBA talent wouldn't provide nearly the same on-court education.
Even the terms of the free agent deals handed out by Sacramento point toward a mini-rebuild. Every contract is either for one year or has some sort of non-guarantee in future seasons. Furthermore, Kaminsky, Metu, and Robinson are all non-guaranteed or partially guaranteed for the coming season, providing the Kings both flexibility during the 2020 campaign and a potential, small trade chip for teams looking to shed salary when the deadline rolls around. Looking to future seasons, Sacramento currently holds more than $40 million in expiring contracts, and if McNair is able to move Barnes and Hield by next summer, the only guaranteed contracts for the Kings in 2021 will be De'Aaron Fox, Marvin Bagley, Tyrese Haliburton, and Robert Woodard. That's about as complete and quick of a reset as a team can hope to obtain in a single season.
Of course, it's entirely possible that these moves have been nothing more than the sum of another crappy offseason in Sacramento. The Kings may have looked at the raw numbers of Hassan Whiteside, who also registers well in most defensive analytics, and believed he was the solution at center as a rim protector. Glen Robinson III may be viewed as a younger, cheaper upgrade to Kent Bazemore. Maybe the Kings let Bogdanovic walk because they wanted to give all of his minutes to Tyrese Haliburton anyway and refused to pay big money for another wing. All things are possible when it comes to the Sacramento Kings. These next few months will prove whether Monte McNair has a grand plan to reset around De'Aaron Fox, or if Kings fans are in for another disappointing, failed push for the last playoff spot, followed by a late lottery pick.