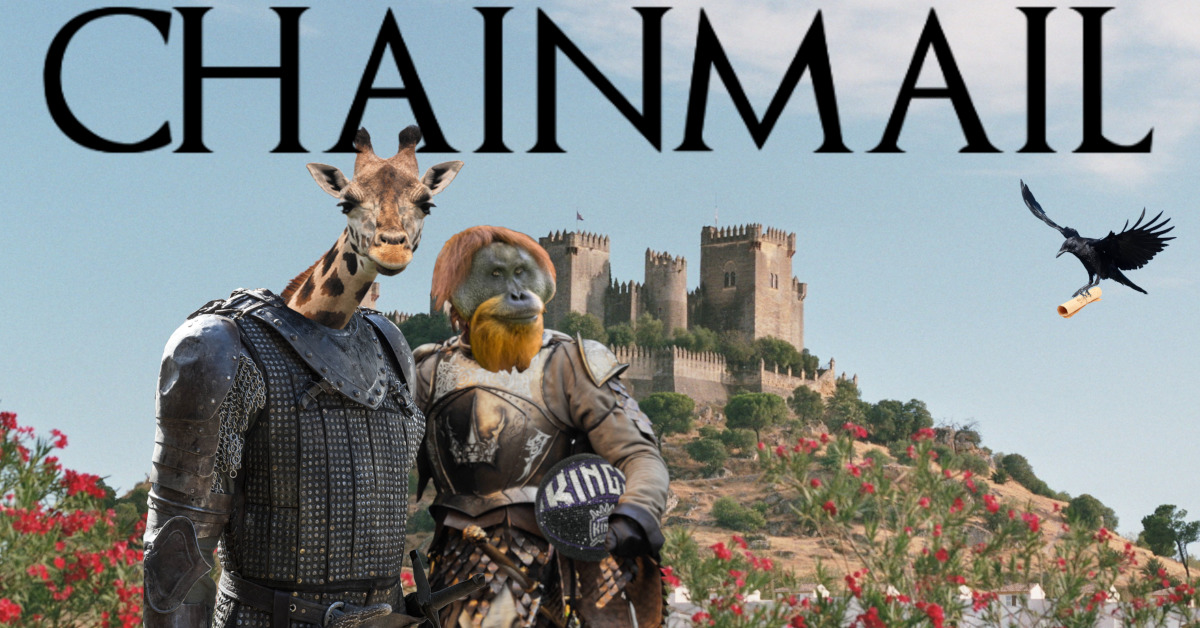 Welcome back to Chainmail! We had some fantastic questions this week, so let's dive right in!
From Rob Hessing:
You've just been named the General Manager of the Sacramento Kings. You have been given full autonomy. Chart out your moves for the rest of the season and the offseason.
Tim: As I look at the big minutes-getters on this team, I realize that this is essentially the same roster that Vlade Divac built before Monte McNair took over. The trio of Fox-Buddy-Barnes has been given 190 games together. They've gone 79-111, a pace of 34 wins in an 82-game season. Adding Holmes to that mix lowers the total number of games together, to 162, but the results are quite literally the same. The foursome of Fox-Buddy-Barnes-Holmes has posted a record of 68-94, a pace of...34 wins.
This group is never going to win together, so I'm blowing it up, although I'm doing so in pieces. The first two on the block are Harrison Barnes and Buddy Hield. I'm sending them off for whatever young assets/picks I can get back. I'll also put Holmes on the block, but I'm going to need a decent package back, as his chemistry with Tyrese Haliburton in the pick-and-roll isn't something that should be totally ignored in Hali's developmental path.
I'm also going to trade De'Aaron Fox, but I'm going to wait until draft night to do so unless someone blows me away with an offer mid-season. I can't trade Fox for unknown picks or project players, and the team will be bad enough to receive a good lottery selection with Barnes and Buddy and possibly Holmes out of the picture. On draft night, I'll hopefully get a highly-ranked draft pick, as well as other assets, and my rebuild has truly begun. I don't think this team has any other viable path moving forward.
Will: Man, I really hate that Tim took the whole tank option because that's really been my thing here the last few years. I can go another way though, just to prove there are multiple avenues to rebuild the team that I'd be happy with. It's two moves, it solves nothing put it at least nudges the can in the right direction. First things first, Daryl Morey get's his phone call. Fox for Simmons, straight across. It isn't pretty, it isn't a massive win but it's a reset with a talent that better aligns with where we're headed. Call Orlando, mention how wonderful Wendell Carter Jr. looks in the moonlight and how pretty his hair is, then mention an offer Marvin Bagley and a first round pick with top 8 protection for Mo Bamba. If they cry, put that pick out two years and protect it with a Top-5 instead. Bamba's nearly at a double double this season with 11.1 points, 9.2 rebounds, 2.1 blocks and shooting 34% from three on 4.3 attempts per game... or in Kings terms: shooting more AND better from deep than De'Aaron, Davion and Terrence Davis, and just more than Tyrese (but only back in percentage by 1%).
The rest of this season, I throw spaghetti at the wall with Alvin Gentry and see what sticks. The three guard lineup with Mitchell, Haliburton and Simmons becomes an everyday thing, Mo Bamba and Richaun get a good deal of minutes together as a PF/C amalgam. Did I solve any issues? Nope! Did I start any new ones? Probably. But I've still got Hield to trot out there as a super sub, Barnes is starting and getting even more open shots and our defense is improved. Literally every single trade chip outside of Fox and Bagley are still intact and I've greatly raised the defensive floor of this team without impacting too much of the offense.
In the off-season, I quit to go back to tweeting about the NBA because I'm tired of paying a bunch of tampering fines for tweeting #PokuToSac. I've done very little of note, but had a great time doing it.
From 02kingsfan:
What does it take to get Vivek out of ownership, realistically speaking?
Tim: You can't remove him, and anyone talking about "firing an owner" is either being intentionally obtuse or doesn't know what the hell they're talking about. Vivek is the governing owner of the Kings, meaning that he only needs to hold a fraction of a percentage to keep his complete control over the organization. It doesn't matter who sells what shares, who owns what percentage, or how unhappy minority owners are at any given time. The only ways he can be forced out are through financial misdeeds (not, not making money, but things like embezzling, etc.) or if the NBA ousted him a la Donald Sterling.
Vivek Ranadive isn't going anywhere.
Will: Yeah this is a pretty open and shut case of... not happening. I legit think it would take a larger grass roots effort to remove Vivek as an owner than it did to keep the Kings in Sac. Mostly because Vivek hasn't done anything wrong. He's meddling and has set up a bad corporate structure? So has every other billionaire on this earth. We might not like what he's done, we might hate his style of ownership, but he paid the big bucks to do that. Outside of him being exposed for something truly terrible, the man is here until he decides not to be.
From Sacto_J:
Barring Gentry managing to get this team on a winning streak and making the playoffs, I expect the Kings to be looking for a new head coach during the offseason. Perhaps in a tiered perspective, what does TKH's coaching wish list look like?
Tim: I'm not going to pretend to be the world's leading expert on potential head coaching candidates. I would highly recommend following and listening to Jill Adge's many podcasts about all of the possibilities out there, and I'm sure she will produce additional content as the season progresses.
Here are some names that I would be comfortable with: Kenny Atkinson, Terry Stotts, Becky Hammon, Sam Cassell
Here are some names I don't want to hear at all: Mark Jackson, Doug Christie, Bobby Jackson, Steve Clifford, Rico Hines
Will: Yeah, I'll certainly hype Jill's pods as well - she does a fantastic job with them and they're worthy of a listen.
Off the top of my head with no extra research done, here's a few I'd be varying levels of happy with:
Retreads: Kenny Atkinson, Brett Brown, Terry Stotts.
I've been especially high on Kenny Atkinson since right before he was hired by the Nets but all three of these guys are well respected, no nonsense guys that have had varying levels of success in this league.
1st Timers: Charles Lee, Becky Hammon, Will Hardy, Darvin Ham, David Vanterpool, Brian Keefe, Lindsay Gottlieb, Kara Lawson, Jay Larranaga.
Becky Hammon is always a favorite - I haven't heard anyone in this league say she'd be less than a fantastic coach, she's paid her dues and there's an aspect of history that would allow me to be proud of the franchise for making a step toward equality. Now it could very well end up badly for her career-wise to pick the Kings... but I digress.
Charles Lee has always piqued my interest. Mike Budenholzer has been super high on him for years and says that he's a guy that be both a "meaningful sitdown" guy as well as highly intuitive X's and O's guy.
Brian Keefe is a new guy I'd watch out for too. He's currently in Steve Nash's staff in Brooklyn and was previous with OKC and a video coordinator under Gregg Popovich. He's a defensive minded coach, known to take novel or contrarian approaches as part of his "question-asker" personality. Sound like someone Monte and Vivek could both love?
From Adamsite:
On the hypothetical assumption that the Kings are ready to move on from Fox, what kind of value does a 23-year old speedy PG who can't shoot, nor really defend, is average at running the offense, and is due a ton of money have in today's deep-shooting NBA? Basically, what team has a need/want for Fox's skill set and has the means to acquire him?
Tim: This is actually something we were discussing the other day in the TKH Slack Channel. I think the market for Fox is going to be extremely limited. Here are a bunch of teams that are already set at lead ball-handler:
GSW: Curry
PHX: Paul/Booker
BKN: Irving
CHI: LaVine/Ball
MIA: Lowry
UTA: Conley/Mitchell
WAS: Beal/Dinwiddie
DAL: Doncic
CHA: Ball
BOS: Smart/Brown
MIL: Giannis
PHI: Maxey
POR: Lillard
MEM: Morant
ATL: Young
CLE: Sexton/Garland
DEN: Murray
LAL: Westbrook
MIN: Russell
TOR: VanVleet
IND: Brogdon
OKC: Gilgeous-Alexander
SAS: Murray
ORL: Seven million guards
HOU: Green/Porter Jr.
Outside of maybe Dallas wanting a secondary ball-handler next to Luka, most of those teams are going to be satisfied with their current point guard situation. That leaves maybe the Mavericks, the Clippers, the Knicks, the Pistons, and the Pelicans as potential trade partners. The Mavs and Clippers almost certainly don't have the trade cache to snag a player of Fox's value, leaving three or four potential partners. It's going to be rough out there if the Kings do, in fact, put Fox on the block.
Will: As far as lead ball handlers go, I'll add onto Tim's list to say that I think Boston, Brooklyn and Cleveland would all be pretty willing partners with the Kings. Marcus Smart just isn't going to get it done long-term as the starting point for the Celtics and while I doubt they're rushing to trade a guy of Jaylen Brown's caliber, I think he could be had for Fox and picks. That's rough to do mid-season for a team that wants a deep playoff run but if they flop hard this season, an off-season deal could be something that rebalances both rosters a bit. Brooklyn it's more about the best ability being availability right now. They're still top of the East Coast without Kyrie and don't have jack to trade outside of him, so they can wait. If Fox was made available I'd bet they want him... they just don't have anything other than a guaranteed headache to send back. Cleveland losing Sexton for the year is tough. They've lost 5 straight, their promising playoff positioning sunk... if ownership was adamant about a playoff young with the current group, I could see the Kings getting a bevy of picks, Kevin Love and Isaac Okoro for their troubles. Certainly wouldn't help short term in Sacramento, but you would suddenly have a young defensive minded point, young swiss army knife shooting guard, young defensive minded small forward to build around along with future draft compensation.
From SMF-PDX-Connection:
We've heard talk of a big trade eventually. What's your best case, worst case, and most likely scenario for the Kings making a trade this season?
Tim: At this point, my worst-case scenario is Monte McNair cashing in future assets for a win-now player in a desperate attempt to right the ship. The best-case scenario is the front office realizing that this core isn't going anywhere and they start shipping out pieces. The most likely result is that Monte continues to pretend that just one more move will fix this team, the Kings don't make any major adjustments, and we end up 11th or 12th in the West. Damn, now I'm depressed.
Will: Best case for this current team with it's current goals: they actually swing for a star. Just shut up about it and do it. Worst case scenario, they sit in this silly middle ground and trade for more pieces around the margins that help keep this team's head just about water but doesn't garner any meaningful post season stuff. Most likely scenario? They pull the worst case scenario and leak a bunch of interest in people but it doesn't get done by the trade deadline.
From TheGrantNapear:
Are you drawing parallels betwixt the Fox and Cousins eras? Two front office appointed franchise/superstar players the FO was/is building around that are not actually superstars, but more empty stats players incapable of leading their teams to a measly eighth seed. Cousins played seven years for the Kings and Fox is in year five.
Tim: I actually wrote about this last year in regard to Fox and Cousins, although I have a bit of a different take. I don't know if I believe all that much in "empty stats". De'Aaron Fox, until this season at least, has put up really strong offensive numbers, especially last season. The issue is that he's not a superstar, and at best he's been a fringe All-Star, and any player on that level is going to have glaring weaknesses. And that's where the Kings have failed De'Aaron. He has no top-end talent to make up for those blind spots, so they become even more glaring when he has to carry more of a load than he's able, whether that's in shooting or defense or wherever. Fox isn't totally exempt from his lack of development in key areas, but similar to Cousins, he also isn't totally responsible for this franchise's inability to find more than one good player at a time.
Will: I'm not really. The expectations were different, this losing streak was different the player personalities and impacts are different. Fox, for all the good he has done, isn't nearly the player Boogie was. This GM and the current expectation on the roster are different enough, it's hard to see much outside of squint and seeing "The most talented person in Sac is young and tired of losing and the Kings are fucking it up!"
From Roaddog:
What's a current and a past example of an article you have pre-written due to its high likelihood of occurrence?
Tim: I pre-wrote the Luke Walton has been fired article three times last year, after the Wolves loss, after the Raptors blowout, and again after the Jazz loss. Sixth time's the charm!
Will: My resignation and, well, my resignation.
From RPO:
How hot is Monte's seat? How likely is it that he's the GM next season?
Tim: I would say it's at the lowest level of your car seat warmer that you've literally used like four times because you live in freaking Arizona. If the Kings don't make significant improvements this year, whether that's through trades or De'Aaron Fox not sucking, Monte's going to be in a bit of trouble, although I think he gets one more year before he's ousted. A fun bit of trivia for those wondering: the average tenure of a General Manager in the NBA is 30 months. Monte has been on the job for about 15.
Will: Yeah, I'm not really asking this question till at least this point next season, mostly because outside of bringing Luke back, the man hasn't done enough to warrant a hot seat. He hasn't done anything warranting anything really. Let him rip off a costly trade for a star or blow the thing to hell before giving him a warm seat for winter.
Thanksgiving Talk
From SMF-PDXConnection:
Power rank the following Thanksgiving dishes: Turkey, stuffing, cranberry sauce, mashed potatoes and gravy, rolls, mac and cheese, green bean casserole, roasted carrots, pumpkin pie, apple pie, and sweet potato pie
Tim: YOGURT PIE, apple pie, green bean casserole, mac and cheese, stuffing, turkey, mashed potatoes and gravy, roasted carrots, rolls, cranberry sauce, sweet potato pie, pumpkin pie
Will: Mac and Cheese, Stuffing, Cranberry sauce, all the pies in any order, mashed potatoes and gravy, roast carrots, turkey and rolls. Tim is a crazy person for his take.
From Klam:
What are you planning to consume for Thanksgiving this year? Sticking to the same yearly traditions or trying something new?
Tim: My wife would never, ever, ever let us do anything non-traditional, as Thanksgiving is her favorite holiday. I'm doing the turkey, mac and cheese, and green bean casserole, while she's making the stuffing, deviled eggs, cranberry sauce, and pies. We have friends and family bringing salad, sweet potatoes, mashed potatoes and gravy, and rolls. I think that's it?
Will: It was my first year actually doing it all myself so I went completely traditional, though I have zero allegiance to it. Turkey was fantastic (and took enough of my time and prep work that I didn't get to answer this till thanksgiving night), my cranberry sauce is an all-timer, stuffing, potatoes, pumpkin roll, flan. Rinse and repeat for the next month.
From Kangz_Fan:
Is yogurt pie real?
Tim: Yes, and it's delicious.
Will: I passed a picture around the table of yogurt pie yesterday and not a single intrigued face was found. It sounds like something a prison would whip up to force down the tubes of prisoners on hunger strikes.