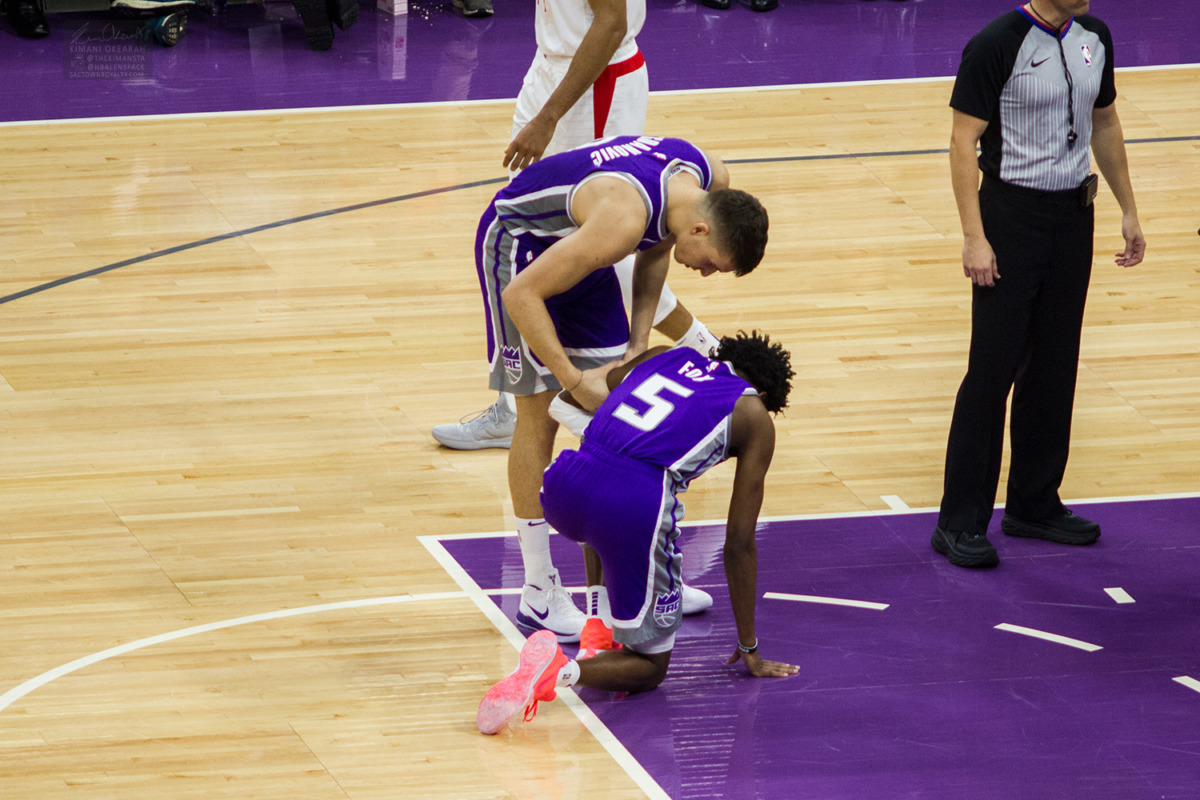 The 2019-2020 season has not been kind to Kings fans. The year has been defined by an 0-5 start, an eight game losing streak, multiple injuries, ineffective coaching, disappointing veteran contributions, and the worst showing of any team in the Orlando bubble. Amidst yet another lost season, a single bright spot showed through the gloom; De'Aaron Fox's steady transformation from potential star to star.
The shine of De'Aaron's growth quickly fades when contemplating the numerous disasters surrounding him. From Luke Walton casually strolling the sidelines, seemingly unconcerned about another poor performance, to Buddy Hield, the fringe All-Star candidate from just a year ago, riding the bench, slipping further and further out of the rotation, and likely headed to the trade block this summer, to Marvin Bagley, the purported second star for Sacramento, sitting at home nursing yet another foot injury. Just about every bit of support brought in to reinforce Fox's stellar play fell short one way or another this season.
Superimposed on those individual letdowns is the laughable five-year reign of Vlade Divac, a colossal failure of a General Manager who seems as secure as ever in his position as the visionary of this debacle. His most recent blunder, nearly on par with his tip to Robert Horry so many years ago, has forced Kings fans to watch Luka Doncic vault himself into the conversation of a top-5 NBA player at 21 years of age, while Marvin Bagley struggles to play in half of his games. Under Divac sits Luke Walton, Divac's hand-picked coaching candidate who has failed to improve the team he was gifted, in any measurable way, no matter how many hours of tape he watches. Above those two rules Vivek Ranadive, a leader who will likely refuse to make any changes this summer, not because they are undeserved, but because of the financial issues his organization is reportedly facing, issues that exist in part because of Ranadive's inability to stop hiring and firing the wrong people at the wrong time. The franchise is being led by the incompetent, the ineffective, and the indecisive.
Far below that mess, and with little to no influence on those above in power, resides one man who is expected to overcome the maddening levels of chaos swirling about him and still somehow find success: De'Aaron Fox. Because of the franchise's repeated failures over the last half-decade, and their refusal to address those failures, the team can no longer rely on De'Aaron to act solely as a franchise cornerstone, as would be appropriate. Instead, they must beg him to transform into a savior, and as history has proven time and again for the Kings, no player can bear that organizational burden alone.
Abandoned Saviors
As unique as the Fox situation may feel in the moment, the current climate in Sacramento is actually reflective of the status quo since the team's playoff drought began fourteen long years ago, starting with the first iteration of De'Aaron Fox, Kevin Martin.
Back in 2006, Martin enjoyed a breakout season for the Kings, a team fresh off its best 10-year run in franchise history. K-Mart used his elite foul-drawing abilities to nearly double his scoring from the previous year, jumping from 10.8 to 20.2 points per game, and it seemed as if Sacramento had already found another piece to build around in their post-playoff world. Unfortunately for Martin, the Kings were never able to effectively build around his skills, especially in the draft, as they blew their 2006 first rounder on Quincy Douby, their 2007 pick on Spencer Hawes, and their 2008 lottery selection on Jason Thompson. Between the myriad of wasted draft picks, inadvisable trades, organizational infighting, and poor free agent signings, Martin was never supported by high-quality players, much less a second or third star, and his talent level alone was never enough to drag his team to the eighth seed. By the time the next failed savior, Tyreke Evans, came along, Martin was 25 years old and in the midst of a contract extension, so he was dealt away in the hope of supporting Sacramento's second rebuild attempt in three years.
The 2009 draft saw another potential cornerstone drift the Kings way in Tyreke Evans. After an impressive start to his opening season, the Maloof brothers recognized a potential cash cow in their first year sensation. Instead of focusing on individual development, team basketball, or how to make Martin and Evans work as a tandem, the organization prioritized the Rookie of the Year title and a meaningless 20-5-5 stat line. Martin was shoved to the side and eventually traded, while Evans became the man of the hour, for a short while, at least.
The following year saw another star drop into Sacramento's lap in the temperamental DeMarcus Cousins. While Cousins and Evans were never a perfect pairing on the court, the Kings still had the opportunity to leverage two solid, young players, but they failed to do so. Instead, the same story repeated itself as with Kevin Martin. Ineffective coaches were hired and fired on an annual basis, low-quality players were pushed into starting positions, and most importantly, several busts were drafted. Jimmer Freddette was drafted over Klay Thompson and Kawhi Leonard in 2011, while Thomas Robinson was taken ahead of Damian Lillard in 2012. Even with an early-career Isaiah Thomas on board, the duo's best season together ended with just 28 wins and the 13th seed in the Western Conference. Before his rookie extension even kicked in, Tyreke Evans was shipped to New Orleans to try and establish a third rebuild solely around DeMarcus Cousins.
Boogie's All-Star level of play awarded him the longest tenure of any of Sacramento's hall of fallen heroes, lasting a couple of years into his second contract with the team. Cousins also enjoyed the highest level of talent around him of any of the failed cornerstones, both from a coaching and player perspective. DeMarcus, Isaiah Thomas, Rudy Gay, and Michael Malone appeared to be building something special together during the 2013-2014 and 2014-2015 seasons before the team's egotistical General Manager tore it all part in the name of personal vendettas, and the franchise has yet to recover from those mistakes.
Over the next several years, the Kings failed to provide any sort of stability around the mercurial Cousins. In a span of less than three years, the organization fired Malone, hired Ty Corbin, fired Ty Corbin, hired George Karl, fired George Karl, and hired Dave Joerger. In addition to the coaching carousel, the team also struck out on every opportunity to find young, quality players to put around Cousins. From 2013 to 2016, the Kings drafted Ben McLemore, Nik Stauskas, Willie Cauley-Stein, Georgios Papagiannis, Malachi Richardson, and Skal Labissiere: six consecutive first round prospects who failed to develop into quality rotation players, much less secondary and tertiary stars. Another round of bad decisions led the Kings down an inevitable path. As DeMarcus Cousins approached his supermax extension worth over $200 million, it was clear that the team didn't possess the talent around Boogie to justify such an investment, and he was shipped off to jump start Sacramento's fourth attempt at a rebuild. DeMarcus was dealt to New Orleans, a late lottery pick, and a smattering of salary fillers, including one-time savior Tyreke Evans.
Recurring Trends
Just as those few successes before him, De'Aaron Fox has managed to blossom despite the incompetence around him, but that progress has undoubtedly been hampered by Sacramento's inability to operate in a normal, intelligent manner. In an almost humorous imitation of the Kings worst decisions while DeMarcus Cousins was rising among the NBA's elite, the organization has done nothing but misfire in their attempt to establish a core around their young star.
The familiar tragedy finds its genesis in the same draft in which Vlade Divac deserves so much praise for selecting Fox among a minefield of poor performers. After snagging his franchise point guard with the fifth pick, Divac decided to gamble with his second lottery pick, the one gained in the Cousins transaction, and traded back to the 15th and 20th picks. Justin Jackson, a sharpshooter who couldn't shoot and a defender who couldn't defend, was taken 15th, while Harry Giles, a project player with loads of potential and a history of serious injures, was selected 20th. As has been the case for too many years under Divac's direction, unlike several of the players taken around them, neither Jackson nor Giles has managed to break through as even starting-caliber players three years into their individual careers.
After the 2017 draft passed, the Kings discovered perhaps their greatest luck in franchise history, moving up to the second overall pick in 2018. As the news broke, fans across the nation celebrated, as the organization was seemingly guaranteed a shot at one of two superstars, Deandre Ayton or Luka Doncic. Unfortunately for anyone wishing to watch the Kings for the next 15 years, Vlade Divac blew the easiest layup of his career and selected the semi-permanently injured Marvin Bagley over the generational talent of Luka Doncic.
The 2019 draft, often forgotten amidst the more horrifying mistakes of Vlade's tenure, also didn't yield much, as Divac had already punted away the team's first rounder back in 2015 to sign Rajon Rondo to a one-year deal. Gary Trent Jr., one of the most exciting players in the Orlando restart, was originally drafted by the Kings before being dealt to the Portland Trail Blazers for Vlade Divac's most prized possession: a pair of second round picks.
In addition to the constant failures in the draft, the Kings have also managed to parrot their previous foolishness in coaching hirings and firings. After Dave Joerger led the team to its most successful record since the postseason drought began, and after proving that he could get the most out of a roster full of middling talent, the Kings allowed one of their front office officials to undermine their head coach for an entire season before the team terminated both parties last summer. Joerger, the man most responsible for Sacramento's best season in over a decade, was dismissed, while Divac, the man most responsible for firing the man most responsible for Sacramento's best record in over a decade, was awarded with a lucrative four-year contract extension.
The decision to terminate Joerger wouldn't sit so poorly if Vlade Divac had followed any sort of traditional path toward finding his next head coach, but as has been typical with Vlade's reign, he threw caution to the wind and trust his gut, hiring Luke Walton without conducting a single interview. Despite numerous promises of greatness and high praise of Walton during the 2019 offseason, he has largely flamed out in Sacramento, as several players have regressed under his leadership, and the team looks less competent on both ends of the floor, even with an upgraded roster. The Kings gambled hard on another one of Divac's non-traditional decisions, and the results have been nothing short of disastrous.
Impending Financial Restraints
The combination of blown draft picks, bad coaching , and passable-at-best talent is worrisome enough when contemplating Fox's future with the franchise, but another serious issue will trouble De'Aaron Fox over the next few years, an issue that no one envisioned under Vivek Ranadive. Despite the unacceptable performances of both Vlade Divac and Luke Walton, the Kings are highly unlikely to make any large changes this fall, no matter how badly they're needed, because the organization doesn't want to spend any additional cash, a stance disturbingly reflective of the Maloof's final years. Sam Amick, perhaps the most connected media member in all of Sacramento, recently stated "I have nobody telling me that there is going to be a change" in reference to Vlade Divac's job security.
At best, fans can hope to build enough pressure to force Vlade to resign, which would result in either an internal promotion for Joe Dumars, or a cheap, external hire. Either way, no quality front office leaders are heading to Sacramento, and that's assuming that Divac is willing to give up the reigns to his mad project, as well as millions of dollars in salary, which is by no means guaranteed. On the coaching front, Luke Walton would be ridiculous to resign, and it's been said time and again that Walton isn't going anywhere with three years left on his contract. It's not that the Kings can't find better off-court talent to place around Fox. They simply refuse to do so.
Adding to the stress of Walton's and Divac's long-term deals are the upcoming player personnel expenses in Sacramento. There is perhaps no more frightening prospect to a cash-strapped NBA owner than a bad, expensive team, and that's exactly where the Kings area headed over the next few years. Buddy Hield and Harrison Barnes already hold contracts in excess of $80 million apiece, Bogdan Bogdanovic is set to get paid this summer, and De'Aaron Fox is lined up for a five-year, max rookie extension somewhere in the range of $170 million in October. It's entirely within the realm of possibility that the team will be forced to sacrifice what little above-average talent it possesses to alleviate some of the financial's difficulties coming in the next season or two.
And this is where the burdens grow too great for De'Aaron Fox, despite his incredible level of skill and potential. As things stand now, not only will the Kings ask their star to drag a bottom-tier front office, an ineffective coaching staff, and a roster full of average players to the playoffs in an increasingly competitive Western Conference, they'll ask him to do so without offering any solutions to the problems currently plaguing the organization. Ownership will pretend that they're doing everything to help their franchise cornerstone and make this city Sacramento Proud again, while quietly dismantling his support on the back end.
And through no fault of his own, De'Aaron Fox will likely fail.
One player, no matter how talented, can only do so much, as the league witnessed with LeBron James and Luke Walton last year. If things don't change, and change quickly, the franchise will continue to flounder under Divac and Walton, their contracts will eventually expire, and a brand new management group will be brought into the organization. From there, just as Isaiah Thomas was never Pete D'Alessandro's draft pick, and just as DeMarcus Cousins was never Vlade Divac's first choice, the new General Manager will have no attachment to De'Aaron and his max deal. Fox will likely be the only available carrot to dangle in the trade market to galvanize Sacramento's fifth rebuild in a decade-and-a-half, and Kings fans will watch another of their favorites depart in the name of a new, old reset.
Glimmers of Hope
As disheartening as it is to discuss De'Aaron Fox's likely trajectory as Sacramento's lone star, all hope has yet to be lost. The Kings have a future multi-time All-Star and potential top-20 player on their roster, and they'll maintain control over his future for at least the next six seasons. Unlike in many years past, the organization has a legitimate piece to build around.
It's also important to recognize that this franchise's future is by no means set in stone, no matter how quickly the Kings seem to be hurtling down the path towards an inevitable rebuild. Vivek Ranadive has every opportunity to turn things around, as long as he acts, and acts quickly. Finally snagging that elusive eighth seed is the first step towards success, and for competent organizations, making the playoffs isn't just possible, it's technically probably, as more than half of the league's teams make the postseason each year. The Kings simply must start acting as a competent organization, and that means holding personnel accountable for poor performances, no matter how expensive that may seem in the short term. Vlade Divac must be immediately replaced with an experienced, high-quality candidate who will be provided with a fully flushed out front office and scouting staff, while also being granted the authority to do as he or she sees fit with Luke Walton, no matter how many years remain on his contract.
Those changes will cost cold hard cash in the immediate, but the rewards will return exponentially if ownership manages to hire the right people for the right jobs. The Kings have a chance to properly build around their young star, develop into a perennial playoff team, and earn tens of millions of dollars in additional revenue from those results. A window of opportunity is open for Vivek Ranadive, if he's willing to make the tough calls and seize the moment in front of him. Conversely, if he refuses to act in the name of financial flexibility, fans should expect to see nothing more than the status quo for the last 14 years: another star trade and another rebuild.
In addition to De'Aaron Fox's talent level and Sacramento's opportunity to still make much-needed changes, one other bit of solace remains when contemplating Fox's future with the Kings, and that's the determination of this franchise's young star. De'Aaron has stated time and again that he wants to be in Sacramento. De'Aaron has stated time and again that he wants to win in Sacramento. De'Aaron can win in Sacramento.
But as talented and and as driven as he may be, De'Aaron Fox cannot save the Sacramento Kings, at least not without some help.