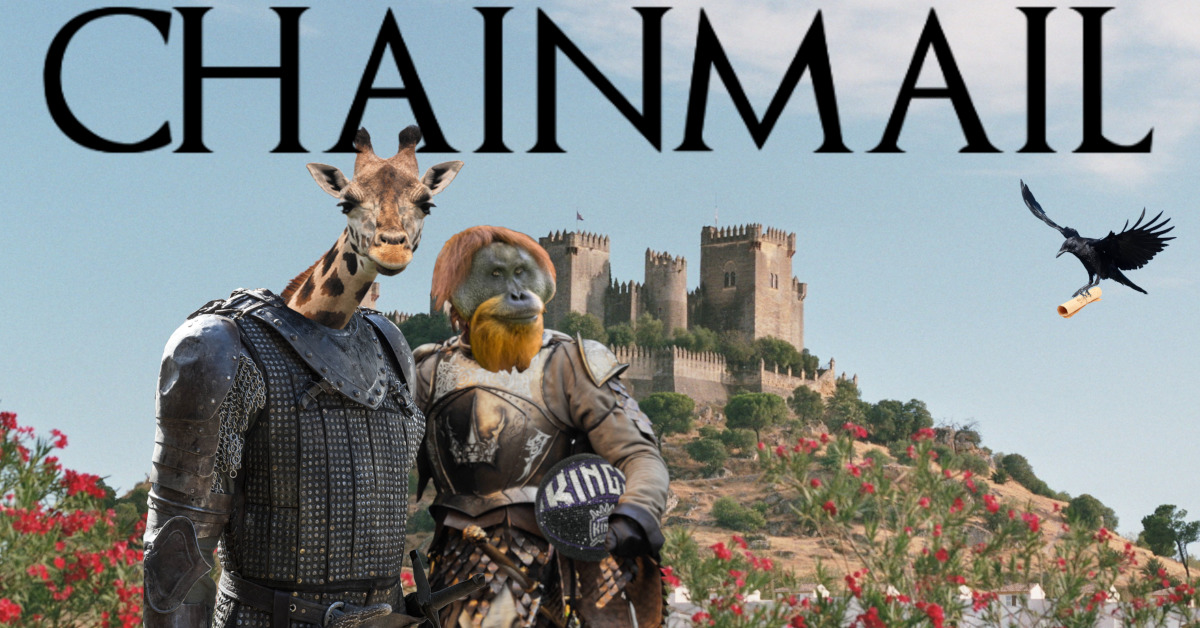 Welcome back to Chainmail! We had a ton of great questions this week, so let's dive right in!
From andy_sims:
Straight up: Starting at the trade deadline, what grade would you give the front office? You can do letter grades, stars, 1-10, 1-100, or create an entirely new metric that no one will understand, and will likely be the thing that takes you down.
Tim: Hmm...this is tough to do considering that the offseasons isn't finished and I don't think that this roster is the one that we'll be seeing opening night, but overall, I would grant him a 70,000,000 out of 100,000,000. Upgrading from Cory Joseph to Delon Wright and Terence Davis was a nice move at the deadline, but then downgrading from Wright to Tristan Thompson didn't make any sense to me. The Kings essentially gave up $7 million of cap space and a pair of second round picks for a quarter of a season of Wright and a year of Thompson, who probably won't see much on-court time this season.
Aside from getting a little lucky with Tyrese Haliburton in last year's draft, Richaun Holmes' re-signing is probably the biggest and best move of Monte's tenure. And to put the cherry on top, the Kings inked Holmes to a completely reasonable deal. However, a quick glance at the rest of the offseason leaves a lot to be desired. Sacramento didn't get a whole lot better from a talent-infusion perspective, and that's not great news for a team that won 31 games last year. They have zero quality wing depth behind Harrison Barnes (don't you dare say it's Moe Harkless), there are seven hundred thousand centers on the depth chart, and Monte chose to keep Luke Walton instead of pursuing a quality candidate. Honestly, the best grade might be incomplete until we see what happens in the coming weeks.
Will: Monte has been a mixed bag. I ended up really liking the Cory Joseph and two second round picks for Delon Wright and I really, really hate the Delon Wright for Tristan Thompson swap. I wouldn't trade Cojo and two seconds for Tristan and I assume that Monte knows something we don't about Tristan's time in Boston, but woof. That one is a head-scratcher right now. Moe Harkless played well enough to be a positive asset and I'm not going to get in any huff about his plenty moveable contract. Terrence Davis I'd prefer to have off the team for obvious off-the-court reasons, but as a pure basketball asset, the deal is fine. The man could score 82 points in a game next year for the Kings and I'm just not going to be talking about him - on this site or any other.
Richaun's re-signing was a welcome surprise and the number even more so. Credit is due there for Monte and staff. The Buddy deal that fell through was unfortunate and I'm at a place now where I really don't want to factor that into my grading. He's been swooped out of decent deals two years in a row and "almost" only counts in horse shoes and hand grenades - a non-grade is better than me grading him for not locking down those deals before the vultures could swoop in on them.
If the off-season is over, I give him a 75% C. The depth signings are nice, but small homework assignments. The draft is probably too early to grade but he gets a high B for sticking to his guns and getting the guys he wanted, not necessarily the guys we as fans called for. I have reservations about Davion Mitchell and his fit, but he's looked good in Summer League and I'm hopeful. Getting Richaun Holmes was McNair's first big test of the free agency period and he passed with flying colors. The bigger and more important test of bringing in a certified star has been left incomplete and will be counted as a zero until he drags someone in. Overall, the roster is terribly balanced, the coach is the worst in the Western Conference - but I'm waiting for another shoe to drop and tapping my toes and checking my watch till it does.
Akis: I'll go ahead and give Monte and co. a B- since last year's trade deadline. Much of that is based on the fact that they correctly assessed their ability to retain Richaun Holmes with their Early Bird rights. They also made a couple of additions to help out the depth of the team by acquiring Moe Harkless, Delon Wright and Terence Davis. Two of those guys were retained for the upcoming season, and Delon Wright was sent to Atlanta for Tristan Thompson (perhaps the most perplexing move of the offseason but I get it considering how many guards we have). Sacramento seemed to prioritize getting tougher and better defensively, and almost all of their moves since the deadline have been focused on that. Now, I have to imagine that Monte isn't done just yet. Buddy Hield was nearly dealt to the Lakers before the draft, but that fell through. I still think the Kings will be looking to move on from Buddy and also Marvin Bagley, but who's to say what the market is like now. It's possible we could be waiting until next deadline when players signed this summer can be traded. Sacramento also still has their own MLE. The Kings have improved slightly, but there are still big moves to be made and all indications are that Sacramento is going to kick the tires on everything they can.
From RobHessing:
Who was your guy at #9, was Mitchell on your radar, and how do you feel about the pick?
Tim: I didn't have a strong favorite heading into the ninth pick, as I felt there were multiple guys who could have helped the Kings. Moses Moody and Alperen Sengun were my favorites, but I also would have been happy with Ziaire Williams, Kai Jones, or even Jalen Johnson.
As far as the pick is concerned, I think Mitchell has been really solid in Summer League, and his on-ball defense is legit, but I still can't really figure out where he fits in the big, long-term picture. Even with his abilities, I don't believe he'll ever be able to check small forwards at his size and wingspan, which makes starting him next to De'Aaron Fox and Tyrese Haliburton a little challenging. He could and may very well play a super-sub role, a la Marcus Smart with more offense and less defensive versatility, but that's a little bit of an odd spot to fill with so many talent needs on this team. Of course, we could see one of these three guards moved in a big-time trade in the coming months, and if that happens, this pick makes a lot more sense.
Will: I was a Sengoonie through and through, though I'd have been happy with a good deal of players. Mitchell was one of the few I'd assumed would be gone before the Kings picked because of all the talk around the Warriors grabbing him at seven. Jerry Reynold's being high on Davion piqued my interest in him and I watched a decent amount of tape on the kid, but in a much more casual "eh won't really have to worry about this guy". I was pretty shocked the Kings picked the kid and I've got to say I was a bit underwhelmed at the decision at first. I'm still hesitant on his long-term impact with the Kings but I will say he's done everything he's needed to do for Kings fans to be hopeful in his growth. For reference, I'm still a bit hesitant on Haliburton too, so that just might be my thing. I've been burned enough times and I've been much more hesitant to get excited right away for these guys. That being said, I'm hopeful for him to turn out and I've been rooting hard for him in Summer League. Do I still think they should have taken other guys? Sure. But he's our guy now and I can still root for the others just as hard.
Akis: I was really rooting for one of Franz Wagner, Moses Moody or Alperen Sengun (in that order of preference). Wagner ended up going 8th to the Magic, so the Kings still had two of my favorite choices on the board. Instead, they grabbed Mitchell, and my instant reaction was laughter because even though he was a widely projected lottery pick, I don't think I saw him projected to go to the Kings a single time during the lead up to the draft.
In years past, I might have been upset that the Kings didn't grab a prospect I was firmly in love with, but over the years I've learned that my preference isn't always the right one. I was over the moon when the Kings selected Thomas Robinson, Ben McLemore and Willie Cauley-Stein. I was frustrated when the Kings passed on Luka Doncic. Sometimes I'm right, sometimes I'm wrong. Mitchell was a prospect firmly in my "Sure, why not" tier, and he definitely brings a toughness and defensive intensity to the Kings that they haven't had in a long time, even though he plays the same position as the team's best player. I've enjoyed watching him in Summer League so far and think he can be a really good player. Time will tell how the Kings make it work in the backcourt with Mitchell, Fox and Haliburton.
From outrider:
Now that the FA dust has settled a bit, do you see see Buddy and/or Marv still on the roster by opening night?
Tim: Oof, at this rate, it's feeling more and more likely that both guys will be on the roster on opening night, which is certainly something we didn't expect a few weeks ago. A Buddy Hield trade seems more viable at this time, but getting teams to match his salary after spending a ton in free agency may be a bit challenging until the season starts and organizations start to realize their on-court weaknesses or experience injuries. For Marvin Bagley, I'm just not sure anyone wants to give up anything of value to pay him $11 million this year. And I don't think Monte will dump him for nothing.
Will: I wouldn't hold my breath at this point for either man to be traded, but if someone is going to get sent away, it'll be Buddy. Rumor has it he was getting congratulation calls and looking for places in LA and so he has to be absolutely DONE with Sacramento. There's enough motivated teams looking for shooting - someone will give a deal worthy of a swap. It won't be as high as what LA was going to give but, that's water under the bridge.
Marvin is another case. The kid STILL needs to build some value, the Kings are still holding all the cards for Marv and while he can take all the Kings-related mentions out of his Instagram, Twitter or Friendster pages - the Kings still hold all the cards for the young guy. He might be a guy whose deal gets punted back to the trade deadline.
Akis: As I mentioned above, I'm sure the Kings are going to be trying to move both of them, but at this point, I wouldn't be surprised if they are both still on the team come opening night. I would be very surprised if they aren't traded by next year's deadline, however.
From Kangz_Landing
With the new report that Vivek is publicly Vivek-ing now and with Fox and this middling team not allowing us a top 5 pick in the near future IMO, what is your outlook on mortgaging the future and finally trading multiple future 1st rounders for that difference maker?
Tim: I think it's always wise to take those reports with a large grain of salt, especially when they're coming from folks not directly linked to the organization, as was the case in Jason Anderson's article. Yes, Vivek has meddled and has been too involved in the day-to-day in the past; there's no doubting that. He's made his bed, and to a certain extent, he needs to lay in it. On the other hand, if I were an NBA executive who knew folks were just waiting to throw Vivek under the bus, might I let the possibility of ownership influence leak anytime a potentially controversial move was made? To put this idea in another context, have we ever heard a leak that accused Vivek of meddling in which that "meddling" turned out to be the absolute right call and ownership got the credit? I think not.
Will: Tim hit this nail on the head in regards to the Vivek stuff. As for mortgaging the future to go out and get a real piece. Sure. Let's do it. That might sound blasphemous from the tank guy, but again, it's obvious that the Kings aren't going that way regardless of the merits for a team with a young core, so the second-best chance at a championship and to go out and get a real, true to life superstar (or a guy who is damn close to it and needs a new start to really have that chance) is to trade for the them. If it's Siakam or Simmons, I lean Simmons. He's younger, one of the best defenders in the NBA, and might just need that good ol' C-Webb fresh start. I don't personally think Monte gets Simmons without Haliburton in the swap back to Philly, but imagining a spot line-up where Hali was retained is fun as hell. Davion Mitchell, De'Aaron Fox, Tyrese Haliburton, Ben Simmons and Richaun Holmes is hell on wheels on the defensive end of the court and terrifying for both home and away teams on the offensive end of the floor. Four point guards and smaller center with one good outside shooter, two decent outside shooters and two non-factors from deep? It's a science experiment only a true Dr. Frankenstein of a coach like Mike D'Antoni could figure out... but lord would it be tantalizing. Obviously, Harrison Barnes would be uber-important to that group outside of my 2K-team meddling lineup but that's a team that you could squint and see making it to a second rounder or so in the coming years.
Akis: I feel like that "Vivek is meddling" article always comes out at this time of year like clockwork. Sure, he wants to win. So do we. It's been a long damn time. As for mortgaging the future for a difference-maker, I think you have to do it if it's the right player, an established star. It'd be a nice bonus if that player were also locked up for multiple years. De'Aaron Fox is well on his way to stardom, and Tyrese Haliburton could be there one day as well, but the Kings could really use another guy to take the pressure off. Someone like Pascal Siakam or Bradley Beal. I'm less inclined to trade for Ben Simmons, because I feel he is more of a super roleplayer than an actual star himself. That's still a player who can help you win games, but he's being paid like a superstar. I do feel confident in Monte that he at least isn't going to empty his clip unless it's for someone that he feels is worth it.
From deepshot22:
Realistically, how long is Luke's leash this year? Is it playoffs or fire? I really need to never see him on the King's sideline ever again.
Tim: There are probably two thresholds for Luke getting let go this season. If the Kings flounder to start and lose a bunch of games in a row, or post an initial record of something like 5-12, he's probably gone by the All-Star break. The ax also might drop at the end of the season if the Kings fail to at least make the play-in. Either way, Monte McNair will probably be looking for a new head coach next summer.
Will: I'm not sure Luke survives the next nine-game losing streak... he said two nine-game losing streaks ago. Honestly? I think he makes it all through next season regardless. I know we've said, "maybe the coach is our Mark Jackson" for like four straight coaches now, but I do think they're setting him up to take the blame if this thing doesn't end up in a playoff position at next season's end. Monte will have allowed the Kings ownership two years to pay the man without also having to pay a new head coach. they'll have had two years to scout assistants and get a feel for what exactly it is they want as a leader for this core. Outside of players now throwing Luke under the bus, what has he shown that we can point to as a reason to retain him. Someone in the comments will be itching to point out that he's the second-winningest head coach in Sacramento Kings history and to that person I say simply that I pity you and that if you ever see me at a Kings game... step forward so I might give you the good, long and loving hug you've been deprived of for so long.
Akis: Yes, it's playoffs or bust for Luke in my opinion. Monte made it clear that this is the goal for this team, and now that Luke is entering his third season, another 31 wins isn't going to cut it. I personally think the Kings are wasting their time with Luke and don't think he's the guy who is going to lead us out of the muck, but Monte has made it clear that even though he didn't hire Luke, this is his guy. This is perhaps the biggest gamble of his tenure yet, and it'll be up to Luke to live up to those expectations.
From TheLoKey1:
Are there any FA players left on the market worth Sacramento using the MLE on?
Tim: As I'm sure everyone else will answer, Josh Hart is probably the best, most realistic guy left on the board. He's a quality guard/wing who plays hard and rebounds the hell out of the ball. As I've mentioned a few times through different avenues, Hart posted a higher defensive rebounding rate than Richaun Holmes, Alex Len, Marvin Bagley, or Tristan Thompson last season. For a team looking to play a lot of small-ball and three-guard lineups, a glass-cleaning perimeter player such as Hart could fill a lot of gaps.
Another consideration is splitting the MLE up into smaller parts. The Kings would need to eventually cut some fringe guys to make this idea happen, but minor-level contributors like Wes Matthews, Langston Galloway, Svi Mykhailiuk, Avery Bradley and others are out there.
Will: Tim and Akis have some decent names in there. James Ennis III might garner some interest as a 6'6 small forward that isn't very expensive. Maybe they see something to kick the tires on Denzel Valentine? My dark horse guy is Cassius Stanley, who I really liked in the draft last year as a sleeper second rounder and who just had his QO pulled by the Pacers. He's 6'5 but strong as an ox with outstanding athleticism. He's probably more of a G-League guy or a 13th guy on the Kings right now but I still have hope for him long-term. I'd stake a case for Jarred Vanderbilt as well, but he's more of a PF/C, and if it is one thing the Kings DON'T need...
Akis: Josh Hart is my favorite player remaining on the market. He's a bit undersized for a wing but he also plays bigger than he is. He rebounds like a PF, plays defense and can hit an outside shot occasionally. The Kings are coming dangerously close to the luxury tax as is though, and I'm not sure this is a team that wants to pay the tax yet.
One player that could potentially be had for cheaper than the MLE that I've always been intrigued by is Timothé Luwawu-Cabarrot. He's who I wanted Sacramento to draft back in 2016 (we took Papagiannis instead) and while he hasn't really panned out either, he's a young wing who I think could carve out a decent niche if given the opportunity.