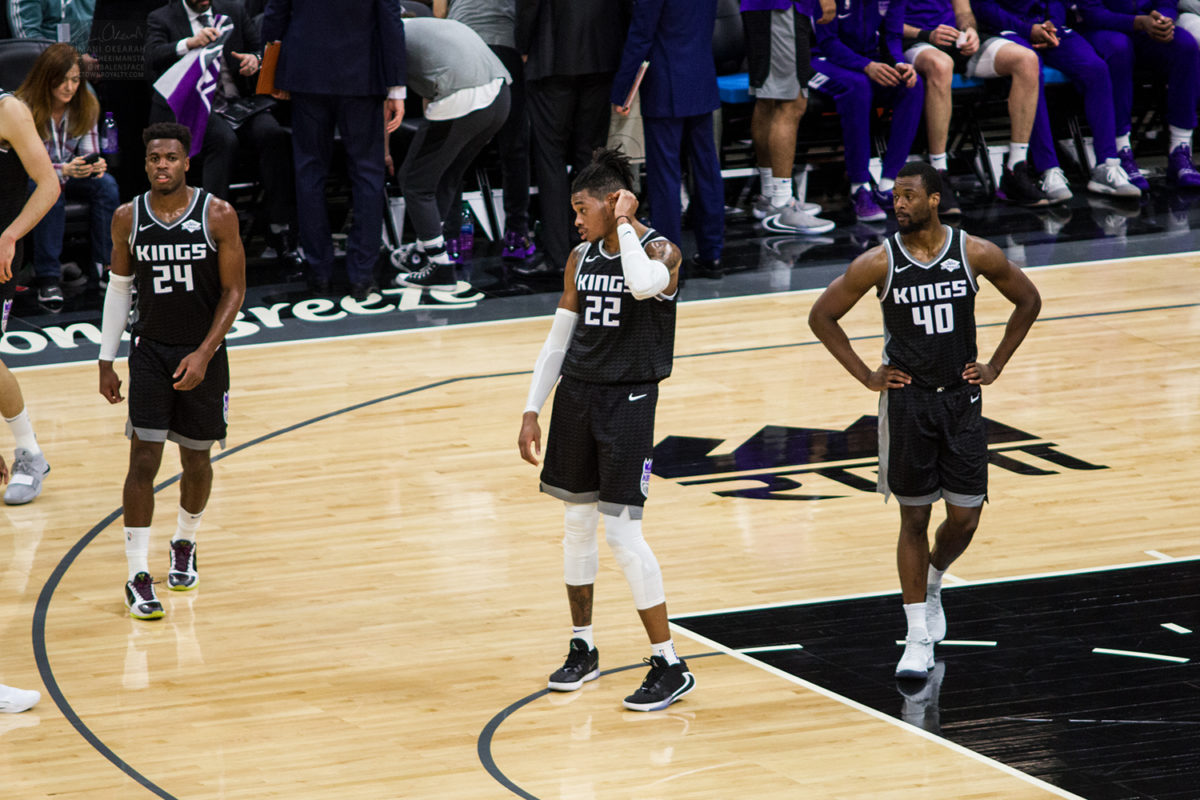 When the NBA season returns as reported (with a play-in tournament for teams on the cusp of the playoffs like the Sacramento Kings), we may see several rejuvenated players who needed the rest and the roster at full strength.
One of those players is Kings small forward Harrison Barnes. The 28-year-old Barnes has logged a lot of minutes in not just his time with the Kings, but over the last four seasons of his career. During that time, Barnes has averaged in the top eight among all small forwards in minutes per game. And this season, he is tied with Lebron James for the most minutes for a small forward at 34.9 minutes per game. That puts him as the minutes leader on the Kings this season (Buddy Hield is at 32 and De'Aaron Fox is at 31). (Fox needs more than 31 minutes per game, but that's a different topic.)
Additionally, he played with Team USA last summer, adding more mileage on his legs.
There are a variety of reasons why Barnes is used heavily, chief among them is he is a pretty good small forward. Small forwards who are the right height, can score and hold their on defense are rare in the league. A true 6'8'' small forward, who can move to the four if needed is even rarer on this Kings roster.
Additionally, head coach Luke Walton has described Barnes as a €œcalming influence€ for the team with the ability to stabilize the offense with a post-up move or a defensive play. And Barnes is somewhat of a Swiss Army knife that delivers the Kings what they need depending on the situation, but never overly asserts himself above the team's primary scorers.
He seemed to benefit from the All-Star break this season, returning with a 32-point performance in a win over the Memphis Grizzlies on Feb. 20, and in general looked more spry after the break.
In terms of stats and his impact on the team, it goes beyond his 14.7 points, 4.8 rebounds and 2.4 assists. He is third on the team in win share, second in offensive win shares, second on the team behind Fox with shooting fouls drawn and And 1s (second on the team in free throw attempts at 3.8 per game.)
Barnes isn't necessarily considered a lock-down defender, but he understands defensive concepts and can at least make sure his assignment knows he is there.
Barnes has reportedly been a part of the recent player phone calls and has expressed some concerns about the return of this season in Orlando. If he does play in this renewed version of the season, his fresh legs will greatly benefit the Kings fight for the eighth seed.
Bogdan Bogdanovic is another player on the roster who likely benefited from the time off. Bogi, like Barnes, played overseas last summer. His standout performance in the FIBA World Cup kept fans entertained, but it also put more strain on his body, though he was able to remain healthy. His comfort level with the team leading into this season was helped by being able to participate in training camp and preseason, something that he didn't get to experience the previous year, when he missed several weeks to start the season due to a left knee injury. When he returned it took some time to fit in to the rotation.
Bogdanovic played in 70 games in the 2018-19 season, and in 53 of the team's 64 games this season. The Kings excelled post-All Star Break with him in the starting lineup and Buddy Hield coming off the bench, so having a fresh Bogi should provide a nice boost. His basketball IQ and playmaking abilities allow for a more fluid system for the starters.
Richaun Holmes hasn't played since Jan. 6, when he injured his right shoulder. Holmes, of course, has been a big bright spot this season as he is posting career numbers (12.8 points, 8.3 rebounds, 1 assist, 1.4 blocks and 65 percent from the field) and providing the type of interior defensive presence the Kings have been in need of for years. Prior to the season being shut down by the coronavirus in March, he was on the verge of returning and officially being labeled as €œQuestionable€ on the injury report. he returned for two games on March 7 and March 8.
Holmes is the team's leader in rebounding, field goal percentage and blocks (tied with Alex Len). As Tony mentioned in late April, Holmes is effective at nabbing steals and blocking shots while avoiding fouling, which makes him a superb anchor on the defensive end.
Then there is Marvin Bagley. Bagley has dealt with a series of injuries since he entered the league. He has only played in 75 games over his first two seasons. For reference, Harry Giles has played in 96 games in two seasons. Bagley's left midfoot sprain has kept him from playing most of 2020, and team updates on his status were sparse and vague. In April, Walton said Bagley feels much better, but also said he wouldn't be cleared to play until going through the steps of practicing.
With Bagley, we are still very much in the stage of identifying what the franchise has in him. The sample size €" 75 games (only 13 this season) €" isn't enough to get a good gauge on what kind of player he could end up being. Bagley's potential return will give everyone another look, while giving the Kings another scoring option.
Fox was dealing with a sore left shoulder before the season was paused and could be seen wearing tape on that shoulder in games. It didn't prevent him from playing or playing well, though. Hopefully that shoulder has had enough time to heal so the team's leader can return to full strength.
Ultimately, the team being healthy is about a lot more than individual performances. It will simply be nice to see the roster at full strength. With so much hope leading into this season, injuries quickly derailed the momentum. Bagley was injured in the first game of the season, Fox missed 17 games in November and in December, and Holmes went down in early January.
The time off won't necessarily be an advantage over the other teams returning to Orlando because it is largely going to be about who is in the best shape and every team is benefitting from the rest, but we should be able to get a better look at what this team really is at full strength.