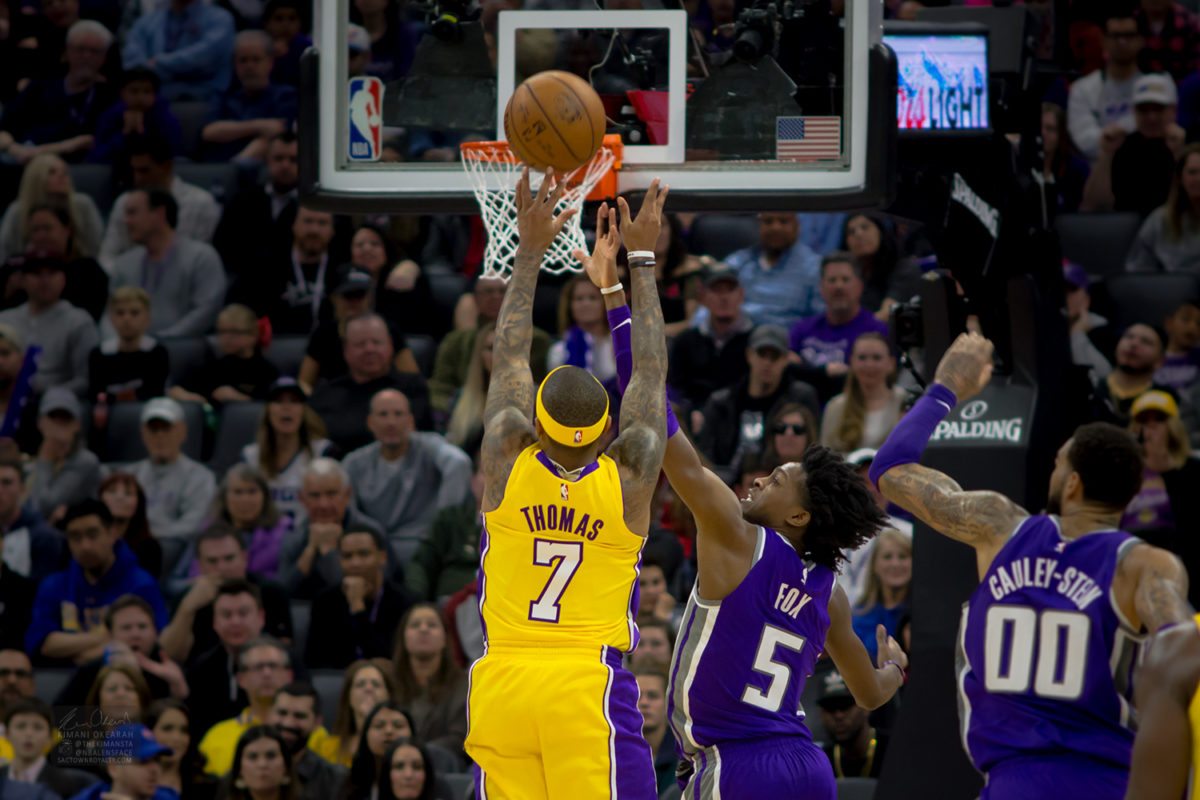 In anticipation of the NBA's return to play next month, the league recently announced a unique, week-long transaction window beginning June 22nd. Over those seven days, any team with an open roster spot will be permitted to add a player either via free agency or by converting a 10-day or two-way contract to a rest-of-season deal. As one of those teams with an available slot, the Sacramento Kings should be looking into every possibility to upgrade their talent level and find a difference-maker in the free agent market.
Of course, the excitement of such an unprecedented opportunity wears thin faster than Nikola Jokic on hiatus when considering the vast majority of NBA players already find themselves on an NBA roster, or have spent the last year playing overseas, thus making themselves ineligible for acquisition. No one is discovering a top-50 player when sifting through the has-beens and have-nots of the league. Instead, teams should be seeking to find positional depth, injury insurance, or swing for the fences with former greats who have fallen off a bit, or quite a bit more than a bit. As a team that is looking to break a 13-year playoff drought through these extraordinary circumstances, the Kings should be looking for a player in the latter category, and perhaps no individual adheres to that definition more closely than Isaiah Thomas.
When contemplating the return of a fan favorite like Thomas, it's critical to both remove nostalgia from the conversation and to acknowledge what he is at this point in his career, and what he will and won't provide for those around him. After suffering through multiple, severe injuries over the last several seasons, IT is no longer the quick-as-lightning, 20-plus per game scorer that the entire Kings community fell in love with seven or eight years ago. He's lost a step, or maybe two or three, and while his fiery disposition has never changed, and likely never will, Thomas' body can't quite keep up with his attitude these days.
Isaiah's physical deficiencies and declining health are most evident on the defensive end of the floor, an area in which he struggled even at the peak of his play with the Boston Celtics . Of the 244 players who played in at least 35 games and averaged more than 18 minutes this year, Thomas' defensive rating of 120.2 was the highest in the league. To be somewhat fair to Thomas, while that level inefficiency is both horrifying and somewhat expected, his teammates were almost as bad across the board. Isaiah Thomas, Rui Hachimura, Thomas Bryant, and Bradley Beal were the four worst individual defenders in the league according to their defensive ratings, while Ian Mahinmi and Davis Bertans were among the bottom twenty players as well. Those numbers certainly don't tell the story of a quality defender who was put a bad situation; rather, Thomas was a bad defender on a team full of bad defenders. If you're signing Thomas, you're doing so with the full knowledge that he will be a complete negative in that aspect of the game.
Massive defensive deficiencies aside, there are still a couple of abilities that speak in Thomas' favor, particularly scoring and shooting. As a starter in 37 of 40 games for the Wizards this year, Isaiah averaged 12.2 points in just 23 minutes of play, or just over 19 points per 36 minutes. Hopefully, the Kings would never be in a situation to actually play him for that many minutes per game, but the larger point stands that his scoring prowess has remained, even with his health struggles over the last few seasons. Thomas is, and always will be, a bucket getter.
In addition to his pure scoring, Isaiah's outside shooting and playing style would provide another point guard archetype that's currently missing in the rotation. De'Aaron Fox is a fast player who rarely plays defense and can't shoot, while Cory Joseph is a slow-footed guard who only plays defense and can't shoot. Thomas would offer a different look for Luke Walton, as his quick and smooth shooting stroke can space the floor unlike any other ball-handler on the roster. Among all NBA point guards who averaged at least three three-point attempts this year, Thomas led the league in accuracy, knocking down 41.3% of his 4.7 shots per game. That success wasn't simply found in catch-and-shoot situations either, which is typical for Sacramento's guards. He was highly effective as a pull-up threat this year, hitting 35.1% of his attempts.
| | | |
| --- | --- | --- |
| Player | Pull-up 3PA Per Game | Pull-up 3P% |
| Thomas | 1.9 | 35.1% |
| Fox | 1.8 | 30% |
| Bogdanovic | 2.1 | 29.2% |
| Joseph | 0.4 | 28% |
| Ferrell | 0.9 | 18.4% |
There is one fundamental concern in regard to Thomas' shooting numbers, and that is whether or not he could keep that hot shooting going for the Kings, especially after such a long break. For his career, Isaiah is a 36.4% shooter from deep, but he did manage to knock down 37.1% of his long-balls over the last three full seasons played. Even if his shot fell off a bit, he would still offer a different sort of player than either Fox or Joseph at the lead guard position, as well as an upgrade over Yogi Ferrell as the emergency point guard.
Pace of play also favors Thomas' hopes of getting picked up by the Kings, assuming that Luke Walton ever wants his team to run at some point during his tenure. For the 2019-2020 season, Isaiah ranked in the 90th percentile among NBA player in individual pace at 105.14, faster than any Sacramento player, and even quicker than Dave Joerger's Kings last year. As a team, Washington also saw an uptick in pace with Thomas on the floor, jumping from 103.84 to 105.14. There's never been any doubt that when IT gets the ball in his hands, he's going to push, push, push, and that habit would greatly benefit a couple of his bench buddies in Buddy Hield and Marvin Bagley.
Isaiah Thomas may no longer be able to offer the All-Star talent of his days with the Boston Celtics, but he is still the best option among a pool of relatively unattractive free agents. While no team is going to add a starting-caliber player to their rotation with their 15th roster spot, picking up a guy who can make a difference in one key game or even one important quarter is exactly what the Kings should be looking for, and Thomas most closely fits that bill among anyone available. He provides injury insurance for De'Aaron Fox and Cory Joseph, a higher level of talent than Yogi Ferrell, a different style of play and scoring, and quite literally no risk in a rest-of-season contract. This type of late-season, unexpected acquisition should be considered an all or nothing gamble for the Kings, and that's the exact environment Thomas has thrived in for his entire career.
It's time to bring The Pizza Guy home.