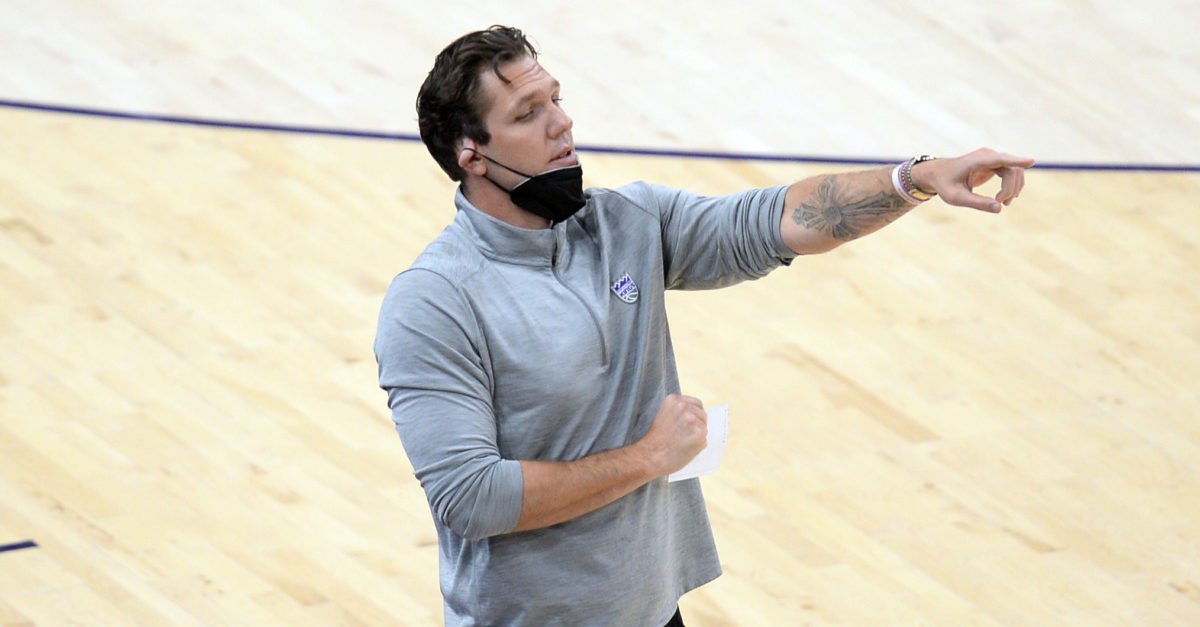 Welcome back to our between-the-preseason-and-regular-season-gap-that-doesn't-really-have-a-name Royal Roundtable! Today, we're taking on all sorts of rotational questions.
Who will start for the Kings on opening night? Barring injuries, will that group start the majority of the games for Sacramento this season?
Tim: I've had the same prediction since the end of free agency: De'Aaron Fox, Tyrese Haliburton, Moe Harkless, Harrison Barnes, and Richaun Holmes. It seems clear that the Kings and Buddy Hield have an understanding that they'll move him as soon as they're able, which eliminates the pressure of needing to insert him into the starting lineup, and Marvin Bagley simply hasn't shown enough on either end of the court to justify slotting him in at the four-spot. The other, obvious option is to start Davion Mitchell and roll with a three-guard lineup right from the jump, but Luke Walton will probably prefer to reserve his energy and pop for more of a bench role.
I don't believe this will be the starting lineup for the majority of the games. One of Davion Mitchell or Terence Davis is going to squeeze Moe Harkless out of the starting wing spot before we're 20 games deep into the season.
Rob H: Starters on opening night? I'll go with Holmes, Barnes, Hield, Haliburton & Fox. I don't think that this will be the group that closes out the game, but it provides for the least imbalanced bench at the beginning.
Mirann: I think Luke will start the season with Fox, Haliburton, Buddy, Barnes, and Holmes. I wouldn't be surprised if Harkless replaces Buddy at some point in the season, given how much better Buddy looks coming off of the bench.
Brenden: The indisputable locks are De'Aaron Fox, Harrison Barnes, and Richaun Holmes. I would argue that Tyrese Haliburton falls into that category as well, and after he started every preseason game over Buddy Hield I would say that Luke Walton feels the same. That leaves one spot left that could go toward Hield, Maurice Harkless, Davion Mitchell, Robert Woodard, or Marvin Bagley. My prediction is Harkless gets the nod as a player who has defensive capabilities and simply plays his role on offense.
I think at some point in the season the Kings will fully buy into the three-guard lineup and start either Buddy Hield or even Davion Mitchell alongside the aforementioned four.
Greg: Game one started I think it will be Fox, Haliburton, Hield, Barnes, and Holmes. But I do think we'll see Walton continue to tinker with the starting lineup based on matchups. I think the main four will likely remain the same but Buddy Hield might swap out with Harkless, Bagley, or even Tristan Thompson depending on the opponent and how each player has been playing.
Which player will receive more minutes than everyone expects?
Tim: Terence Davis is going to play a larger role than most expect this year, especially if Monte McNair ever figures out a Buddy Hield trade that doesn't get canceled at the last minute. Davis can shoot the ball, as evidenced by his career 38% three-point percentage, and he's a solid defender on the perimeter as well. After averaging just over 11 points per game off of the bench for the Kings last year, I expect Luke Walton to expand his role even further moving forward.
Rob H: General fan consensus? It would not surprise me to see Mo Harkless average better than 20 min. a night at the 3-4. Other than Harrison Barnes or playing small, there are not a ton of options here.
My personal consensus? Tristan Thompson is going to play more minutes than I ever would have thought. Or hoped.
Mirann: Tristan Thompson. The last preseason game against the Lakers showed the Kings' need for size and strength on the glass. I expect Thompson to be Holmes' primary reliever, especially against bigger squads.
Brenden: The two that come to mind for me are Tristan Thompson and Maurice Harkless, but I'll go with Thompson. Holmes did not look like his usually spry self in preseason, and Tristan Thompson very well may be the best defensive big on Sacramento's roster. For a team that has plenty of offensive weapons with their slew of guards, a defensive-focused big could prove to be essential.
Richaun Holmes is phenomenal and his recently signed deal may be one of the best center values in the league if he can repeat his level of production. It's just that the worst defense in the league last year could significantly benefit from a big man who is defensively focused. I would not be totally shocked to see Thompson receive some significant fourth quarter minutes this season.
Greg: Chimezie Metu. He feels like a bit of an afterthought on this roster right now, but through lineup tinkering, injuries, or just trying to find anything that works, I won't be surprised if we see more of Metu than anyone is currently expecting.
Which player will receive fewer minutes than everyone expects?
Tim: I wouldn't be totally shocked if Marvin Bagley averages fewer than 20 minutes per game off of the bench for the Kings. Luke Walton is going to run a lot of three and four guard lineups between De'Aaron Fox, Tyrese Haliburton, Davion Mitchell, Buddy Hield, and Terence Davis, and Bagley's inability to defend the rim effectively is going to take him out of many of those lineups. Add in the fact that Monte McNair upgraded the backup big man positions in Alex Len and Tristan Thompson, and Bagley may find himself somewhat on the outside looking in.
Rob H: I agree with my long-necked friend. Between the inability to stay healthy and his odd fit up front, I could see the #2 pick from the 2018 draft fall out of the core rotation.
Mirann: Aside from Marvin being the first that comes to mind, I am curious to see how Buddy's minutes may be affected. I wouldn't be surprised if Terence Davis eats up some of Buddy's usual ticks since Davis can provide more defensive reliability and can easily go on scoring heaters.
Brenden: This is easily Marvin Bagley for me. I feel bad being the one to say this, but if Bagley continues at the level of play we have seen from him recently then he is a negative on the floor. There have been random quarters of impressive offense, but there is no way to know what he is going to provide on any given night and the Kings are not in a position where they can be gifting minutes to negative impact players for the sake of development.
I have said it a few times now, but I would not be totally shocked if Marvin Bagley receives some ten minute nights or even DNP-CDs this year because the team cannot continue to wait for this hypothetical growth that has yet to be shown.
Greg: Bagley is the clear answer for the reasons everyone else has listed here. But the other answer for me is Richaun Holmes. Not because Holmes will lose his spot or be a worse player, but that the improved depth behind Holmes may allow him to play a few minutes less per night. Holmes played 29 minutes a game last season. It wouldn't shock me if he was still the starter and still the closer but averaged closer to 25-27 minutes a game this season.