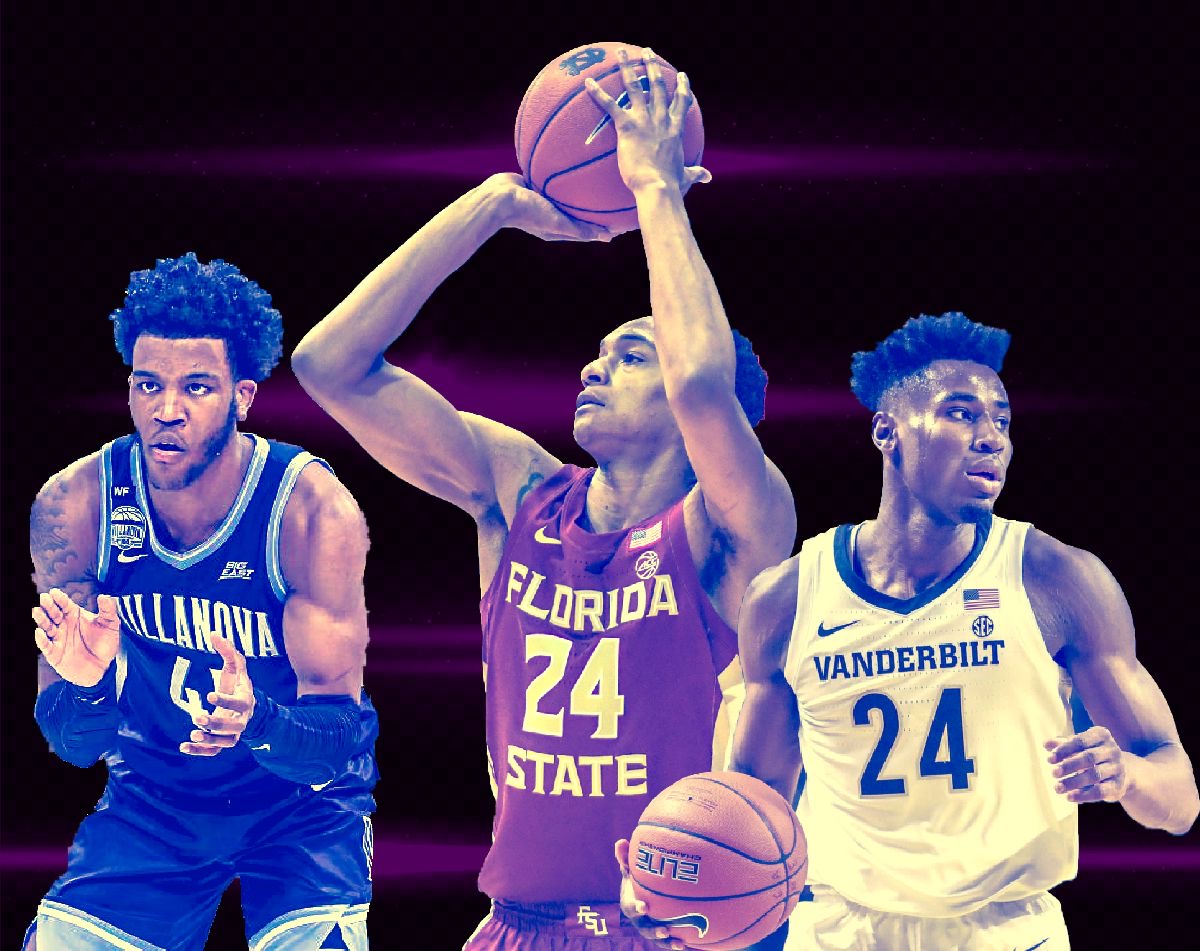 It's June, which means the NBA Draft is almost here! Oh wait. Never mind, it's 2020, the year where nothing is right.
All the same, it's been over 100 days without basketball, and many of us at The Kings Herald have focused some of that downtime on examining college players and international prospects. Richard and Brenden have been breaking down top prospects on the Kings Pulse podcast for over a month now.
It's time to put that research into action by writing up our first mock draft. Things will change a bit between now and the currently scheduled draft date of October 16, but it's never too soon to start reading the tea leaves praying for good fortune from lottery balls.

We ran a sim on Tankathon to generate our draft order and agreed to go with the first result, which unfortunately didn't help the Sacramento Kings. The Cleveland Cavaliers won the lottery, while the Detroit Pistons and the Chicago Bulls moved up three spots each. The Golden State Warriors got the worst result, dropping four spots to pick five. Sacramento will be picking 12th.
Rich will handle the odd numbered picks, while Brenden gets the even spots. Let's get the party started.
The Cleveland Cavaliers select Anthony Edwards
Cleveland is about as deep into a rebuild as any team in the NBA. They need upside over anything else, which means I only considered Edwards and LaMelo Ball here. Ultimately I am going with Edwards because I feel he is the same level of prospect as Ball, with a slightly better fit next to Darius Garland and Collin Sexton. An athletically dominant player will help their roster.
Cleveland would probably be best off adding a bigger wing, but they aren't going to reach down the board to do so. Edwards is plenty big for a two-guard and will give them a huge scoring punch. The Cavs are going to have a ton of upside on the perimeter. They'll be bad for a while, but if a couple of their high picks work out, they could be in a decent spot in a few years.
The Detroit Pistons select LaMelo Ball
There is a reasonable argument to be made that the Pistons have zero players currently locked into being a part of their long-term core. With no real identity, LaMelo Ball can come into Detroit and be the entire engine of their offense from day one where he will be presented a chance to learn through his mistakes. As Rich stated, Edwards and Ball are the two highest upside players in this draft and Detroit is fresh into a rebuild similarly to Cleveland so they should select whichever one left on the board at 2.
If Blake Griffin ever returns to decent health, he and LaMelo could be a fun pick-and-roll duo, but this selection is all based around long term upside. The Pistons will have an opportunity to build their roster out around LaMelo Ball's phenomenal passing prowess and could end up with their star of the future if he pans out. 
The Minnesota Timberwolves select Onyeka Okongwu
I have wanted to see Okongwu land in Minnesota for a while now. So much so, that I started doubting this pick because I was worried I wasn't considering other options enough. I am just completely in love with the fit for Okongwu in Minnesota. He is the interior defender that Karl-Anthony Towns needs, and KAT is the shooter Okongwu needs. They're a perfect pair.
But it's not just the fit alone. Okongwu is a consensus top-five pick at this point. Maybe it wouldn't be that way in another year, but it is what it is. Onyeka could be a 15 and 10 guy with a pair of blocks for the next decade. And he could be the best defender on a contending team if everything works out. That's a very valuable player, and worthy of the third pick here.
The Chicago Bulls select Killian Hayes
While the Bulls are desperately in need of some talent at the wing, particularly after Otto Porter Jr. suffered his injury, Killian Hayes is the final member of my top tier in this draft remaining and is simply too promising to pass up.
Zach LaVine is an unideal primary playmaker for the Bulls currently and Hayes will fit well alongside him as a savvy pick-and-roll player with a great feel. Hayes's main concern comes from being left-handed dominant and therefore will need some proper scheming to be optimized, which I am not the most confident in Chicago to do so, but at four the Bulls should prioritize the best player available. Coby White will have to remain as a microwave bench scorer for the foreseeable future while Hayes displays his manipulation, stepbacks, and crafty finishing among the starters. 
The Golden State Warriors select Obi Toppin
It was between Toppin and Wiseman for the Warriors here at the fifth spot. I think Wiseman has a much higher ceiling but Toppin has a far safer floor. In fact, I think Toppin might have the best floor in this draft. It's almost unfair that the Warrior will get the best day-one player out of this group, but sometimes the rich get richer.
Toppin will walk into the league as a legitimate contributor, and might even start for the Dubs. Even if he comes off the bench as their third big man, I see Toppin as a fantastic fit for the later years of Golden State's dynasty. If they wanted to improve their chances to compete in five to ten years, maybe they go for more upside. But they want to win now, so they'll take Toppin.
The Atlanta Hawks select Devin Vassell
The Atlanta Hawks managed to finish the season dead last in three-point percentage despite Trae Young creating a multitude of open catch and shoot opportunities for his teammates. With their star in place, the Hawks are in need of a tertiary playmaker and defensive impact prospects to aid Young's clear deficiencies. 
I would not be surprised if Atlanta preferred Isaac Okoro here, but the desperate need for spacing is enough for me to lean towards Devin Vassell. While Okoro has a higher upside and playmaking abilities, his shot is questionable and Vassell has proven his efficiency letting it fly from range while maintaining comparable defensive playmaking capabilities to Okoro. Devin Vassell will likely be the best 3&D wing in this draft and is almost surely the most NBA ready as well. There were some flashes of creation off the dribble when Trae needs any aid in that aspect, and I love the fit for Vassell in Atlanta. This would leave the Hawks with Cam Reddish, DeAndre Hunter, Devin Vassell, and Clint Capela backing up Trae Young and that lineup has a real chance to cover Young's inevitable deficiencies on that end. 
The New York Knicks select Cole Anthony
Personally, I am pretty low on Anthony. I'm concerned about his poor efficiency and score-first mentality. However, the Knicks have such a large vacancy at the point that I can't help but go with Cole. The Knicks are an old school (perhaps vestigial) franchise that would love to put the ball in the hands of a high-profile shot creator..
Anthony was widely considered the number one overall prospect in this class before a disastrous year at North Carolina. The Knicks just feel like a team that would buy in on an elite high school recruit, despite the red flags. Anthony has the reputation and the production potential to fit in New York. Is it a great pick? Probably not. Is it a Knicksy pick? Absolutely.
The Charlotte Hornets select James Wiseman
James Wiseman is an obvious fit here for me. The Charlotte Hornets have nothing going for them at the center position and are in the early stages of what could be a long rebuilding process with nothing but role players at the moment in Terry Rozier, Devonte Graham, Miles Bridges, and PJ Washington. 
James Wiseman is a swing for the fences, but the Hornets have the time to allow him to develop and take a risk for the potential of him panning out as an elite rim protector and rim runner at 7'1" with his eyecatching agility and explosiveness. PJ Washington has proven to be a more than respected floor spacer that should fare well alongside Wiseman as well. Wiseman fits a clear hole at the five and maybe, just maybe, ends up as their cornerstone of the future. 
The Washington Wizards select Tyrese Haliburton
Haliburton is a fairly easy pick for the Wizards here. He's the best player on the board in my opinion, and he presents a nice versatile future for Washington. Depending on how John Wall looks when he returns from injury, Haliburton could run the second unit or hold his own early on as a starter. His combination of off-ball and on-ball skills makes him a good fit with Bradley Beal.
Even if Beal is eventually traded, I see Haliburton as the type of player who could soak up numbers and potentially be a number one option. Obviously the Wizards wouldn't compete for a while if they let go of Beal, but Haliburton, Rui Hachimura, and Troy Brown would be a decent young core to build around.
The Phoenix Suns select Isaac Okoro
The Phoenix Suns should be ecstatic if Isaac Okoro is on the board for them at 10. While he does not resolve their obvious hole at the four, as Deni Avdija would, Okoro's NBA ready body along with his tantalizing defensive versatility and instincts have won me over.
As I mentioned previously, the shot with Okoro is a concern but his playmaking and relentless driving prowess have shined during his time at Auburn. Phoenix can surround him with shooters more than most lottery teams and allow him to initiate the offense at times in an Igoudala-esque fashion. I also relish the idea of Mikal Bridges and Isaac Okoro wrecking havoc behind Devin Booker with Deandre Ayton waiting at the rim. I see this is a borderline perfect pairing. 
The San Antonio Spurs select Deni Avdija
This is the most obvious pick in the draft for me. Avdija is a top-ten prospect and he is found money for the Spurs. San Antonio doesn't have much at the four, and Avidja would slide right in as the future of the position. Rudy Gay, who is about to turn 34, and Trey Lyles, who is not very good, played almost every power forward minute for the team this season.
It's a great landing spot from Deni's perspective as well. While he would lose some money by falling out of the higher lottery spots, he's going to gain a world-class development system. If any team can turn his questionable shooting into something real and respectable, it's San Antonio. I have some doubts about Avdija, but in this situation, he is well worth the risk.
The Sacramento Kings select Saddiq Bey
It came down to Saddiq Bey and Aaron Nesmith, just as we all knew it would. While there were tempting guard options on the table, Sacramento should prioritize fit at this point due to the lack of any clearly superior talent.
Between Bey and Nesmith there is no wrong answer. It may be an overstatement, but I viewed the question as: would you rather add another prototype similar to Buddy Hield (Nesmith) or Harrison Barnes (Bey)?
I am admittedly skeptical of Nesmith's defense despite his plus wingspan and simply do not think the Kings could handle another negative on that end of the floor. Saddiq Bey has shown an absurd switchability at Villanova and is no slouch shooting from beyond the arc himself. Bey stands at 6'8" with a reported 7'0" wingspan and while his lateral quickness is underwhelming, he utilizes his length, instincts, and supreme positioning to contain any players on the floor that aren't centers.
I also believe that Bey is a preferred fit in Walton's offensive scheme, where versatility is essential, compared to Nesmith. He has revealed promising flashes of playmaking while Nesmith is guilty of frustrating decision making and tunnel vision, similarly to Hield.
Saddiq Bey is one of the highest floor players in this draft while simultaneously having one of the more underwhelming ceilings in the lottery, but Sacramento needs a surefire impact talent. Bey could find himself starting in the near future and very well may end up as the second-best wing defender for the Kings in a division featuring LeBron James, Anthony Davis, Kawhi Leonard, Paul George, and Klay Thompson. 
The New Orleans Pelicans select Tyrese Maxey
I see the Pelicans' biggest need as a stretch big, but there is no one on the board I am comfortable with taking at pick 13. I also think New Orleans is happy to go with the best player available as their roster is mostly young guys that are still developing. Aaron Nesmith and Patrick Williams were in consideration for me here, but I think Maxey is the best bet.
Maxey is a two-way combo guard who would fit with a lot of different looks in New Orleans. He would pair well with both Lonzo Ball and Jrue Holiday. And if the Pels ever trade Holiday and fully commit to the youth movement, I see Maxey having the potential to fill his role.
The Portland Trail Blazers select Aaron Nesmith
The Trail Blazers are financially locked into Damian Lillard and CJ McCollum for years to come and were so desperate for an additional scoring punch from the wing that they added Carmelo Anthony last season -  and it helped. 
While Nesmith can't create off the dribble like Anthony, his movement shooting should prove valuable alongside the high usage backcourt in Portland. Nesmith has been claimed by many to be the best shooter in this draft class and that will surely translate to the NBA level at a quick rate. While there are defensive concerns, the Blazers' need for wings made Nesmith a fairly straightforward selection at 14 over the likes of guard Kira Lewis Jr.
Note: Richard and Brenden have been breaking down prospects through a Sacramento Kings lens on their podcast, Kings Pulse, all summer. We hope you will follow us on twitter @Kings_Pulse and subscribe to the show wherever you listen to podcasts.