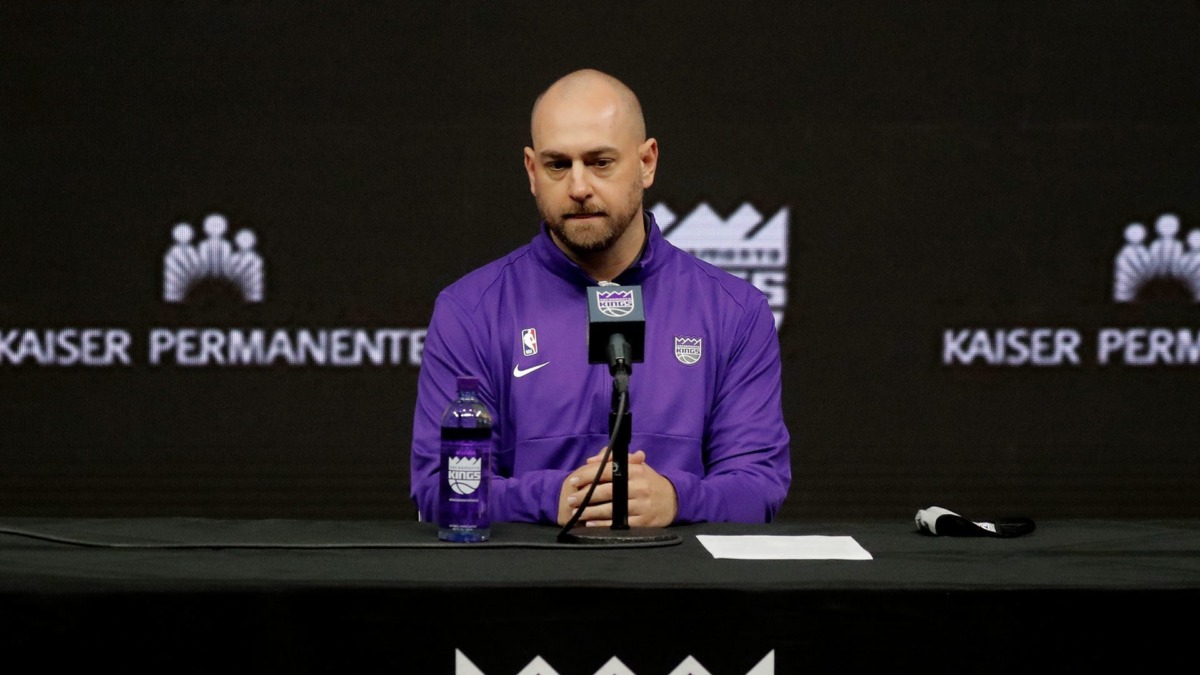 Sacramento Kings general manager Monte McNair said Thursday night one of the team's priorities this offseason was to improve the team's defense. Though they weren't focused on targeting defense in the NBA Draft necessarily, he said through "happenstance" they landed two specialists on that side of the ball.
Davion Mitchell, a guard out of Baylor, is known for his tenacity on defense and was named the 2021 National Defensive Player of the Year. Mitchell, nicknamed "Off Night" because his opponents typically have an off night against him, also earned Big 12 All-Defensive Team in the 2019-20 and 2020-21 seasons. He led the Baylor to the 2021 NCAA Championship. With the 39th pick, the Kings selected Neemias Queta out of Utah State. Queta, a 7-foot center, earned the Mountain West Conference Defensive Player of the Year award in 2019 and 2020. He also holds records At Utah State for the most career blocks (219) and blocks per game (2.5).
"One of our priorities this offseason was to improve our defense and Davion, we saw him guard positions 1 to 4. We think he can come in and do just that from the get-go. Then of course, with Neemias' size … his shot blocking ability. But really it was more happenstance, we didn't go in targeting defense necessarily, we wanted the best players, the best talents, the best people we could get and obviously excited they ended up being two pretty darn good defenders as well," McNair said.
Best player available over fit is something McNair reiterated regularly during his post-draft media session.
There were some questions following the Mitchell pick as to whether he worked out with the Kings before the draft. McNair confirmed that the Kings did not bring him in for a workout, but that they interviewed him at the Combine, saw him on the floor live and on film, and had scouts at Baylor games.
"We've been following him for years," McNair said. "We know exactly what he's about and he's exactly the type of guy we want to bring in here so that made it an easy decision for us. … I love everything that Davion brings, that he stands for. The mentality that he's going to go in and shut down the other team's best player, which he did all through his college year. Just an incredible asset to add into the team we're building here."
A few other notes:
McNair didn't really address much about the trade rumors this week leading up the draft: "There will be rumors out there and obviously it's our job to explore those."
There are questions about whether Mitchell's shooting last season was a fluke. He shot 44 percent from three last season, but only 32 percent the previous season and his college career free throw percentage is 65 percent. McNair said he is confident that Mitchell will be able to shoot the ball from three because they graded him out as one of the "best workers in the entire draft." He noted the type of threes Mitchell made last season – tough, deep shots off the dribble as he described them.
There are also questions about the fact that Mitchell is 22 years old and older players coming out of college not having a great track record in the NBA. McNair said: "A younger prospect I guess has more time to develop, but Davion is already there, played at an extremely high level. Arguably the highest level in college basketball this year as the leader of a national champion."
On Queta: "I'm actually I guess happy he was playing at Utah State, maybe stayed under the radar for us. I don't understand how a 7-footer who blocks 100 shots in a year stays under the radar, but incredible defensive capabilities, but I think what's intriguing about him and is still under the radar is his offensive package, his IQ, his passing, one of the best passing big men in the game. Ability to show touch from outside and really score inside. Obviously, his size will help on the glass. Hopefully he'll make a bigger name for himself in Sacramento."
Mitchell and Queta will travel to Sacramento now. No word yet on if both will be available to play in the California Classic.
Watch the full press conference here. And stay for the credits at the end of the movie where Monte gives a few special shout outs: