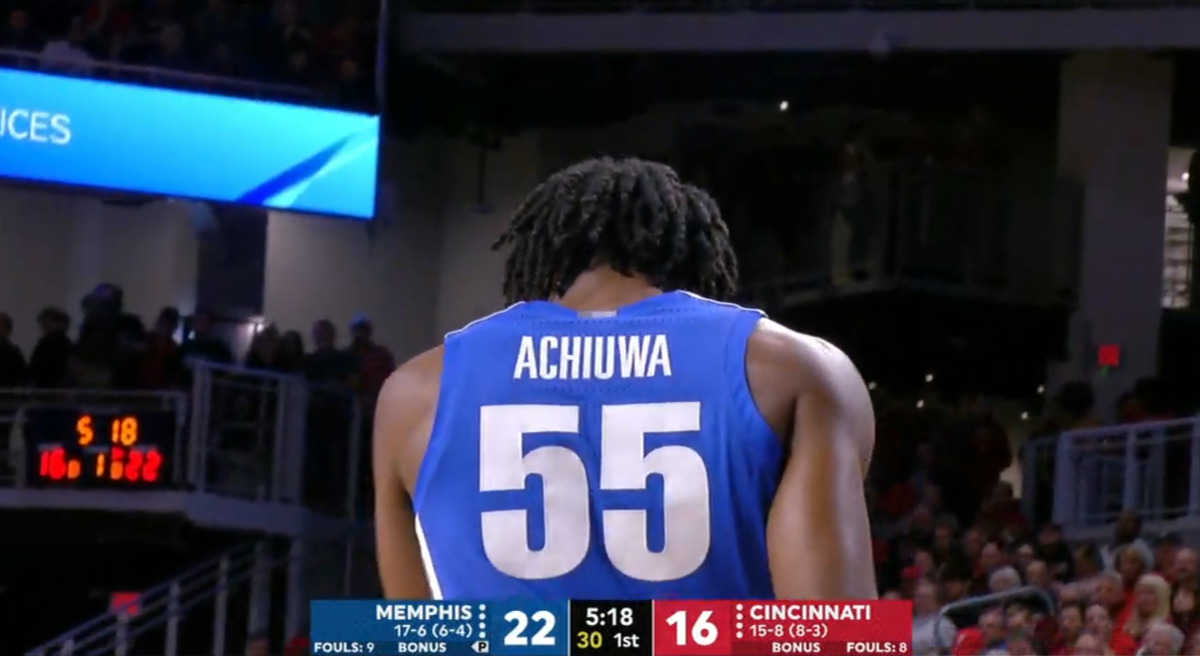 As the Sacramento Kings prepare for games to resume in late July, Luke Walton re-opened an self-inflicted organizational wound when he said the team views second year big man Marvin Bagley as €œa position-less type of player€ down the road, as chronicled by our own Richard Ivanowski in an excellent article for the Sacramento Bee. This is a long-standing party line that Vlade Divac first uttered back at the 2018 Draft; it's a foolish argument that, as Richard points out, does no good for anybody besides those who want to laugh at the Kangzy Kings. Marvin is at most a two position big-man, and I've long argued that Bagley's best long-term position is as a center. But could this €œposition-less€ train of thought actually impact how the Kings approach the 2020 NBA Draft?
Sam Vecenie of the Athletic released a 60 player mock on Wednesday ($) and selected Memphis big Precious Achiuwa for the Kings at pick 12. (Side note: Vecenie's coverage of college basketball and the NBA Draft is second to none, and is a top reason to have an Athletic subscription.) Here is a trimmed version of Vecenie's rationale for the pick, in which he linked Richard's Sac Bee article:
An important part of understanding why I've projected this is recognizing that the Kings see Marvin Bagley as a positionless player who can play all across the frontcourt rather than a center. Personally, I see Bagley's best position as being center. I also see Achiuwa's best position as being center. But if you take the Kings' point of view on this, it's easy to see how they could feel the center position is a priority. They tried to sign Dewayne Dedmon last summer before being forced to deal him this spring due to ineffectiveness. They got great minutes out of Richaun Holmes, who looks like a potential low-end starting center over the next four years. However, he's only signed for one more season after this one ends. On the wing, they have Harrison Barnes and Buddy Hield signed long-term, with the Bogdan Bogdanovic restricted free agency set to be the biggest decision of their summer. They're obviously set at point guard with De'Aaron Fox. Given those facts, it's actually pretty easy to see how, in the galaxy brain that is the Kings' leadership group, they could come to the conclusion that center is their biggest need.
Following this logic, it's hard to argue that the Kings €˜galaxy brain', as Vecenie puts it, could conceivably consider another young center with their 1st round pick. That said, if Walton and the Kings truly think that Bagley can play across the frontcourt, they have yet to prove it on the court, where it matters. Across his injury-limited playing time this season, Bagley spent a whopping 88% of his minutes as the center, according to Cleaning the Glass. Bagley also spent significant time during the shutdown bulking up in order to play against bigger centers. If Walton and the Kings are planning for Marvin to primarily be a forward, they haven't shown it yet.
But even if the Kings do think that Bagley is more a power forward, I don't fully see the logic in drafting Precious Achiuwa. Achiuwa is a strong switchable defensive prospect and one of the better rim protectors in the draft class; if his profile ended there, he could be considered a solid pick since Bagley has yet to prove himself as a switchable defender OR a rim protector. But Achiuwa's path to offensive success - as Vecenie and I both agree - is to primarily play as a rim-running big. Unless Bagley turns into a dynamic distance shooter - I'm more optimistic than most, but let's not kid ourselves - adding another middling shooting prospect like Precious (32% on 40 3PA, and 28% on all half-court jumpshots, per Synergy Sports) would clog the paint and driving lanes, and leave the Kings two bigs of the future stimed in offensive redundancy. I'd rather the Kings look to bolster their small forward rotation, which I consider their clearest positional need, or at least look for centers with more proven outside shooting abilities (Jalen Smith, anyone?). Indeed, I'd argue that the signing of Dwayne Dedmon last summer had just as much to do with his once-regarded-soon-departed shooting ability as it did his center position. The Kings cannot afford to draft another big who isn't a guaranteed floor spacer.
With the Kings three 2nd Round picks, Vecenie mocks the Kings to draft Mississippi State wing Robert Woodard, San Diego State point Malachi Flynn, and Gonzaga big Killian Tillie. While I disagree with Vecenie's selection of Achiuwa, Sacramento would be exceptionally fortunate if they aced the 2nd round like this. Woodard is a legitimate 3-and-D prospect, Flynn would be an excellent backup to De'Aaron Fox, and Tillie has long been one of my favorite targets for the Kings.