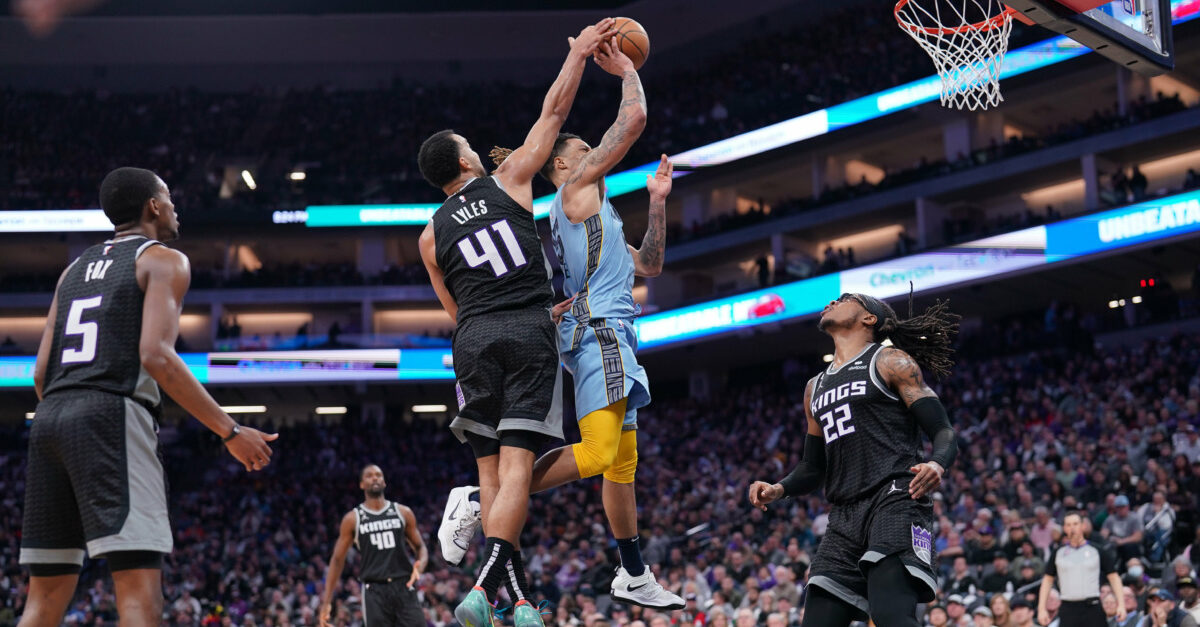 Trey Lyles is a really good role player. He isn't flashy. He isn't an every-game starter. But he can start if he needs to fill in for an injury and is a very reliable, smart and talented basketball player to have come off your bench. He proved it yet again Monday against the Memphis Grizzlies.
Lyles finished with 24 points, 7 rebounds, 3 blocks and 2 steals in 25 minutes in the Sacramento Kings win over the Grizzlies. Aside from the numbers, Lyles was a monster in the fourth quarter on defense. And did his job on the boards after Mike Brown got on the players Monday morning about their inability to rebound against the Philadelphia 79ers.
Following the win, Brown spoke about Lyles.
"He's got a tremendous feel [for the game]. His team defensive instincts within our scheme can help us get to the next level," Brown said. "He's going to bust his behind, he's going to use his length, he's not afraid to get hit in the nose, he'll try to rebound and he's going to get out and run and all of those things get contagious and so we need his presence because he's not afraid, because he has a great feel, because he's going to play so hard, because he's going to try to finish the play with a rebound."
Brown said all of this is why after he started playing Lyles earlier this season he hasn't come out of the rotation.
Let's take a look at what Lyles did against the Grizzlies.
He did a good job in the first half, as he does, fitting in with the flow of the offense.
A nice hard cut here once he sees De'Aaron Fox slow down his dribble. Easy bucket. He also drained a few threes in the first half.
There were a few first half plays though that displayed his feel for the game, as Brown mentioned.
Here, Malik Monk makes the three, but watch as Lyles immediately boxes out his man after running from the three-point line as Monk sets his feet for the shot.
Here, Lyles attempts to gain post position, but Domantas Sabonis passes it back out to Davion Mitchell. Lyles immediately clears the paint and motions to Mitchell to call off passing it to him. Mitchell then uses the space created by Lyles' exit for an easy layup.
In the second half, Lyles really made his imprint on the game.
He grabs a steal here and take it coast to coast for the dunk. The crowd explodes.
Another steal.
A block.
Drains an open three.
An aggressive rebound against the 6'11'' Jaren Jackson Jr. Lyles is listed at 6'9''.
Again, he is going up against the larger Jackson Jr. He tries to drive to the paint against Lyles. Lyles gets vertical and stays in front of him, slowing Jackson Jr. down enough that he loses control of the dribble. Lyles even takes an elbow to the chin and doesn't budge. Richaun Holmes goes over to give the man his props after this.
The Kings played impressive team defense down the stretch of this game with Lyles being a catalyst alongside Monk and Fox. This is a good NBA team, which is why it is in third place in the Western Conference, and even creating some separation. If the players can defend like this more often, it is going to be tough for any team in the league to stop them.
As for Lyles, who came over in the deal that sent Marvin Bagley to the Detroit Pistons, what an absolute bargain he is at $2.6 million this season.
Today at practice, Brown spoke about how defensive growth is the most important thing for the Kings right now. Subscribe to our YouTube channel here.