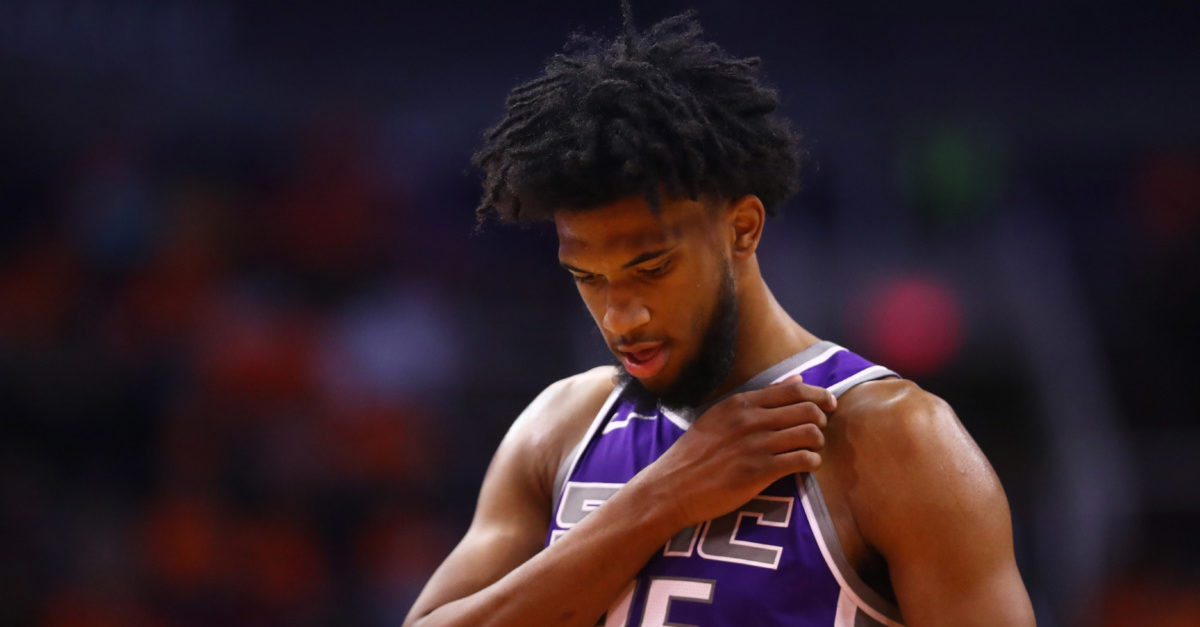 We have another trade!
According to ESPN's Adrian Wojnarowski, the Kings, Bucks, Clippers and Pistons participated in a four-team deal today that saw the Kings sent out former #2 pick Marvin Bagley III to Detroit, while the Kings received Milwaukee's Donte DiVincenzo and Detroit's Trey Lyles and Josh Jackson.
The full deal (possibly not final) as of now is this:
ESPN Sources:
Full trade participants:
Kings: Donte DiVincenzo, Trey Lyles and Josh Jackson.
Bucks: Serge Ibaka, two future second-round picks, cash.
Clippers: Rodney Hood, Semi Ojele.
Pistons: Marvin Bagley Jr.

— Adrian Wojnarowski (@wojespn) February 10, 2022
It's unclear who is sending out the second-round picks and cash as of now, but even if it's the Kings, this seems like a clear-cut win for the team.
Marvin Bagley has had a tumultuous tenure as a King, and a parting of the ways has seemed to be in the books for over a year now. The Kings managed to acquire Donte DiVincenzo, a player they have coveted since last season when he was almost sent to the Kings as part of a failed sign-and-trade for Bogdan Bogdanovic, as well as end of season tryouts for Josh Jackson and Trey Lyles.
DiVincenzo has only played 17 games this season after missing most of the year recovering from an ankle injury sustained last year. This is the final year of his rookie contract and as such the Kings will be able to make him a Restricted Free Agent this summer. When healthy, DiVincenzo was an athletic 3-and-D player for the Bucks, and Sacramento's hope is that he can make a full recovery and become a part of revamping the team's defense and shooting.
Lyles is a stretch 4 that has bounced around the league and is now on his fifth team since being drafted 12th overall by the Jazz in 2015. He's never really managed to put together a consistent season, and he has a small team option for next season.
Jackson is a wing player that was taken one pick in the draft before De'Aaron Fox by the Phoenix Suns, and has had some issues both on and off the court but had started to find a rhythm with the Pistons last season. This year he has struggled with consistency and injuries and also a reduced role now that the Pistons have Cade Cunningham. This is also the final year of his deal and he will be an unrestricted free agent. Today also coincidentally happens to be his 25th birthday.
After this trade the Kings are now two players over their roster limit of 17, so we'll have to see if any more moves are coming or if we see any players cut. But for now this looks like a solid trade for Sacramento. We will update this news if any extra details come in.
UPDATE 9:27 am:
It looks like the picks being sent out are by Detroit. One of them is technically our pick, but it was already owned by Detroit from a previous trade.
Sources: The second-round picks the Pistons are trading are next year's (lower of Cleveland and Golden State) and Sacramento's in 2024.

— James Edwards III (@JLEdwardsIII) February 10, 2022