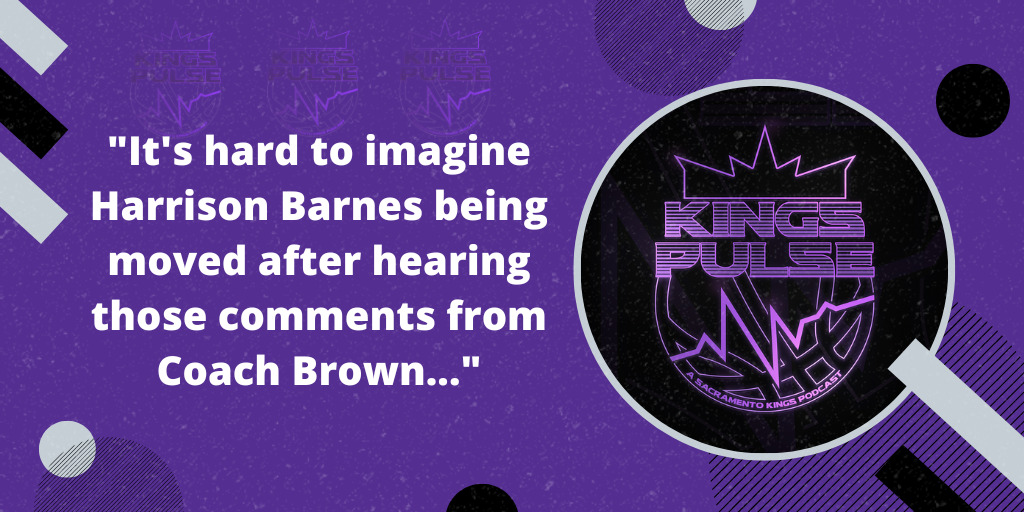 After defeating the second-seeded Memphis Grizzlies on Wednesday night, who were without Ja Morant and Steven Adams, the Sacramento Kings were sitting with an impressive 27-19 record.
It was a hectic game that featured a record-breaking offensive performance in the opening quarter and stellar defense in the closing twelve. Recorded live from Golden 1 Center, I talked about some of the primary takeaways from that game and the Kings' recent stretch.
Head Coach Mike Brown made no mistake when talking about the importance of Harrison Barnes to the success of this team both on and off the court. "He's irreplaceable from the standpoint where he brings a calming presence," Coach Brown said. "He has to be around." The full audio quote is included in the podcast.
Barnes and rookie Keegan Murray have been stellar in the month of January. I walked through some of their recent production before moving on to the growth that Keegan Murray has displayed. Quotes were included from both Murray and Coach Brown about his continued growth and upward trajectory.
🚨 NEW EPISODE 🚨

🔘De'Aaron Fox's impressive leadership
🔘Keegan Murray is getting comfortable
🔘Coach says Harrison Barnes is "irreplaceable"
🔘Sacramento's ability to lock up for quarters
🔘Some notes on the bench (Lyles, Holmes, Monk) pic.twitter.com/lwEo7jT70E

— Kings Pulse (@Kings_Pulse) January 24, 2023
The bench production has been huge as of late, particularly from Trey Lyles and Richaun Holmes. With Metu's unavailability, Holmes has been given some opportunity as of late and has taken advantage of it.
As for Lyles, his production has seemingly come out of nowhere. He's become a staple in Coach Brown's rotations which is crucial when there were times earlier this year when the rotation felt up in the air after the seventh man. Quotes from Lyles and Brown about his jump in play are included in the episode as well.
Malik Monk had a bounce-back game last night but there have been some very interesting quotes from Coach Brown and De'Aaron Fox regarding the "extra work" that Monk needs to be putting in during this slump.
The Kings Pulse podcast is available on all major listening platforms and also in video form on YouTube!
Subscribe: iTunes | Spotify | YouTube