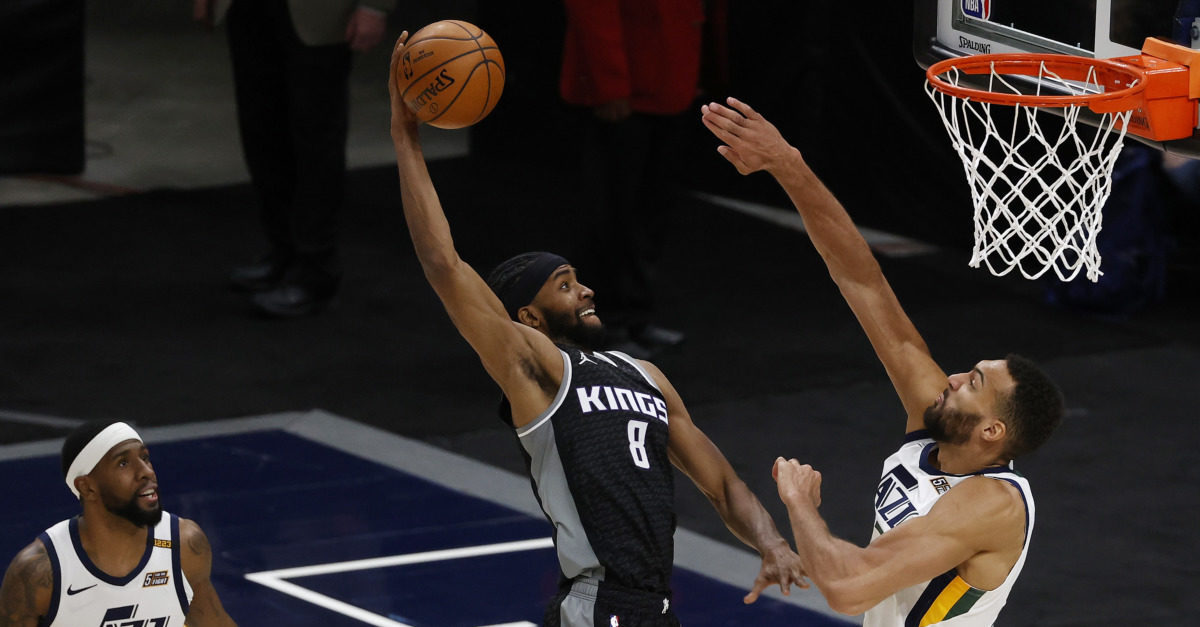 When Maurice Harkless was acquired at the deadline by Monte McNair, many questioned if he was deserving of an NBA rotation spot at this point in his career. He scarcely saw the floor for the Miami Heat, but that may have been largely due to issues out of his control and therefore an unfair assessment. During his short time in Sacramento, Harkless has likely changed that narrative by clearly gaining the trust of Luke Walton to the point where he was recently inserted into the starting lineup. He has proven to the Kings, and the rest of the league, that if given regular opportunity and a consistent role he can still perform at an adequate level in the association.
The Miami Heat went into this past offseason with a Jae Crowder sized hole on their roster, and Maurice Harkless was signed to a one-year, $3.6-million deal in an attempt to fill that vacancy. Opening night for Harkless featured him in the starting five against his first NBA team, the Orlando Magic, where he played 22 minutes. Harkless encountered turbulence quickly, and would only start for the Heat on two other occasions. In fact, the St. John's alum did not surpass 20 minutes again until nearly a month later - a marker he would not reach again in that same jersey.
While his on-court struggles were undeniable throughout limited opportunity, the idea behind catching a rhythm is far from a myth when it comes to NBA basketball and most professional sports - something Harkless was not given the chance to do. Unfortunate circumstances plagued the 6'7€ forward earlier this season, limiting his opportunity to carve out a role alongside De'Aaron Fox's former Kentucky teammate Bam Adebayo.
An arm injury hampered him early after a mere six games, an unfortunate thigh contusion kept him sidelined for nearly three weeks, and the former St. John's alum would only see the floor on two occasions after that point. 124 total minutes, 210 less than Marvin Bagley played all of last year, is far from a large enough sample size to properly evaluate a player in any given system. It certainly is not enough time for a player to find a comfort zone, carve out a role, fill a vacant one, or even get into proper game shape.
The more appropriate timeframe to assess Moe Harkless is the eight years he spent in the association prior to signing in Miami, where he established that he belonged in a rotation. It seems that Sacramento followed that same line of thinking when they elected to trade sharpshooter Nemanja Bjelica for Harkless and the recently waived Chris Silva. Harkless has been given plenty of opportunity by head coach Luke Walton to get comfortable alongside his Kings' teammates, already having played more than triple the number of minutes he did in Miami, and he has successfully revitalized his season.
The Sacramento Kings had a gaping defensive hole at the wing (and every other position, really) and Harkless, a touted defensive-minded veteran with an impressive 7'2€ wingspan, seems to have quickly and comfortably filled that spot. This is not to present Harkless as the solution to a deeper-rooted problem in Sacramento, but he has undeniably proven that he does in fact belong in an NBA rotation despite a shaky start to the season.
Throughout his 17 games post-trade, Harkless is averaging 23.9 minutes a night and has started on 11 occasions while being assigned to guard some of the opposition's top players such as Luka Doncic, Anthony Edwards, and Jerami Grant. Since being moved into the staring lineup, Harkless has logged the fifth-most minutes on the roster and is one of Sacramento's most capable defenders while remaining competent on the offensive side of the floor.
While his three-point shooting has not been ideal in Sactown, the veteran has been inconsistent from distance throughout his entire career where he currently owns a 32.4 percent conversion rate in nine years beyond the arc. Intelligent and well-timed cuts make up for his erratic shooting trends if left unattended to on that end of the floor, and he moves the ball well to continue a steady flow of movement.
Harkless can often be witnessed displaying a passion on the court that has been desperately missed from this Kings' roster - screaming with enthusiasm after big plays, clapping and demanding his teammates properly rotate and remain engaged, and advertising a defensive understanding that very few players on this roster can match.
He's not a player that Sacramento should be desperate to retain when his contract expires this offseason, but if there were any doubts of Harkless's ability to positively impact the floor after a turbulent beginning in Miami, that noise should be quieted. Again, Maurice Harkless is not the solution in Sacramento or anywhere else, but he is certainly deserving of playing time either here or elsewhere when next season rolls around.
Consistent opportunity can be hard to come by for players in this league looking to prove themselves and even ones that have gained said trust can lose it quickly, as was the case for Harkless in Miami. Thanks to him remaining ready, returning to full health, and being gifted opportunity, Maurice Harkless may find himself in extended conversations with more front offices (Monte McNair?) this coming free agency than he would have prior to coming to Sacramento.