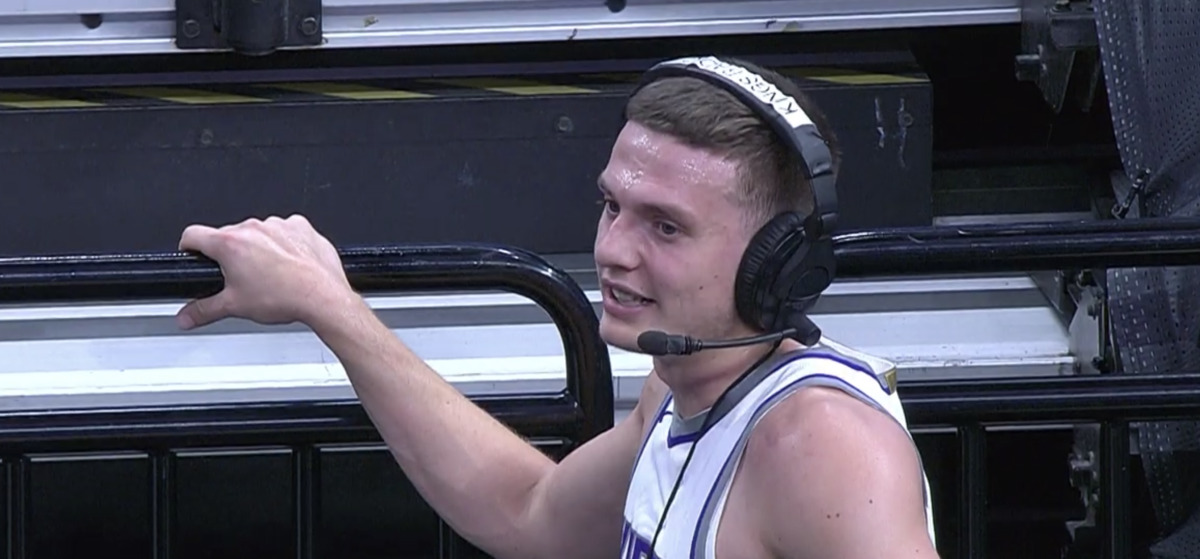 The Sacramento Kings defeated the Golden State Warriors 114-113 on Tuesday night in one of the more entertaining preseason games you'll watch. Marvin Bagley showed some promise in his return to the lineup. Hassan Whiteside re-debuted with the Kings and showed you the good, the bad, and the hilarious. Tyrese Haliburton continued to show off his defensive potential. De'Aaron Fox and Buddy Hield played well, too.
But this was Kyle Guy's night.
Kyle Guy has been a bright spot throughout the shortened 2020-21 NBA preseason for the Sacramento Kings, but he had a special performance on Tuesday. Guy dropped 20 points in 20 minutes on 7-11 shooting from the field, and 6-10 shooting from three. He looked confident, played confident, and just when it appeared like the third string Warriors were going to sneak away with the win, this happened:
https://twitter.com/SacramentoKings/status/1339081306957701120
Kyle Guy. Game.
It was a tremendous moment for a player that has worked his ass off to get to this point. Guy played just 10 total minutes over 3 games for Sacramento last season, spending most of his time in the G-League with the Stockton Kings. Guy performed well in Stockton on a two-way contract before joining Sacramento in the Orlando Bubble, but his long-term NBA future is and was no guarantee. Guy needs opportunities like last night to prove to scouts that he can play at this level and secure his next contract, so it was great to see him put together a memorable performance on national TV against the Warriors.
Guy's journey here, coupled with his big game against the Warriors Tuesday night, is what made Luke Walton's postgame comments about Kyle's projected playing time this season so perplexing.
"What he's doing is he's building confidence in his teammates and his coaches as far as trusting him. I think that's why it's great the NBA has gotten to this place now where you have two-ways and you have a G League system. So maybe someone like Kyle who physically isn't ready last year, can spend a year really getting a feel for it and I think our development staff and our G league team did a really nice job of putting him places and then he obviously has continued to work and got stronger. He's somebody that we trust and his teammates trust him. Now, as far as the regular season is concerned, if we're fully healthy, there's probably not a lot minutes every night for him, but if we're having an off night or guys are out then he's somebody that we can throw in there and count on."
Walton praised Guy quite a bit here, so if I'm being overly critical of a line or two of this otherwise positive assessment, feel free to call me out on that, but this is what immediately grabbed my attention:
"Now, as far as the regular season is concerned, if we're fully healthy, there's probably not a lot minutes every night for him, but if we're having an off night or guys are out then he's somebody that we can throw in there and count on."
I don't doubt that Walton believes this to be true, I'm just not sure why this has to be the case in Sacramento considering the circumstances here, and if it is, what does Walton have to gain by saying it publicly, particularly after what Guy just did on the court?
If Guy's strong preseason continues, the player he'd be competing for minutes with is Cory Joseph. Why, exactly, are Joseph's minutes etched in stone on a team that isn't expected to make the playoffs this season?
Sam Amick recently reported that the playoffs are not a priority for the Kings, so I'm struggling to understand why backup guard minutes are so important for a veteran that is likely gone at the end of the year over a young, clearly hard-working prospect where playing time would accomplish one of two important tasks:
If Kyle Guy is good, you've suddenly found another young asset under long-term team control.
The risk is so extremely low that if Guy isn't good, it only helps your draft position.
But beyond why I might believe that giving minutes to Kyle Guy is the right move, why is Walton making this point after the game anyway? It's unnecessarily deflating, and downright silly to determine playing time on a perennial losing team based on previous (and underwhelming) accomplishments. At least keep up the illusion of a meritocracy while you play favorites.
I understand why a head coach would play Cory Joseph over Kyle Guy, I do not understand why a head coach would tell a player that his minutes are locked in before the season starts despite his strong play. It's a disappointing approach from the outside, but I'd be even more disappointed if I were Kyle Guy.
Guy clearly wants more NBA opportunities as any competitor should, and having Walton shut the door on that 3 games into the preseason is just odd.
"I know I can do a lot more, and I'm hoping to get the opportunity to do a lot more."

Kyle Guy mentions he's really happy with his preseason opportunities and that he's going to stay ready into the season.

— Kimani Okearah (@theKimansta) December 16, 2020
I don't know if Harry Giles is going to be a great NBA player yet, but I know the Kings bailed on that project too early. They didn't give him enough playing time, and as a result, he left before the Kings found out how good he is or isn't.
I don't know if Kyle Guy is going to be a good NBA player, either, but there is no harm in finding out now. He's playing well, he's playing with confidence, and his fit as a shooter in the backcourt with either Fox or Haliburton as primary ball-handlers could be more valuable than Joseph off-ball anyway. The worst case scenario is that you lose a few more games. We're 14 years removed from the last playoff appearance, Kings. We'll gladly take a few more losses if it means young players aren't leaving before we find out if they can play.