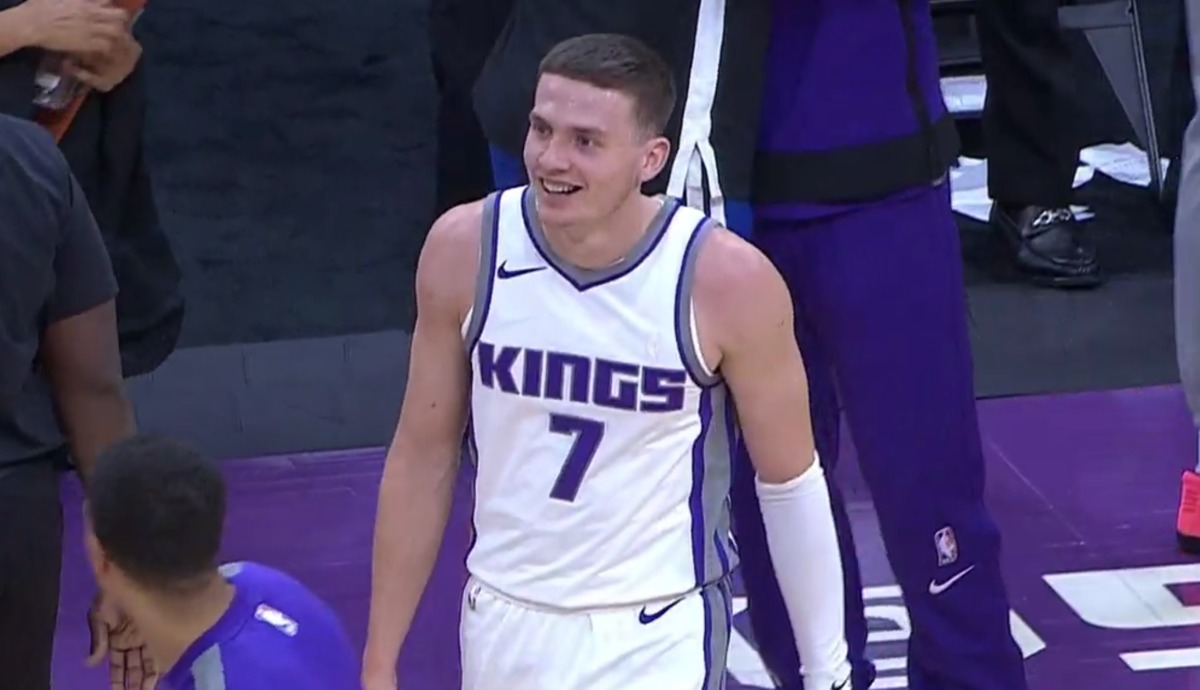 Sacramento's third preseason game ended in dramatic fashion, as Kyle Guy capped off a night to remember by drilling the game-winning three pointer at the buzzer to beat the Golden State Warriors 114-113.
https://twitter.com/SacramentoKings/status/1339081306957701120
Guy's night was about more than the buzzer beater however, as he showcased as a backup Point Guard in Corey Joseph's absence. Guy finished with a team-high 20 points, including 6 of 10 from three, to go with 3 rebounds and 3 assists. We all knew Guy could shoot, but tonight he looked comfortable running the offense as well, and showcased moments with good playmaking and vision. With Sacramento adding three more rookies this offseason, many were quick to write off Guy, but if his performance in preseason is anything to go by, he's making a real case to be a part of the team's rotation.
This night was also special in that it featured the return of Marvin Bagley III to game action. Bagley hadn't played competitively in almost a year and it was great to see him on the floor tonight. He finished with 9 points and 4 rebounds in 15 minutes and definitely looked to be in the best shape we've seen him yet. Hopefully he can continue to build on that as it looks like the Kings are ready to put him right back into a featured starting role.
Hassan Whiteside also made his Sacramento debut and while at times he looked slow and lackadaisical, he also offered a tremendous presence on the defensive side of the ball, cleaning the glass and protecting the rim. He finished with 11 points, 9 rebounds and 4 blocks in just 14 minutes, stellar production from a backup big man.
No King played more than 25 minutes, and Buddy Hield and De'Aaron Fox led the starters with 18 and 17 points respectively. Hield in particular looked good tonight, consistently making the second effort on both ends of the court.
It was a mixed bag from the rookies. Tyrese Haliburton only played 15 minutes and finished with just 2 points, 3 assists, 2 steals and a rebound. He consistently looked for others on offense and he was doing a good job of playing the passing lane on defense. If the worst that can be said of him is that he's too unselfish, that's not a bad place to start. Jahmi'us Ramsey and Robert Woodard both only played during the 4th quarter with the rest of the Kings deep bench and didn't really have any highlights to speak of. Ramsey had a nice up and under move to the rim for his only points of the game, and Woodard showcased solid defensive potential and weakside help protecting the rim, but the Kings offense ground to a standstill.
Sacramento once again made a conscious effort to play with speed and pace with Luke Walton in particular constantly telling his guys to run. At one point, even Hassan Whiteside took it coast to coast for a layup in one of those no, no, no, yes plays.
https://twitter.com/SacramentoKings/status/1339061769294102531
On the Warriors side, Steph Curry led the way with 29 points and looked more and more like the Steph of old despite the new hairstyle. He was a little off on his three point shot tonight or he could have had even more. Sacramento-native Marquese Chriss also chipped in with 17 points, 9 rebounds and 2 assists off the bench.
The Kings have one more preseason game ahead of them as they face the Warriors one more time on Thursday before the regular season begins on December 23rd.
Check out the official game highlights below:
https://www.youtube.com/watch?v=mHE7NpS9bA8