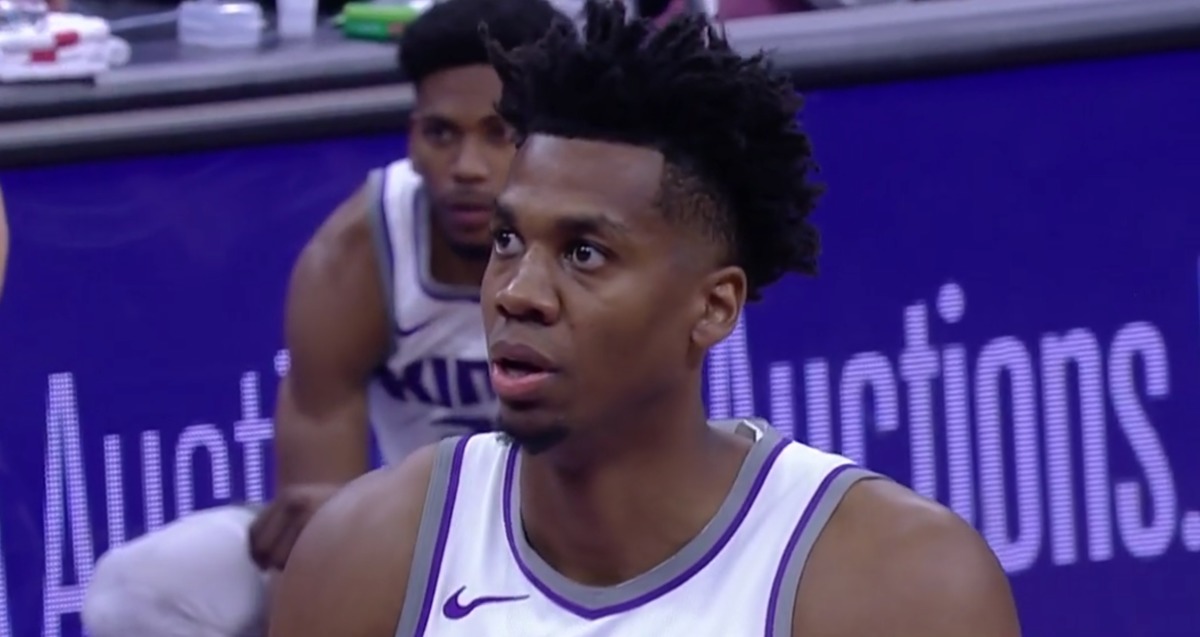 As the Sacramento Kings head into the 2020-2021 season, the roster feels a bit unfinished. Despite already employing the likes of Nemanja Bjelica, Jabari Parker, Richaun Holmes, and Marvin Bagley at the four and five spots, the Kings went bargain bin shopping for big men in the offseason and acquired three additional centers: Hassan Whiteside, Frank Kaminsky, and Chimezie Metu.
Metu and Kaminsky don't feel particularly important to the team in the long run, as their partial or non-guaranteed deals make them easy cuts or end of the bench pieces, but Whiteside represents a wholly different acquisition. He's walking into Sacramento as the former starting center for the Portland Trail Blazers, a team that performed at a much higher level than the Kings last season. While paired with Damian Lillard and CJ McCollum, Whiteside put up numbers, averaging 15.5 points, 13.5 rebounds, and a league-leading 2.9 blocks per game, and his debut on Tuesday evening against the Golden State Warriors was right on pace with his 2019 campaign, as he put up 11 points, 9 boards, and 4 blocks in just 14 minutes of play.
Hassan's raw numbers, although impressive at first glance, aren't as godlike as they may seem, as his reputation as a stat-padder is well-deserved. However, that reputation also fails to completely negate his on-court impact or abilities either. Analysis of his game requires a unique blend of statistical investigation, eye-test observation, and a healthy dose of skepticism.
Even accounting for the wariness of Whiteside's somewhat selfish playing style, there are two areas in which he does excel, reputation be damned. Hassan is a world-class shot-blocker and glass cleaner, two facets of the game in which the Kings struggled mightily last season, as Luke Walton's squad placed 27th in the league in both rebounds per game and paint defense last season. Meanwhile, among players who defended at least six field goal attempts at the rim in 2019, Whiteside ranked third overall in stopping scorers in the paint, reducing his opponents' average field goal percentage from 62.1% to 49.5%, a differential of 12.6%. For comparison's sake, Richaun Holmes posted a very pedestrian 5.5% differential last year. The Kings haven't seen a shot-blocker of Hassan's caliber since the playoff drought began over a decade ago.
Along with this paint defense, Whiteside's rebounding prowess is another element of his game that may make him more valuable than some may wish to admit. Similar to his rim protection, he placed third in the NBA in defensive rebounding percentage, snagging almost 30% of any available boards while on the floor, once again trouncing Holmes' output of only 19.1%. Sacramento's newest addition was also extremely effective in finding extra possesions for the Trail Blazers last year, placing in the 98th percentile in offensive rebounds.
Those positives by no means make Whiteside the All-Star caliber player his averages seem to indicate, as evidenced by his one-year minimum contract and the largest play decrease of any player in the NBA from 2019 to 2020. Similar to a three-point shooter who can do nothing else particularly well, Hassan is just about average in every area outside of shot-blocking and rebounding. Last year, he placed in the 60th percentile in the pick-and-roll, one of the main facets of Sacramento's offensive game plan, while he also showed a reluctance to get out in transition with his fellow guards, only participating in 22 fast break opportunities. Those habits and weaknesses certainly won't endear him to the likes of De'Aaron Fox and Tyrese Haliburton, two players who making their living in the pick-and-roll and open court opportunities.
Beyond the basic and advanced metrics, Whiteside is also known as one who will sacrifice team defense or interior positioning to swing wildly for a shot-block attempt or to steal a rebound from a teammate. He's essentially a lesser talented, center version of Rajon Rondo when it comes to individual numbers. That style of play, along with his penchant for frequent, frustrating bone-headed decisions, has been the driving force behind Hassan's nomadic career. His highs are extremely high and his lows are unfathomably low.
When the Kings were first linked to Hassan Whiteside days before they signed him, a spark of fear and frustration coursed its way through most of the fan base. Most were afraid that Monte McNair was going to throw some ridiculous salary Whiteside's way, perhaps the full three-year, $27 million mid-level exception, but those concerns were quickly put to bed once the contract was actually announced. Although Hassan at the full MLE would have been a horrible decision, inking him to a one-year, minimum contracts represents solid value for a rotational-level player, even with his annoying habits and less than stellar reputation in the city of Sacramento. At 30-years old, he's not going to change who he is or what he does or doesn't do as a player, but Hassan Whiteside can provide some valuable minutes to the Kings as a backup center who makes no impact on the short-term or long-term cap sheet.