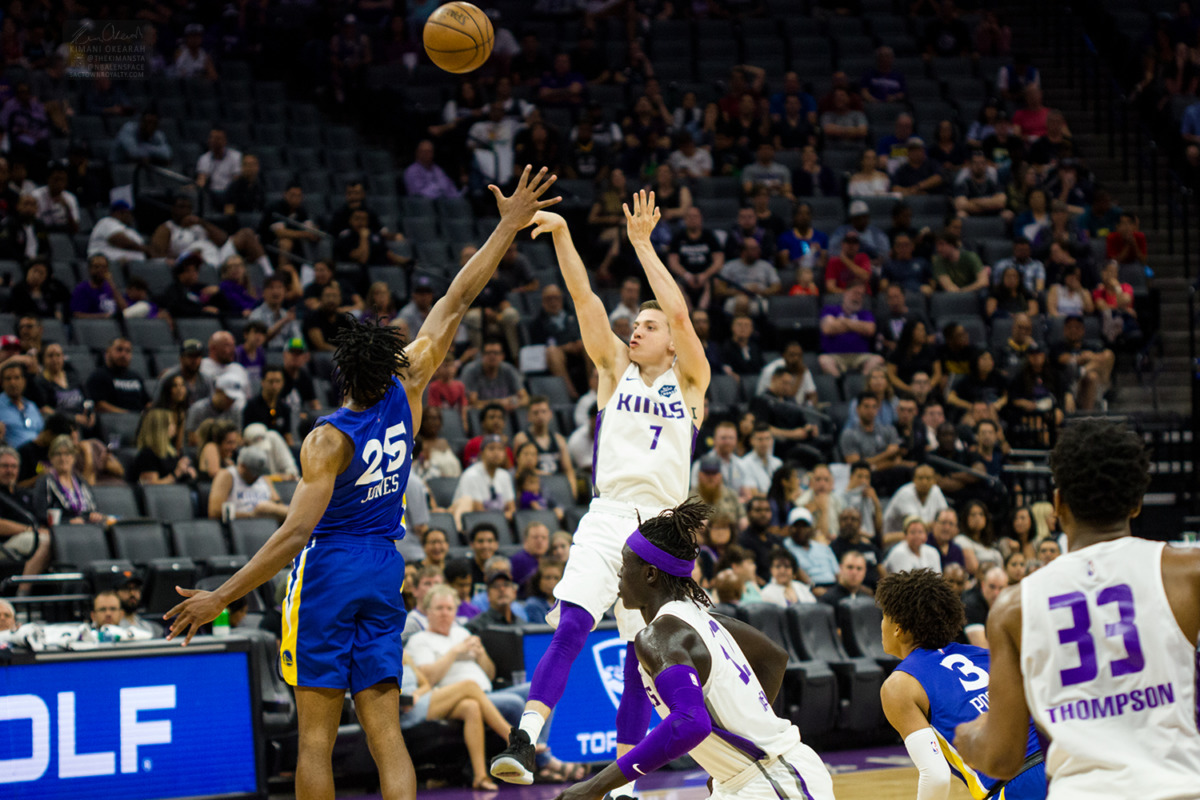 Kyle Guy has always been a smaller basketball player and admits he has never really passed the "eye test." He's had to prove himself at every level of his career. In high school he was a nobody, as he describes it, until his senior year. In college, he went through adversity as well until him and his University of Virginia team won the NCAA championship in 2019. In the NBA, he has spent most of his time playing in the G League, learning, getting stronger and trying to make a name for himself, again.
"Every single level that I get to I've had to re-prove myself," he said after hitting the game-winning three over the Golden State Warriors in Tuesday's preseason game. And that isn't a complaint for Guy. The chip on his shoulder doesn't come out of spite, it comes from a place of welcoming challenge.
"I don't want it to happen any other way, this is my path and I'm super excited to be on this journey and be in this organization that trusts me," he said.
Guy was in close games throughout his college career and he hits shots like the one he hit Tuesday night all the time in practice – game winners, step backs, really difficult shots. So when he heard the coaching staff tell him to go for the win instead of trying to tie the game in the final seconds against the Warriors, he knew he had to "knock it down." Head coach Luke Walton said Tuesday that there may not be a lot of minutes available for him this season, but Guy's approach and work ethic is admirable.
"I'm a guy who sets lofty goals that most people think are crazy and that's what I like to chase. If you don't laugh at it that means I'm probably not going to chase that goal because it's not big enough," he said. "So making the roster was a goal that I set this year. If it happens great, if it doesn't then I'm very content – I know I could still get an opportunity even if I'm not on the actual roster."
Sports are a microcosm of life. You experience joy, pain, failure and triumph as a fan. The players go through it at an even higher level because a good chunk of their lives have been pretty much molded around their potential to make it in the NBA. Guy's basketball story is an example of that. Another Kings player who is working his way through adversity is Marvin Bagley.
Bagley is a guy who has been through a lot. He's been in the shadow of Luka Doncic pretty much ever since Vlade Divac selected him with the No. 2 pick in 2018. Injuries have allowed him to only play in a total of 75 games in two seasons, including not being able to play in a single game in the Orlando Bubble. Then, he tested positive for COVID-19 coming into this season's training camp. Since he has appeared to the media over the last week, however, he isn't sulking, he's approaching this season as a clean slate. And from the moment he woke up on Tuesday morning, all he could think about was the game that night – his first preseason appearance.
He was placed in the starting lineup and in the first couple of minutes of the game he had to adjust back into the speed of the game, and admitted he got a little tired. By the end of the first quarter, however, things began slowing back down for him and he felt back to normal. He finished the game with 9 points and 4 rebounds in 16 minutes of action. He had fun, was enjoying the game and letting it come to him.
"I'm just glad that I was able to be out there and I made it through the game healthy and I just want to thank God for that," Bagley said.
Bagley has taken the tribulations he has gone through in his career so far as an opportunity to get his body and diet right, and staying positive.
"I can't control stuff that I can't control at the end of the day. Only thing I can control is how I approach the game, how I work and the work I put into the game – that's my mindset, and I stayed positive throughout that whole time. I'm moving forward from that. I'm glad this was a good first step to a great season ahead, so I'm just excited to be out there and helping my team," said Bagley, who is currently on a minutes restriction.
He was also excited for his teammate Kyle Guy.
"Kyle [Guy] as you guys saw tonight, he's a great player. We see it every day in practice and workouts he shoots like that, so it's no surprise," he said. "I'm just happy for him that he's getting the opportunity to show the world what he can do. … I'm happy for my guy, and the best is yet to come for him."
I am happy for both Bagley and Guy. Athletes have a lot of pressure on them and when roadblocks are put in front of them like they have both experienced it is great to see them come out of the other side. It was only one preseason game, of course, and who knows what the future holds, but it was a good night for these two and hopefully the best is yet to come for each of them.