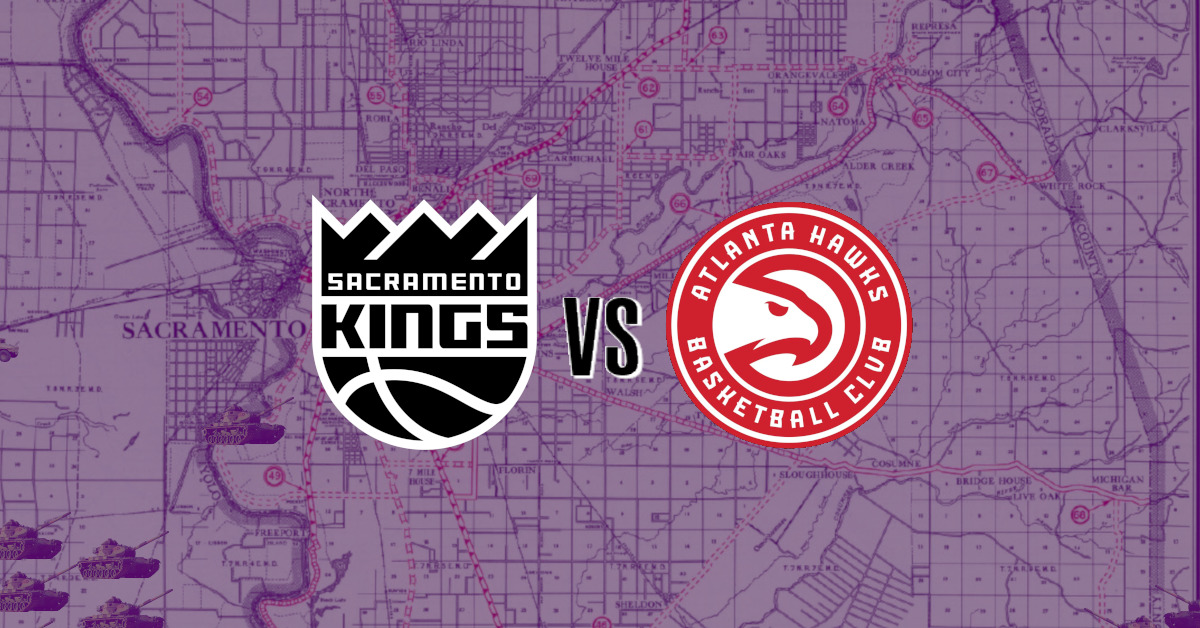 The red-hot Atlanta Hawks are in town tonight for what should be a pretty fun basketball game between two teams that like to score a lot of points, and don't like to play a lot of defense.
When: Wednesday, March 24th, 7:00 PM PST
Where: Golden 1 Center, Sacramento, CA
TV: NBCSCA - Mark Jones on the call.
Radio: KHTK Sports 1140 AM
For Your Consideration
The Hawks are 8-1 in the Nate McMillan era, proving to some degree that a mid-season coaching change can actually inspire tangible improvement on the basketball court, and head into Wednesday night's matchup in Sacramento as three-point favorites over the Kings.
Atlanta's turnaround has been pretty impressive. I understand that their schedule hasn't been very difficult since the All-Star break, but I was floored when looking at the Eastern Conference standings this morning and saw them way up there as the current 4-seed.
Lloyd Pierce's Hawks were one of the most disappointing teams in the league coming off a very expensive offseason. Nate McMillan's Hawks are right where they had dreamed: hosting a home playoff series if the season ended today. They're also finally healthy, and that fact might deserve just as much credit as McMillan for how well they've been playing recently.
The Kings have been playing better since the All-Star break, too. Sacramento is 4-3 over their last 7 games, and 3-1 since Tyrese Haliburton entered the starting lineup to replace an injured Marvin Bagley.
De'Aaron Fox, Tyrese Haliburton, Buddy Hield, Harrison Barnes, and Richaun Holmes are playing some good, fun basketball together. The bench unit is a disaster, as it has been all season, but so long as the reserves don't get destroyed, I'd expect another competitive game from that starting unit tonight.
Unless the team is as distracted by trade rumors as I know the Sacramento faithful will be.
That's right, this is the last Kings game before the March 25 trade deadline which means a likely goodbye for some of the players on the 2020-21 roster. Nemanja Bjelica appears like a near-lock to be dealt by the Thursday deadline. A minimum contract veteran like Hassan Whiteside seems like an easy move, too, but the goodbyes might not stop there.
We've had some recent Richaun Holmes trade rumors. We've had season-long Harrison Barnes trade rumors. The Kings have been trying to find the right deal for Marvin Bagley. Buddy Hield's time in Sacramento has been in question for years now.
Everything but a Haliburton or Fox trade is on the table, and this Kings blogger is expecting some significant movement.
But yeah. Hawks vs. Kings should be fun. Will I only pay half-attention because I'm too busy refreshing the newsbreakers on Twitter until tomorrow afternoon? You bet.
Prediction:
I think we could see some weird lineups tonight because Monte McNair won't want to risk any injures to potentially traded players, namely the role vets like Bjelica and Whiteside. The Hawks, John Collins, in particular, have been the focus of a ton of trade rumors, too, so we may see some similarly weird lineup stuff on Atlanta's side.
Keeping with tradition, Kings 118, Hawks 111.
PS. I'm only here today because Will's laptop exploded this morning, so R.I.P. to Will's laptop. It had a good run.