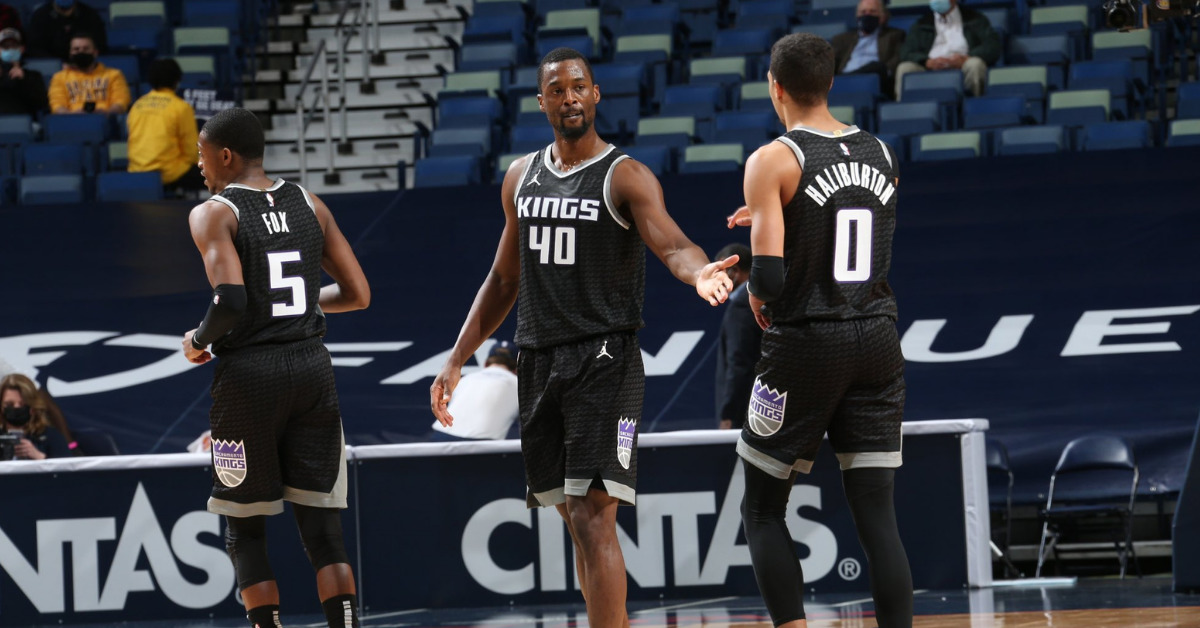 According to Sam Amick of the Athletic, a couple of NBA contenders have shown interest in a few of Sacramento's players, with neither the teams nor the players involved coming as any massive surprise. Harrison Barnes is "known to be on Boston's radar", while the Sixers may pursue one or both of starting shooting guard Buddy Hield and recently benched forward Nemnaja Bjelica.
The Celtics present an especially interesting prospective trade partner, as they have a unique ability to absorb a highly-paid player such as Harrison Barnes without sending much salary back. Boston's advantage comes from their sign-and-trade of Gordon Hayward to the Charlotte Hornets in the offseason. Because they received no salary back in the deal, they were granted a $28.5 million Traded Player Exception, a cap loophole that allows teams to take on contracts without sending back matching money. Traded Player Exceptions can be split into multiple parts, so the Celtics could take on three medium-range targets or one massive contract, but they cannot be combined with other TPEs, meaning Danny Ainge couldn't tack on more TPEs to the largest one in NBA history.
In addition to not being able to add to the TPE, Boston is facing another unique issue in that they're hard capped this season. Without going into too many arduous cap details, the Celtics sit about $19.5 million below the tax apron, so they can only take on that amount to stay under the hard cap, even though the exception is worth far more. In a theoretical trade with the Kings, the hard cap shouldn't be too much of an issue, as Harrison Barnes makes $22.2 million. The Celtics would only need to send around $2.7 million Sacramento's way to make the deal legal under the CBA. A few young prospects could meet or almost meet that requirement in Aaron Nesmith, Romeo Langford, and Robert Williams (who falls just short on his own), or Boston could even look to send a first round pick or two and expiring salary in a player like Jeff Teague or Daniel Theis.
From the Sixers point of view, trading for Buddy Hield and/or Nemanja Bjelica wouldn't present any great challenge either, at least from a salary-matching point of view, as Philadelphia possesses multiple expiring contracts in Danny Green ($15.3 million), Mike Scott ($5 million), Terrance Fergusen ($3.9 million), and Tony Bradley ($3.2 million). Of course, the Kings wouldn't be looking to dump Hield at this point, but Philly also possesses multiple, attractive young talents in Mattise Thybulle, Isaiah Joe, Furkan Korkmaz, and even the unlikely-to-be-traded Tyrese Maxey. The Sixers don't own their 2020 pick, which also restricts any activity for their 2021 first rounder, but they own all selections after 2020, another possible asset in any theoretical trade.
However, before the trade machine's Google Analytics start pumping out surges for the greater Sacramento area, Amick dropped some other interesting intel that may cool some excited, trade-happy jets. After describing the team's original intention to sell off veterans at the deadline, Amick dropped the mini-bomb that the Kings could actually reverse plans and look to become buyers at the deadline. "If this trend continues, heading into the deadline, a source with knowledge of the Kings plans said the prospect of them being buyers would be very much in play. Yes, in other words, they're daring to dream a bit." Later on, Sacramento's number one national insider also shared that Barnes may not even be on the block for Monte McNair: "To this point, sources say teams have been given the impression that the Kings have no interest in moving Barnes."
Those two revelations seem to go hand-in-hand, and the thought process is understandable. If the Kings continue to play well and win a majority of their games, and that is a big if, they cannot simply toss away the season in the hopes of a high draft pick. De'Aaron Fox has been playing too well and Tyrese Haliburton has been far too polished to suddenly shift gears and tank as hard as possible. If the right high-level player who fits within Sacramento's view of the future (perhaps a disgruntled John Collins in Atlanta?) becomes available, Monte McNair could still cash out on a veteran or two, and maybe even part with some draft assets or young players, to consummate a deal that makes sense for both today and the future. A push for the playoffs that doesn't totally abandon the offseason priorities of getting younger and resetting around Fox's timeline feels like a sensible compromise.
This sort of information also could be coming from different places within the franchise. There are likely elements within the front office or ownership who desperately want to be known as a contender, and some of those elements may be more likely to speak with the media off of the record. Conversely, leaking that a player like Harrison Barnes is off of the table may also be nothing more than a ploy to boost the offers that Sacramento is currently receiving. Telling another team that you are not open for business, and in fact may look to acquire talent and push for wins, could drive up the price for a commodity like Barnes or Hield, especially if any sort of bidding war opens up. Trying to decipher the difference between legitimate intel and smokescreens is almost impossible at this point in the season, especially when considering Sacramento's roller coaster of a season.
Monte McNair has some very tough decisions ahead of him, as it's clear that despite the fan base's concerns in the preseason, both Buddy Hield and Harrison Barnes, the team's two largest salary concerns, have contenders ready to bid for their services. Barnes is playing the best ball of his career, and his value may never be higher, while Hield's tradeability is always in question with his lack of defense, massive contract, and historical clashes with different coaching staffs. Cashing out big on two potential wildcards has a nice ring for a GM who walked into the season preaching future flexibility and building around De'Aaron Fox. Unfortunately, sending out two important vets amdist the team's best play in literally more than a decade may do nothing more than piss off the guy that McNair and company are trying to build around. Fox wants to win, and Fox wants to win right now, and Fox is playing like a winner right now. Replacing Barnes or Buddy with non-starting level young players and future draft picks won't exactly boost Fox's development and in-game contributions, nor will it boost the team's winning percentage. That path may not be an option if the Kings want to keep their budding star happy.
The good news for Monte McNair is that no decision has to be made immediately. The trade deadline is 41 days away, a timeframe that will likely give the front office adequate time to figure out if this squad is for real, or if they simply enjoyed a recent hot streak and caught some injury luck from opposing teams. It's important to remember that just prior to winning seven of nine, this same group dropped nine of eleven games while playing some of the worst defense in NBA history. No one really knows who this team is, including the Kings. The best case scenario, as always, will probably come down to some sort of balance between outright tanking and irresonsibly pushing for the eighth seed. Sacramento doesn't have to send out guys like Barnes and Hield and Bjelica for non-contributing young players, nor do they have to reach for overpaid, ineffective veterans. As the next month-plus passes, competent, rookie-scale players are likely to become available, and those sorts of assets are exactly who the Kings should be targeting, whether they're looking to win now or build for the future.