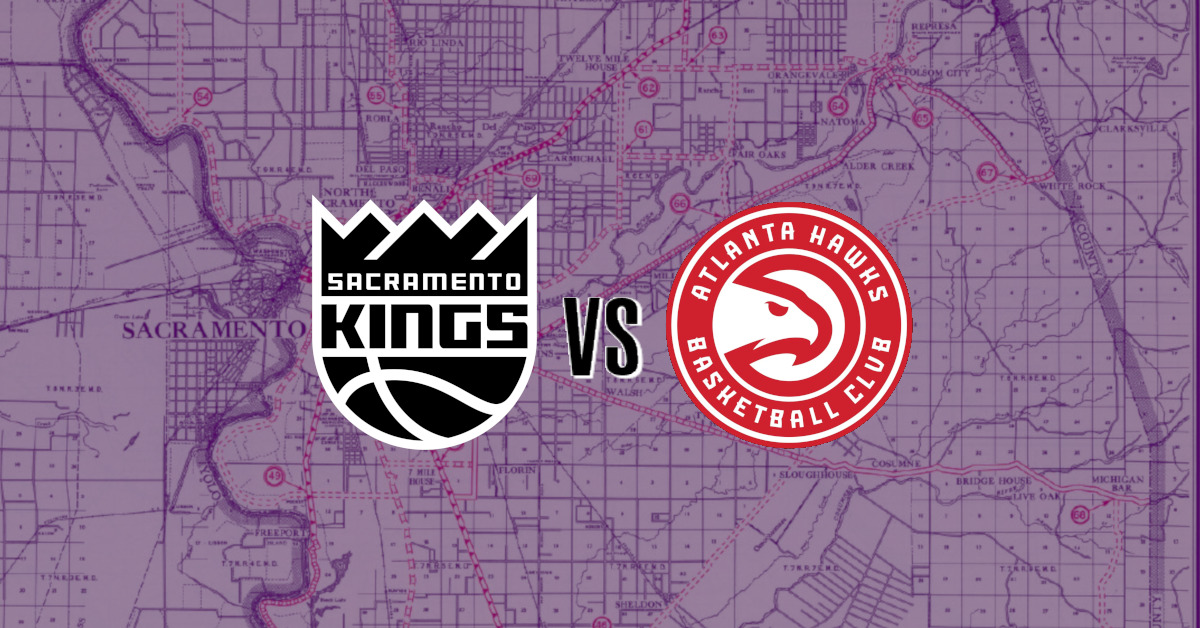 Forgive me for missing some context from last night's game: as soon as LeBron James drew the And-1 with 52 seconds remaining, I peace'd all the way out. Sure, I caught the dumb jump ball later online and saw the ensuing discussion on the refs blowing the game for the Kings, but if the refs enforced a rule, regardless of how idiotic that rule seems - just gotta play well enough for that stuff to not matter. Something the Kings haven't and/or can't do. No matter: any time Crypto.com Arena drops confetti on a Tuesday night for a Kings game, I feel like there's at least a bit of an immoral victory there. Lebron was sweating his team getting hassled for a second time this season and I'm fine to leave it there.
In the meantime, the Hawks are in town, another festering, limping franchise victim of the current climate and the Kings have... gonna say it in italics so that maybe the basketball gods just don't recognize it here... a legitimate shot at a W tonight. Trae Young isn't exactly healthy - he's questionable with a back injury. To make matters worse, nine members of his supporting cast, including Bogdan Bogdanovic and John Collins are out with various protocols and maladies. Not going to jinx it, not going to jinx it, not going to jinx it, not going to jinx it, not going to jinx it not going to -
Let's talk Kings basketball!
When: Wednesday, January 5th, 7:00 PM PT
Where: Golden 1 Center, Sacramento, CA
TV: NBCSCA -Kyle Draper (play-by-play)
Radio: KHTK Sports 1140 AM
For Your Consideration
Trae It Ain't So: There's been a decent amount of discussion the last few days as to De'Aaron Fox and his availability on the trade market and what that says for the management surrounding him and seeing as how, well, I'm not trying to hunt down stats on G-Leaguers for a Wednesday game, I'm going to take a second to clear the air a bit.
I'm one of the loud ones that harped all last year about the team's talent level and the ceiling they were giving themselves in committing to this version of the team. Still now, I feel it was a grave error not immediately going into a rebuild two years ago. This is well documented, I repeat it only to say this: no one on this team should feel safe in the assumption that they'll finish the year as a member of the Sacramento Kings. Not Fox, not Haliburton, not Mitchell or Holmes or Neemias Queta. No one. I believe that Fox is absolutely tradeable and would even go so far as to say he's feeling some of that pressure with his new GM locking him into a nice max contract then immediately going out and drafting point guards in consecutive years. All that being said, the whole reason for a tank or restructure or whatever it is that makes casual fans okay with "youth play, olds go away" is talent and youth acquisition. Fox, though expensive, though burnt out or bummed at the course of another lost season, is still an incredibly talented youth. Questions of leadership and fit are for another time. De'Aaron Fox is maybe the best asset on your team - he is the foot in the door to maligned and misused All-Stars and for that alone, he's going to be someone that should be discussed in trades. He is however, maybe, the second to last player I'd prefer gone.
Has he disappointed this season? Absolutely. I blame fan expectations as much as his uneven play. Has he proven yet to be the leader this team needs to pull them from the cellar? No. Has he struggled mightily at times with Tyrese Haliburton in their dueling 1.5's back court? Absolutely. I don't see any of these as reasons YET to trade him. This time next season? Sure, start there. But at least wait until an adequate coach is hired, someone with the chops and motivation to fit Fox-Hali-Mitchell into a tangible guard line. If Chris Finch can build a 13th rated defense around D'Angelo Russell as the tip of the spear, Fox and Hali certainly aren't unsalvageable. Those two need time to grow and meld around each other in a system that isn't put together by a coach on his last leg or the coach that never should have had a leg to stand on.
There's no sense to trading Fox on a whim, especially from the eyes of the tank. If for some reason the Celtics go bananas and say you can get Jaylen Brown and rebalance the roster, right now, this season without draft compensation - I can't hold that against Monte and Co. for trying. Outside of daydreams of All-Star swaps without picks included, there's little to no reason for management to do this right now, this season. It certainly isn't some indictment on a front office for them to do their due diligence on trading the franchise cornerstone. There was a good deal of bloviating for ratings about this too yesterday and it's all incredible transparent.
Again, I'm the biased tank guy. I'd trade my mother and a one of my children to be named later if I was getting a high enough pick or a talented enough youth. Fox is infinitely tradeable. There's absolutely deals I would do for him. But the reasons to make the change now feel far more rooted in emotion than logic and that's never a way to winning team. We wanna make the playoffs? He's at the very least the second fiddle toward accomplishing that pipe dream. You want a Top 3 pick? Give Harrison Barnes, Richaun Holmes and the mound of vets their happy send off and force Tyrese Haliburton and Fox to run 36 minutes together with a bunch of G-Leaguers. There's still time to get close. I'm not trying to say that Fox has a ton of time to turn things around or that people shouldn't be talking about deals that are worth the upheaval. I just saw a lot of rustled feathers yesterday, which, of course, was the intention. Me talking about it only furthers the conversation into the next day and for that I apologize.
Honestly, I say we trade Haliburton. *sprints off stage*
Prediction
Ratings will dip and some other bullshit will make the rounds in a couple weeks and I'll fall into the trap of writing about that instead of trying to hype up practice games the Kings are prone to losing.
Kings: 119, Hawks: 103