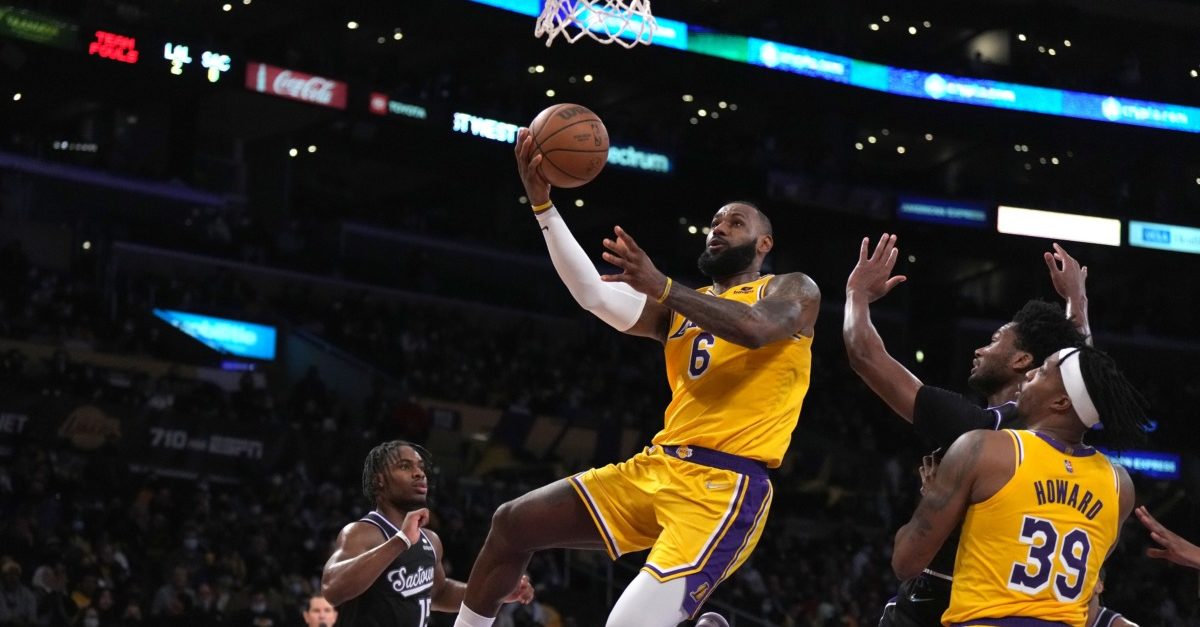 The Sacramento Kings and Los Angeles Lakers played an ugly yet entertaining game Tuesday night. The fourth quarter saw an insane scoring duel where LeBron James and Buddy Hield traded threes for four straight possessions. We saw LeBron remind us all that he's quite good at NBA basketball. We saw unforced Kings turnovers and tactical errors in execution and clock management. But forget all that, this loss is strictly to be blamed on the refs for a weird call late in the game!
Let's break down what happened. The Lakers missed a free throw with 24.8 seconds remaining. De'Aaron Fox didn't touch the ball, allowing it to bounce on the floor. All other players from both teams had run back to the other end of the floor. The Lakers clock operator started the clock in error. De'Aaron Fox, without ever grabbing the ball to establish possession, instead pointed out the clock error. Since Fox hadn't officially established possession, it was ruled a jump ball.
Was the call stupid? Yes.
Was it wrong? I dunno, we'll see what the L2M report says.
Did the Kings waste 7 seconds before fouling on the play that led to the missed free throw? Yes.
What did Fox think he'd gain by allowing the defense more time to get down the floor and get set? I have no idea.
Was that call the reason the Kings lost?
Want to look for reasons the Kings lost? How about 17 turnovers compared to just 5 for the Lakers. How about several long scoring droughts where the Kings couldn't take advantage of Lakers mistakes. How about outlier performances from Malik Monk (24 points) and Talen Horton-Tucker (19 points). How about Gentry continually assigning either Damian Jones or Davion Mitchell to guard LeBron James, instead of trying Harrison Barnes even just once? I suppose those just require a little more introspection than blaming the refs.
It wasn't all bad, though. This was a fantastic performance from De'Aaron Fox, who finished with 30 points on 12-21 shooting, including 2-4 from beyond the arc. Fox was aggressive, attacked and broke down the Lakers defense, and really looked like the Fox of last season.
Buddy Hield also had a solid game. He did his usual trick of taking shots without a conscience but managed to go 7-13 from deep on his way to 26 points overall.
Tyrese Haliburton had a quiet night overall. He still dished out 9 assists but scored just 7 points and had long stretches where he went passive.
The Kings don't have long to dwell on this loss. The Kings host the Atlanta Hawks Wednesday night.