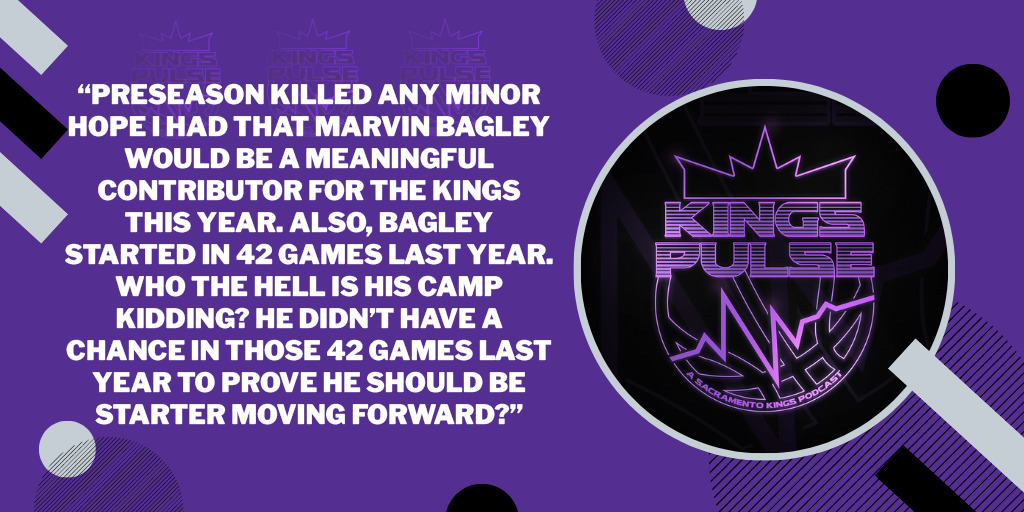 Kings basketball is back!... and so is the Kangz drama! As our buddy Will Griffith pointed out yesterday, the team was literally one day away from a Kangzless offseason, but then Marvin Bagley's agent raged on Twitter about his client's lack of a gifted spot in the rotation.
We spent much of the episode talking about this "beginning of the end" to Marvin Bagley's Kings tenure. Topics included:
The full statement from Bagley's agent, Jeff Schwartz of Excel Sports, and why Bagley's camp likely cares that he's not guaranteed big minutes


Praising the decision to not gift him playing time

Should the Kings have traded him by now?

Why the Kings should just send him home, and why they should absolutely not cut him

Why Jaren Jackson Jr.'s $105M extension in Memphis makes him a fantastic comparison for Bagley
The continuing Ben Simmons drama in Philadelphia

Why Davion Mitchell is not untouchable, even after a fantastic preseason

The Overtime question of the day - would you rather fight one bear-sized hamster, or twenty hamster-sized bears? Let us know in the comments! Also, make sure you stick around for a metaphysical discussion on how many holes a straw has.
Will Marvin Bagley play for the Kings again? What should the team do with him moving forward? Should Davion Mitchell be off the table in any Ben Simmons discussions? Is this podcast schizo quality and lacking any critical thinking? Let us know!
The Kings Pulse podcast is available on all major listening platforms.