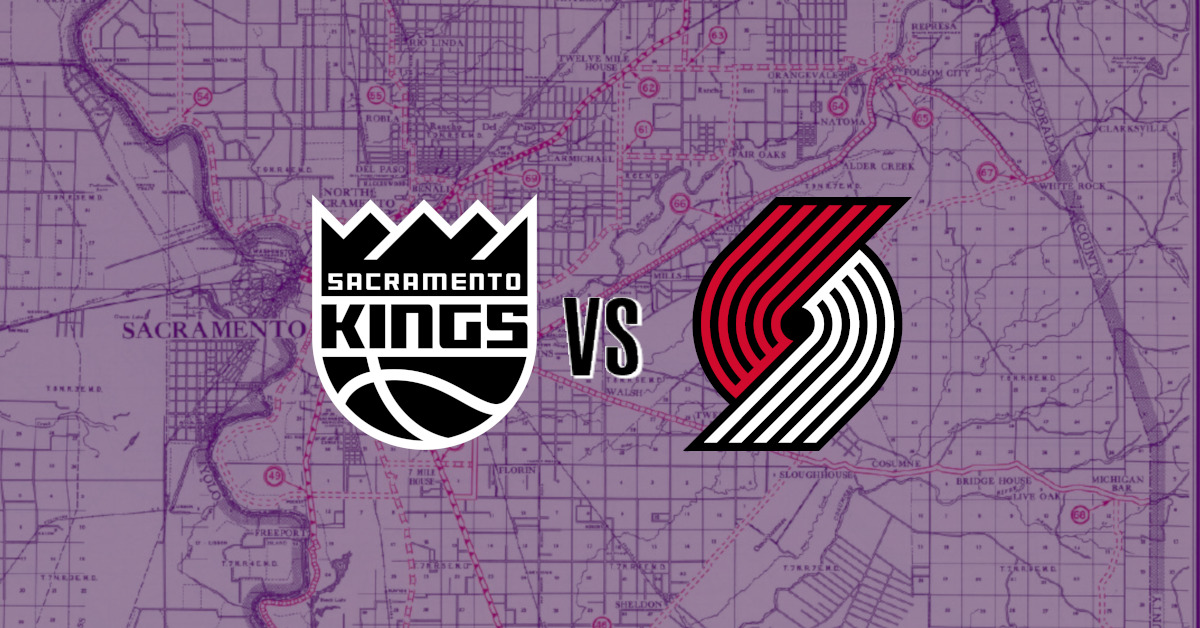 ... And just like that, we have meaningful basketball again. The most regular, by-the-books off-season in ten plus years for the Kings has finally run its course. The rookies selected, free agents convinced, off-season weight added. The agents have been satisfied, in currency or cruor (well, most of the agents, anyway). The rumors taken out back to the woodshed with nothing to show of a return visit. The roster is set. A brand new feeling in the air, same as it ever was at this time of the year. The wagers are placed, takes pre-heated and waiting in the mylar-lined minds of every fan.
All that's left is the basketball and eighty-two opportunities for success and failure.
It's time.
Welcome to the most important Kings season in 16 years!*
For the first of at least eighty-two opportunities: Let's talk Kings basketball.
(*tied sixteen ways)
When: Wednesday, October 20th, 7:00 PM PST
Where: Moda Center, Portland, OR
TV: NBCSCA - Mark Jones (play-by-play)
Radio: KHTK Sports 1140 AM
For Your Consideration
A Less Insipid Love: When the season rolled around last December, I jumped in with a lot of energy - a mix of trust in a new regime to make necessary changes and tickled by the allure of the unknown that comes with new eras... and left writing last May without any idea whether or not I was going to have the stomach to return for my seventh season of writing previews for you all. Apathy's stain on the soul takes time and effort to remove and like many, many Kings fans, I bowed out of last season's drama drenched in the stuff, consigned to just let it soak into, and drip off of me and my thoughts on this franchise for the foreseeable future. A decade and a half plus of rooting for the law of averages to start kicking in for our team and then seeing zero results can, and will, do that to us.
Fast forward to the night before the regular season and no big moves were made in regards to coaching or talent upgrades, the Kings drafted at a position of strength from their high lotto spot and signed bench guys in free agency. And yet, here I am, despite nothing truly changing. Here we all are. Why? Did winning a Las Vegas Summer League championship or going undefeated in free agency mean that much? No. Did Monte McNair unlocking his Twitter account break some icy hold on our hearts? Not anyone that I know. So then why Kings fans? Why? Why do we do it? Why get up? Why keep tuning in? Do we believe we're fighting for something, for more than our survival? Can anyone tell me what it is? Do you even know? Why Kings fans? Why do we persist??
Because we choose to.
I sit here every day, listening to radio hosts get way too hyped over a Davion Mitchell stop in pre-season or a puffy shouldered Fox, and I want to believe. Against all odds and logic, I want my team to win - a game, a week's worth of games, the trade deadline, an upset in the first round, the whole goddamn thing. Do I think the Kings can achieve much of any that? No. Hell no. But... if you corner me, I mean really corner me, then crack me open and ask my heart to ignore my head for a second? Yes. Yes, I do. And I think you do too. The Kings can win, win way more than anyone predicted and shock every single soul on this earth except the one ignoring all logic and reason living somewhere just south of our aortas.
We're Kings fans - this is what we do.
This franchise has a lot of questions to answer. Is De'Aaron Fox ready for All-Star level attention, from the media and from other teams? Does Hali have a sophomore leap in him? Can Davion Mitchell possibly live up to many of our expectations? Can anyone define defense and/or exhibit it for oh, say, 36 minutes a night? How can Marvin Bagley's agent ever expect to put a foot in his mouth with his head that far up his ass?
This season feels... different. It isn't optimism, it isn't outright pessimism either. We've caught wind of all the same old buzzwords: chemistry, accountability, playoffs, and they don't exactly ring false right now. I certainly can't give myself over to do another "What if Vlade's Right?" article. I'm not buying, not just yet.
But, and this maybe the Kings first win of the season here, I want too.
The Dame of the Game: Okay, so let's talk about the actual game for a moment. As far as openers go, this could be a lot worse for the Kings. Sure, there's always going to be the green light that burns at the end of the dock across the lake from Daryl Morey's mansion - the supreme basketball talent that Damien Lillard is sure ain't going anywhere before tonight's game and as long as Portland has him healthy and focused, they'll stand a half-way decent shot of taking any game they play. CJ McCollum started off last season on a tear with truly All-Star level stuff before injuries derailed a decent part of his season. Jusef Nurkic is going to be huge for them this season and Larry Nance Jr. is a really underrated move in my eyes, especially with what he can do for Portland on the defensive end.
If the Kings want to do anything this season, teams in the Western Conference's midsection is where they're really going to have to get things done. There just aren't enough truly bad teams in the West and teams like Portland are at least a bit vulnerable to the whims of the basketball gods. They've got an iffy bench, an unproven head coach and tremendous expectations put upon them by an antsy superstar and a GM with what can only be low-grade narcissism at best.
Can Fox and Haliburton cancel out Dame and CJ? On a given night, yeah, alright. Can the Kings bench outperform Portland's? Absolutely. This game is going to come down to guys like Harrison Barnes and Richaun Holmes outplaying their matchups. If Barnes pulls a disappearing act or Richaun still hasn't shaken the rust off from pre-season, the Kings will start a season of hope with an 0-1 record.
Prediction
Those fools. Those god-forgotten idiots. They thought they stood a chance against MVP caliber Fox?? Against Sixth Man of the Year candidate Buddy Hield?? Against world-eater Davion Mitchell???? Against EXECUTIVE OF THE YEAR MONTE MCNAIR'S SACRAMENTO KINGS?!?!?!
Kings: 117, Blazers: 109