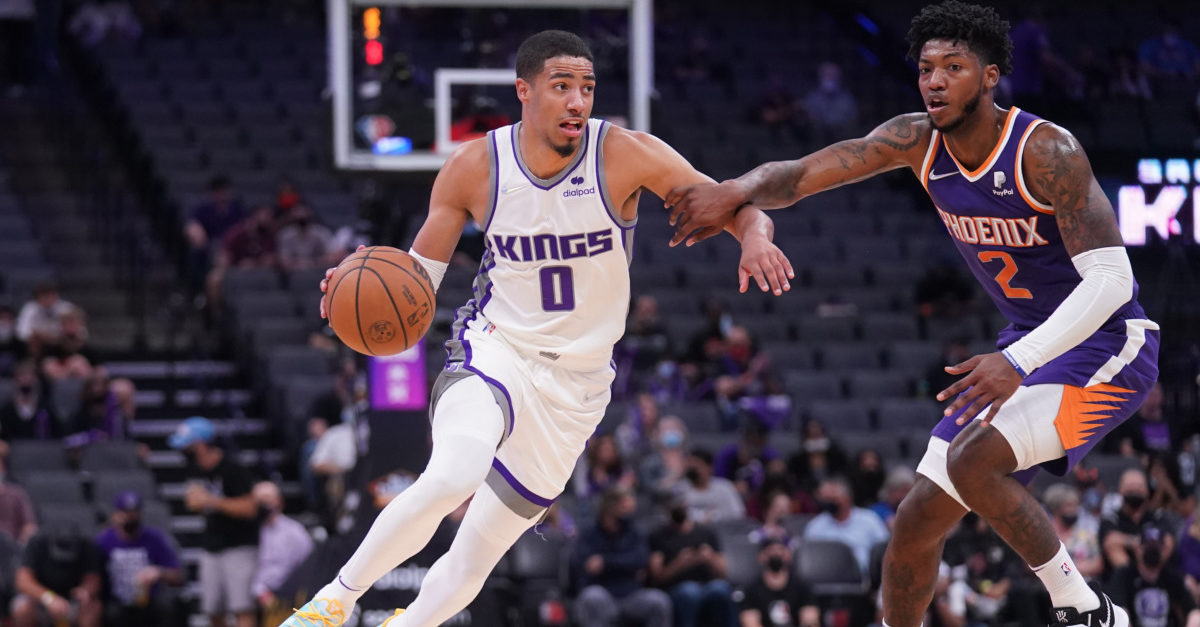 Tyrese Haliburton's name was expected to be called early on the night of November 18th, 2020. It seemed like nearly everywhere you looked the Iowa State sophomore was being mocked between the sixth and eighth picks, if not earlier.
The Atlanta Hawks, Detroit Pistons, and New York Knicks were lined up from six to eight and I'd bet each team wishes they'd thought differently that night. A few of the organizations in the top five probably can relate.
There were notable question marks attached to Haliburton, but he has forced second opinions on many of those after his rookie outbreak.
Some were skeptical of his shooting form translating at the NBA level. Those skeptics were swiftly silenced as he converted 40.9 percent of his 5.1 three-point attempts per game, the third-highest percentage of all rookies.
You can drop the forget the "for a rookie" asterisk. 40.9 percent placed Haliburton in the top-20 of all NBA players who attempted five or more threes a night.
A stellar feel for the game, ability to set up his teammates, and catch-and-shoot were well-documented traits in his draft profile. Struggling to shoot off the bounce and create space for himself were concerns commonly found in the same profiles.
45 percent of his NBA field-goal attempts were pull-up jumpers, per NBA tracking, and his effective field goal percentage was an impressive 50.7 percent on said shots. So much for that expectation. Just look at these dribble moves and his ability to create space.
While Haliburton was expected to outperform his draft position from the night he became a member of the Sacramento Kings, the NBA still wasn't prepared for his capabilities.
Now, after a year of proven ability and shown tendencies, Tyrese Haliburton's name should be listed right after De'Aaron Fox's on opposing team's scouting reports when they head into Golden 1 Center. This increased level of awareness and understanding from the opposition is a fairly common occurrence for NBA sophomores, but Haliburton benefited from uncertainties more than most in his rookie campaign.
Sacramento's stellar selection attempted 296 threes last season. According to NBA.com, 66.9 percent (198) of those were classified as "wide-open" attempts, meaning that there were no defenders within six feet.
32.1 percent (95) of his attempts from beyond the arc were "open", or taken with a defender between four and six feet away.
That leaves two attempts out of 296 from beyond the arc where a defender was within four feet of Haliburton when he released a three. Two! An absurd outlier of less than one percent of the time. Let's put that number of less than one percent in perspective.
Of the aforementioned grouping of top-20 three-point shooters (min. five 3PA/G), only two of them had a defender with four feet on less than ten percent of their attempts. Joe Ingles with 8.4 percent (34/406) and Mike Conley with 6.9 percent (23/334 - both Jazz players likely due to Utah's stellar ball movement. Again, this was the case for Haliburton less than one percent of the time.
There is no world where Tyrese Haliburton is left wide-open from three to that same extent this season. You'd have to think that "close out hard" is bolded next to his name on the scouting report paired with his 40.9 percent conversion rate from three the year prior.
Also, his floater should be well documented at this point and catch fewer opponents off guard. Those are the two key strengths to be conscientious of when defending the 21-year-old King, while not forgetting his pass-first preference and ability.
The goal of opposing defenses this season will be to make Tyrese Haliburton uncomfortable as often as possible. Limiting the two mentioned preferences will aid in doing that, and pressuring his handle has proven to bother Tyrese as well.
Luke Walton has stated that he plans to stagger Haliburton and De'Aaron Fox, in order to keep one primary initiator on the floor for a majority of the game. When Haliburton is given those primary responsibilities, teams could look to pick him up full court this season, blitz or hedge the pick-and-roll, and have off-ball defenders swipe at his drive attempts more often.
His awareness has proven to be ahead of his years, but the tightness of his dribble is still a question. Again, taking him out of his comfort zones will likely be an essential goal of opposing coaching staffs heading into matchups with Sacramento now that his preferences are more apparent.
As for the defensive end, Haliburton was expected to be a playmaker there and that was proven correct as evident by his 1.3 steals per night. His on-ball defense was borderline atrocious though, which was also somewhat expected, and teams would be smart to target the slender guard.
Letting him hide off-ball and wreak havoc as a free safety of sorts is a mistake. If Sacramento continues to lazily switch ball screens, then directly involving Haliburton in the action could become more commonplace.
None of this is a knock on Tyrese Haliburton in any way. The fact that he greatly outperformed expectations to the point where he caught the NBA off-guard is ridiculously impressive. It's just that if the idea is there's a future All-Star somewhere in there, Haliburton is going to have to prove he can remain productive while being a well-understood focal point of opposing game plans.
With a year of tape available to every NBA coaching staff and an offseason to digest it, the easy looks for Haliburton will be few and far between. There's no reason to doubt his ability to traverse this challenge, but year two should give the Sacramento Kings a better idea of the potential ceiling of Tyrese Haliburton.