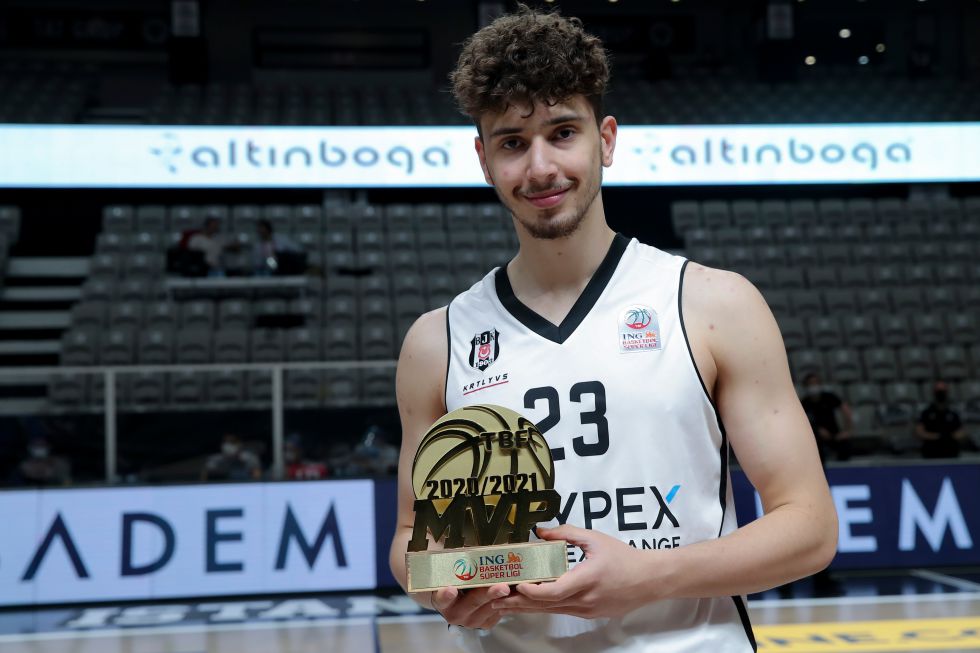 Over the last month, Alperen Şengün has become a well-known name around NBA Draft circles. And rightfully so €" this year's top overseas prospect put up astounding numbers and earned the MVP of Turkey's Basketball Super League at just 18 years old.
We have already documented his sensational offensive skillset, as well his deficiencies on the defensive side of the ball. (If you haven't checked out Brenden's draft profile on Şengün, make sure you do so.) Most of the mocks don't have Şengün going to the Sacramento Kings at 9 (mostly somewhere between 12 and 17), but the Turkish sensation did recently share a photo of himself outside Golden 1 Center so the Kings are clearly expressing some interest.
I wanted to chat with a few experts on Turkish basketball to get a sense of how Şengün has developed in recent years, his coachability and more to give a little more context on him as a player inside his home country. Semih Tuna, Eurohoops Turkey Editor-in-Chief, and Buğra Uzar, Eurohoops Turkey Reporter, joined me to discuss.
Semih started the conversation off with this introduction on Şengün:
€œAlperen was named the MVP at the age of 18 in the Turkish Basketball Super League. If one didn't know about his age and they just watched him play on the court, you would never believe he's only 18. I mean, he was playing on a project team, which borrowed its players from a shut-down club. €¦ They started with no wins in six games and no one had any expectations from them other than the players. However, they showcased such a huge team identity and character with Alperen being the lead that they became one of the best teams of the Super League and they lost against European champions in the semifinals. I've been following the Basketball Super League for more than 20 years and checked the previous years, and no other young player has ever left his mark such as this in Turkish League history.€
I think I've seen that there has been nine Turkish NBA players to date, correct me if I am wrong there. It sounds like he is the best prospect that you guys have seen out of Turkey then?
Buğra: I think Mehmet Okur was the biggest one. But I think Alperen is better than Hedo [Turkoglu]. Hedo was great, but no one was expecting him to be this kind of factor. I think Alperen is better than him at this age.
Semih: For his age, yeah probably he [Şengün] is the biggest prospect for Turkish basketball. €¦ Mehmet Okur wasn't at that level as Alperen right now is.
We know about his talent on offense, but let's get into the big concern everyone has, which is his defense, specifically his lateral movement and pick and roll defense. He doesn't seem to do well when he's not a weak-side defender. What do you think of his defense and how much trouble do you think he is going have in the NBA?
Semih: Unfortunately, sometimes he's being lazy and having difficulties with his lack of quickness on defense at times. He's not capable of finding solutions against smaller players once he shows up in pick and rolls. When he enters the NBA he will have to spend the first year adjusting and improving himself physically. In my opinion, he'll never be an elite rim protector, but he will be at least an average defender with his basketball IQ.
Laziness on defense?
Semih: Sometimes, but you know, actually he's carrying so much on offense so I think he has a right to do that. [Laughs]
Buğra: One thing I can add to that is he loves to chase some blocks so sometimes he loses his position on defense in order to get a block, but I think his best position is power forward and in the league he played as a center. I think this is also a factor with his weaknesses on defense because he can't adapt himself as a center. I think he's best as a power forward and he can be better as a weakside defender as a power forward. Mostly, he has to guard the rim and mostly Beşiktaş guards were not that kind of defensive guys. Most of the time, opposing guards attacked Beşiktaş's basket so easily so Alperen had to deal with them most of the time. Of course, he's chasing blocks, but he got a lot of blocks and I think in fact, he was the block king of this league so it's an improvement for him.
Semih €" Would you agree with Buğra that he is more suited for the power forward position?
Semih: That's where I separate from Buğra. Because of his lack of quickness, I wouldn't say, but maybe on defense. On offense, I would definitely say center can be the most productive position for him.
I've watched a lot of his film, and he does have a decent instinct in terms of getting blocks, you have watched him since he was younger, has he shown any development on that side of the ball?
Semih: Alperen is pretty hard working and has a great basketball IQ. I had initially thought he could be an important player in the rotation in Europe when he first showed himself, but he went far beyond the expectations. This counts also for defense, he has an amazing feeling toward the game, not only on offense, also defense. He definitely improved himself and that's why I told you he will never be an elite rim protector, but he will be at least an average defender because he knows the game even though he's only 18 years old.
Buğra: He didn't give himself a day off after Turkey lost their preliminary games. The other day he was working at the gym, I know that because I talked with him, and I know that he started working right away. He's really, really hard working and I think once he comes to the NBA and works with individual coaches, I believe he will get a lot of improvement on the defensive side.
Tell me about his personality, it sounds to me based on what you said that he is a pretty coachable player. How does he get along with his coaches?
Buğra: I know that he is really coachable. A lot of people on the team described his personality as a goofy kid, he likes to the joke a lot. He likes to work a lot. He's happy all the time. He trash talks with his teammates during practices. As far as I know, he's really coachable. The only problem I'm seeing right now is a language barrier because his English is not that good. He got a lot of special classes during the season, he's still getting a lot of special classes, but his English is not at the level that it should be right now. I believe he will improve that also, but at the beginning of the season he may have some troubles with his coaches in order to understand them properly because of this language barrier, but he is really coachable. €¦ He is one of the few guys who took special English lessons during the season so it also shows that he is aiming high.
So it sounds like his teammates like him a lot.
Semih: Yeah, I mean everybody likes him. €¦ You can see that he left his sweat and blood on the court.
Obviously, he is getting a lot of attention, how is he handling the spotlight at such a young age?
Buğra: He has a good team, they are protecting him from all this. During this season, I asked Beşiktaş to get him as an individual interview, but they didn't allow us because they didn't want him to get a lot of attention and get cocky, lose his focus. He has a good team I can say that. They were preparing him for the NBA for a long time, since the beginning of the season they were preparing him for the NBA. He didn't give a lot of interviews, he only gave one to DraftExpress, and it's a huge one. €¦ He didn't get cocky and most Turkish players who did that lost their focus. We have a lot of talent that got wasted over the years, but Alperen kept his focus very well. And he got a lot of attention €" all of the time there were headlines about him, everybody was watching his games to see what he was going to do and social media is really active €¦ everyone was tweeting, but he kept his focus.
He apparently lost a ton of weight before last season as well, so he seems to take his conditioning very seriously.
Buğra: Yeah, he lost a lot of weight and is getting stronger. Once he gets to the NBA I think he needs to work with individual coaches. The NBA is doing a tremendous job developing players' physiques so I believe they will have a special training program for Alperen and he will get a lot stronger and a lot quicker, in my opinion.
Obviously his biggest attribute is his offense, take me through how he has impressed you guys there. And say he was drafted by the Kings, they have De'Aaron Fox who is one of the fastest players in the league and Tyrese Haliburton who is a playmaker, what do you think the potential is there with those two guys?
Buğra: I think he will fit more with Tyrese Haliburton because he likes to play a lot of pick and rolls. He loves to run, Beşiktaş played at a high tempo so De'Aaron Fox's pace could be fine for him as well, but I think he will be better with Tyrese Haliburton on the court and his hands are amazing €" so smooth, he catches all the balls that are thrown to him so I think it's one of his biggest advantages. He can catch all balls that are thrown to him and he can also be a playmaker in the post. So De'Aaron Fox is not that good at playmaking so they can use him and once he can't run with the ball they can throw it to Alperen and they can set plays from the post through him so it could be a winning situation.
Semih: He knows how to roll and how to pop and if you leave him with the ball in the paint, he will definitely create something for you and he has a really good shooting form even though he hasn't attempted many attempts yet, I believe he can be an above average shooter within two years.
Buğra: He has skills in shooting but he didn't show a lot in terms of shooting, mostly he was productive as a finisher off the pick and roll through the post so he needs to improve his shooting. He has the base to improve that.
Semih: When the lottery was revealed I had considered him fit for two teams. Richaun Holmes is seeking a high pay day, obviously, and therefore the Kings may lose him and therefore the first team was the Sacramento Kings, alongside Charlotte Hornets that is lacking a five. Another team coming to my mind was the San Antonio Spurs considering their development program for young guys.
He didn't take a lot of threes and his shooting percentage wasn't great. Did the coaches not want to test that much with him? Obviously, he is more effective in the paint so they want him down there, but do you think he just didn't have a lot of opportunities from three?
Semih: I think it wasn't a coaching decision because he has a freedom on offense. I think he doesn't want to take the threes because of the confidence I think. He has a good mechanic, within two years I think he'll take those threes.
Buğra: I agree with Semih also. The Beşiktaş team this year was a project team. It was built in order to develop young Turkish players. They didn't sign a lot of foreign players, they didn't sign a lot of experienced players. They had only one player older than 30 years old, so it was a project team and coaches did not prevent young players to do something more. To be clear, they gave a lot of green lights to all players, but Alperen didn't take a lot of threes because there were a lot of shooters on the team and he was very effective inside the post. At the second half of the season he started to try a lot of threes, but he wasn't that good so he didn't take a lot of them.
There has been a lot of debate about how tall he actually is, especially since everyone saw that picture of him next Hassan Whiteside. Most people say he is 6'9'', but there have been reports coming out that he is actually 6'10'' or 6'11''. Do you know the official measurements on him?
Buğra: I think he is 6'10''. €¦ I knew that he was 6'10'' at the beginning of the season so he's not 6'9''. I believe because of the angle with the Whiteside photo I think they were saying he is 6'9'', but he is taller than 6'9'', but I don't think he is taller than 6'10''.
In terms of NBA player comparisons, a lot of fans talk about this. What you say his ceiling and floor is in terms of NBA player comparisons?
Semih: People find so much similarity with Nikola Jokic for him. Jokic was also an MVP at an early age, however, Jokic is a total player and is in another dimension with such passing talent. I believe he's an extreme comparison for Alperen. I think Domantas Sabonis is the closest comparison. The Jokic comparison, I don't really believe that Alperen will be at that level, but I think that he will be a quality fourth or fifth player on a playoff team.
Buğra: I think Sabonis is a better choice for him as an NBA player.
Do you think there is any chance that he is a bust?
Buğra: To be honest, I don't think so. He's an exceptional talent. We haven't seen a player like this in Turkish basketball for many years. He's playing really great, he knows his weaknesses, he likes to work hard. He will be good in the NBA in my opinion. Maybe he can't be a superstar, but I think he will be an All-Star caliber player.
Semih: I don't think so either, but it will be up to the team that will select him, obviously. He's hard working and he will find some way to stick in the NBA. I don't think he'll be a bust.
You probably saw he posted a picture on social media in Sacramento recently. Have you heard much about the draft process with him and which teams have spoken to him and come out there to scout him?
Buğra: A lot of teams were scouting him. I know the San Antonio Spurs came for him, but I don't know of any other specific teams. But during the year, a lot of scouts were at Beşiktaş basketball games so I can say Spurs definitely, but I don't know of any other teams.
He has a reputation of playing with a lot of passion and emotion as you guys mentioned. Does that ever lead to a lot of foul trouble? Was that ever an issue with him?
Buğra: Sometimes it was. Sometimes he couldn't handle his energy so sometimes he got quick fouls, silly fouls, but it happened mostly during the first half of the season. I think during the playoffs he never had foul trouble.
Semih: It's all about getting experience, getting older. I mean isn't that normal for 18 years old? Yeah, he'll learn.
One of the things about him that has received attention is that he whispers to the ball at the free throw line. Do you know what he is saying?
Buğra: [Laughs] I think he is praying, but I can ask him if you want.
Yeah, I think people might be interested to know that!
Is there anything you want to add that fans might be interested in?
Buğra: I can also add that his idol is Mehmet Okur and during the Turkish National Team training camps he worked a lot individually with Mehmet Okur because he is a kind of a special assistant coach for the Turkish National Basketball Team so he worked a lot with him. It's a huge deal because as he has said multiple times, Mehmet Okur was his idol. €¦ I can tell you one more thing: He is expecting a Green Room invite soon, he didn't get one yet, but he is expecting to get to the Green Room.
***
Thanks to Semih and Buğra for joining us!