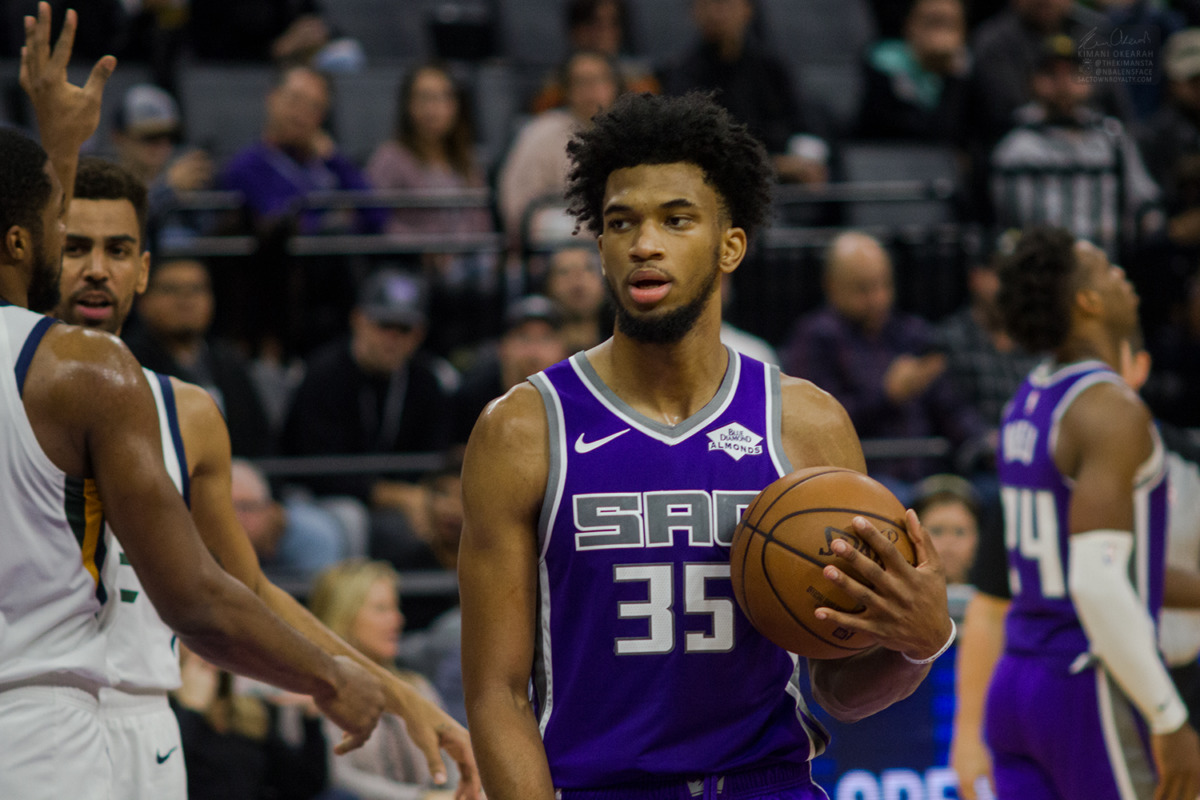 An interesting trade proposal came across our radar on Wednesday, as a Mavericks fans suggested the Kings trade Buddy Hield and Marvin Bagley for the first overall pick and James Johnson.
https://twitter.com/TylerAtoms/status/1318958917498658826?s=20
Now, before we burn anything down, Johnson in this scenario is just salary filler and would presumably stay away from Sacramento lest his life be in danger (for those who may not remember, Johnson wore a Sonics hat in the locker room while he played for the Kings amid the relocation saga).
In response to this, Richard and I entered a spirited debate. Richard likes the trade proposal, I do not. We thought it would be fun to take this discussion into the public forum. I'll let Richard make his case, and then I will respond with why he is incorrect.
Richard: This would obviously be a huge change for Sacramento. Personally, I think change is a good team for a team that has been so bad for so long. Bagley carries the baggage of the Luka pick and his constant injuries while Buddy clearly wants out after getting his robust payday. They aren't bad players, but they aren't great either. There is a chance for greatness with the No. 1 overall pick, and there is a guarantee of a fresh start. While we're at it, let's fire Walton and get a fresh new jersey design too. It's a whole new Kings team. Younger, faster, and far more fun to root for.
Greg: In any other year I'd agree with you, Richard. But not this year. Not with a weak draft class, not with a predraft process that is in shambles. The odds of the first pick in this class being the best player are so remote. There's a reason that the Timberwolves and the Warriors are both expected to trade down in this draft; nobody wants the risk. And not just the risk of a bust, but the cost that goes with that bust. The rookie scale means the number one pick is paid handsomely. When you factor in the talent you're giving up in Buddy, Bagley's remaining upside (if his health issues turn out to be a one-year fluke he has as much upside as anyone in this draft), and the fact that you're paying a premium contract for a complete shot in the dark, I have zero interest in moving up in this year's draft.
Richard: To be clear, you aren't moving up in this year's draft -- you're taking it over. We still keep pick No. 12 and all our future selections, not to mention likely improving our chances at Cade Cunningham in 2021. And $8.5 million is not a scary salary figure to me. Bagley will make more than that next year and Buddy will make almost triple.
But aside from those smaller points, the main argument Greg has made here is about bust potential. And I'm not nearly as worried about Anthony Edwards flopping than I am about Marvin Bagley. We have seen a good amount of Bagley already, and most of it has been concerning.
Just put yourself in Minnesota's shoes for a minute. Let's say Sacramento won the lottery. Would you trade the top pick for an injury-prone, undersized center who can't shoot or defend and a 28-year-old guard on a $90 million contract who can shoot but do little else? I don't think you would. The top pick is the prize here and taking Edwards is less risky than the Kings continuing to cling to what little they have.
Greg: If Bagley and Buddy are so bad, wouldn't they help your Cade Cunningham odds more than a potentially talented first overall pick?
Richard and I have been debating the value of the first pick in this draft for weeks and I don't expect us to solve the debate today. But we want to hear from you. Let us know in the comments who's side you're on, and send in your own trade ideas to Chainmail.