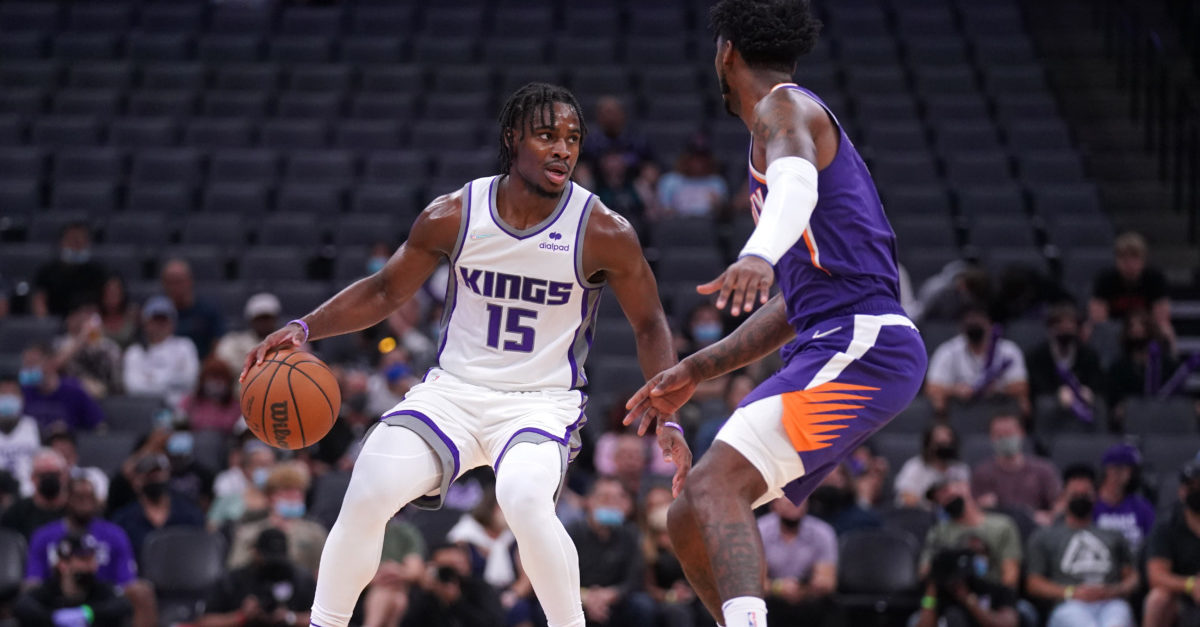 Davion Mitchell is going to have a good rookie season and it might not always show up in the stat sheet. In his first NBA action Monday night, Mitchell admitted he was nervous at the beginning of the game, which led to two turnovers. Other than that, you wouldn't have noticed this was his first time playing in the best basketball league in the world.
Harrison Barnes described it well: "I think Davion for being a rookie and kind of the first time playing in front of the fans I thought he did a great job with just being poised defensively, having an impact on the game and just being ready to jump right in."
Poise is exactly what Mitchell displayed. In 24 minutes, he scored 7 points, 3 assists, 2 steals, 1 block, 1 rebound and those 2 turnovers. He was a +20 on the night – the best out of any player in that category in the game. The +/- is likely what will jump off the box score on a nightly basis for Mitchell.
The defense was definitely there as advertised. In one instance, Tyrese Haliburton was stripped, and Mitchell sprinted all the way back alone to the other end of the court to strip the ball before the opponent was able to go up for an easy basket. On another play, Mitchell dove for the ball out of bounds. On another play, he noticed a teammate sagging off their man - he left his man as the shot went up to sprint over to contest the shot.
If he was nervous, head coach Luke Walton didn't notice.
"I didn't see any jitters from him. I thought he played a very good game, he definitely did again tonight what he's been doing ever since we've had him and that's really just playing a solid, winning brand of basketball and it was great to see it against other people other than just us at training camp every day," Walton said.
And it wasn't just on the defensive end. Mitchell looked confident on offense and with his shot. He seems to know how to manipulate defenders and draw them away from teammates to get them open looks. On more than one occasion in the second half he patiently waited for defenders to focus on him only to quickly zip passes to open teammates for threes. And he has a decent crossover to get himself space not just for his own shot, but to free up room to find open teammates.
He also had a nice drop pass under the basket for Alex Len.
Here are some of his offensive highlights.
Barnes elaborated on what he saw from Mitchell.
"Your first time being out there you can have jitters and your game can ruin fast, especially at the point guard position – there can be a lot of things that are thrown at you. I thought he did a good job of just playing within himself, defensively being active, offensively being confident in his shots, in his pace, getting to where he wanted to go, and it's just building on it from there for him," he said.
Three-Guard Lineup
We also got a small glimpse of the three-guard lineup with De'Aaron Fox, Tyrese Haliburton and Mitchell last night. One of the best plays of the night came from this lineup in which Mitchell stole the ball under the basket, tossed it to Fox who tossed it to Haliburton in transition for an easy basket.
Walton was asked about this lineup, and he said it is all going to depend on whether they can play defense and rebound.
"It's a big challenge to them because I want those guys on the court a lot this season, the combination of them. I've told them individually and as a group – I can play you guys as much as we can defend and rebound the basketball because on offense, we're going to be really good," Walton said. "If it's Buddy [Hield], Ty [Haliburton], Davion [Mitchell], De'Aaron [Fox], TD [Terence Davis], any of those combinations offensively are going to be really good, but we can only play it if we can get stops, play defense and rebound."
Oh, and Tyrese Haliburton Is Really Good
Haliburton is probably going to take a big leap this season. The offense simply just moves so much better when he is on the floor. In fact, I think the offense looked the best with him and Mitchell in the backcourt together last night. That's not to say Fox shouldn't be on the court as much as possible, at all, but those two definitely look comfortable together early in the season.
Haliburton finished the game with 11 points, 5 assists, 5 rebounds and 1 steal in 24 minutes. He was a +15 for the game. The rebounds are good to see because these three guards are going to need to focus on rebounding this season.
Additionally, he is just a joy to watch. His passes are entertaining, and you can tell he simply loves playing basketball. He is always smiling, he will give you an occasional shimmy after a play, he celebrates his teammates on the court and when he is on the bench - he is just a great, talented player to have on this roster.
And Walton wants him even more involved.
"He's a natural leader and I want him way more engaged in running the offense and getting out in transition and making those highlight plays that he loves to make. The progress has come with him being comfortable, understanding what he needs to work on still, getting bigger and stronger and then we need him to continue to look to expand his personality into our team," Walton said.
Below are the media sessions with Walton, Barnes and Mitchell.