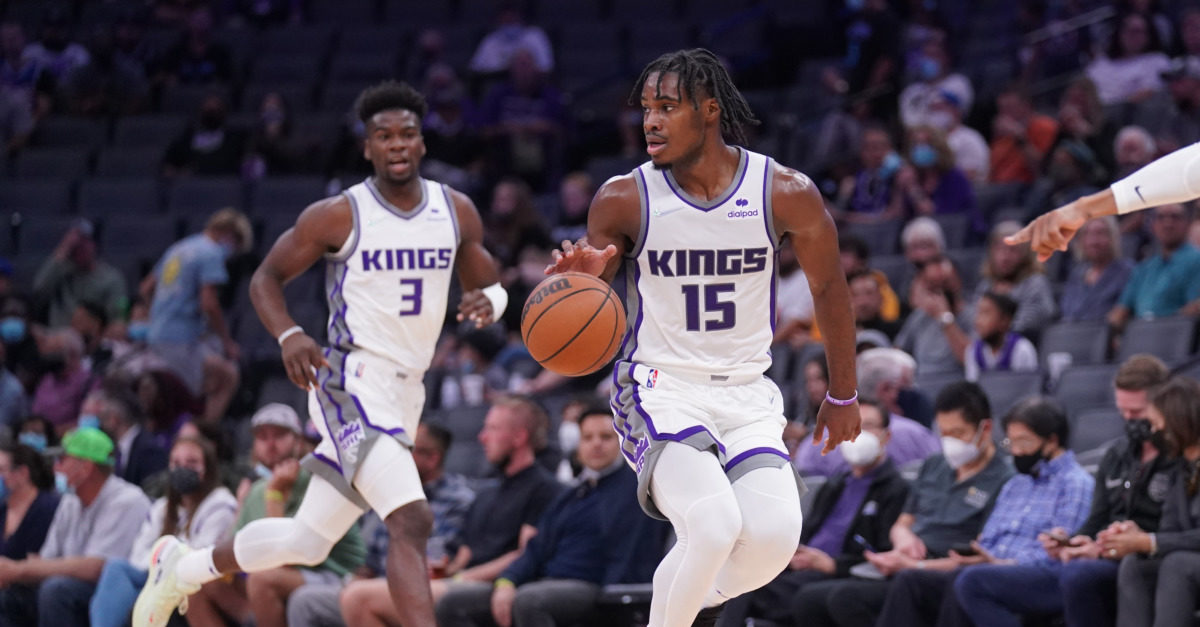 Saramento Kings basketball is back! The 2021-22 NBA (pre)season debuted last night with a showing against the Phoenix Suns. The Suns were without Chris Paul, Devin Booker, Jae Crowder, and Dario Saric for their opener at the Golden 1 Center, while the Kings had no players listed on their injury report.
117-106 was the final tally in favor of Sacramento, but there is not much stock to be placed in that considering it was the preseason and the aforementioned missing Suns' players. On top of that, Monty Williams elected to not play either of Mikal Bridges or Deandre Ayton after halftime while the Kings ran their primary players through the third.
No matter, there is plenty to take aside from the scoreboard in preseason games. Here are my takeaways from game one against the Phoenix Suns.
# 1 - The lineups
I know, I know. We were specifically told by Luke Walton to not read too much into preseason lineups as preseason is a time to test things but I can't help myself.
Luke Walton said that his starting lineup on Monday is just one of many looks he is testing out and that we shouldn't read too much into it.

— James Ham (@James_HamNBA) October 3, 2021
The starting five featured De'Aaron Fox, Tyrese Haliburton, Harrison Barnes, Marvin Bagley, and Richaun Holmes. I tend to think that Tyrese Haliburton is deserving of the starting spot over Buddy Hield, and it's nice to see that is at least being taken into consideration.
Staggering Bagley and Buddy, the two worst defenders on the roster by a notable margin, also seems like a solid strategy. That duo only played together for one stretch late in the second quarter.
There were a handful of three-guard lineups thrown out there in game one. Including the one that everyone was waiting for.
Fox, Mitchell, Hield, Barnes, Holmes
Haliburton, Mitchell, Hield, Harkless, Thompson
Haliburton, Mitchell, Davis, Harkless, Len
Fox, Hield, Davis, Barnes, Len
Fox, Haliburton, Mitchell, Barnes, Holmes
Fox, Mitchell, Hield, Barnes, Thompson
Mitchell, Hield, Davis, Bagley, Len
Harrison Barnes is the only talent on the roster who can fill the more traditional small-forward role, so expect a large majority of Sacramento basketball this season to be three-guard lineups such as those listed above.
One other small note is that Tristan Thompson was the first big off the bench over Alex Len. We will see if that remains the case moving forward.
#2 - The transition game
With three-guard lineups being more prevalent, an increased pace will naturally follow with additional faster and smaller players on the floor. The added playmaking from two to three players who could be labeled as point guards alongside one another also feels undermentioned at times.
Three guard lineups are expected to be a staple for the 2021-22 Sacramento Kings.

The guard-heavy roster's variety of speed, playmaking, driving, and shooting was on display in transition last night. pic.twitter.com/sr9cRIXL3S

— Brenden Nunes (@BrendenNunesNBA) October 5, 2021
Defense leading to offense was a welcome sight in Golden 1 Center and the offensive versatility of guard-heavy lineups led to success there. Tyrese Haliburton is a certified wizard with the ball in his hands, and I continue to find myself in awe at some of the passes he is able to make.
Sacramento managed to secure 29 of their 117 points in transition last night, and 25 of those were off Phoenix turnovers. Again, the Suns were without their primary initiators for the entire 48 minutes and it showed.
#3 - Davion Mitchell was as advertised
Davion Mitchell was the defensive pest that we all expected heading into the game. Bits and pieces of various aspects were on display throughout the night. His on-ball defensive pressure disrupted the opposing offensive flow and led to some turnovers. He impressed the crowd with off-ball rotations and relentless effort.
Davion Mitchell was as advertised on defense in his debut.

He caused havoc and turnovers multiple times. pic.twitter.com/H8WhoMktGR

— Brenden Nunes (@BrendenNunesNBA) October 5, 2021
Some of the included clips are repeats from above but take note of how Mitchell is defending and creating transition opportunities. Saving the ball after disrupting the pick-and-roll in the last clip was easily my favorite Davion moment from night one. These are the type of impact defensive plays Sacramento has been missing on a consistent basis.
He is undoubtedly going to bother opposing guards in his rookie campaign. It would have been great to see him challenge Booker or Paul, but we can celebrate him affecting Cameron Payne and Elfrid Payton for now.
As for his offensive game, growing pains are expected. He looked most comfortable when initiating the offense through the pick-and-roll and shooting in rhythm off the bounce. Here he is isolating in a mismatch situation against Jalen Smith.
With his slightly underwhelming playmaking, he will need to become more comfortable playing off of other creators which should come with time.
Again, it's preseason game one and I'm certainly reading a bit too deep into things. Overall, it was a promising debut for the Kings rookie.
Other Notes
Buddy Hield showed potential growth as a playmaker making cross-court reads and slinging a pass or two off the bounce with his left hand
Tyrese Haliburton is a magician and deserves so much love from the Sacramento crowd he didn't fully experience last season
Harrison Barnes is already in midseason form - 18 points, 4 rebounds, 3 assists, and 1 steal in 23 minutes
Not much new from Bagley... there was one righty hook
They were icing empty side pick-and-rolls, but still showed a willingness to switch Holmes & Thompson onto guards