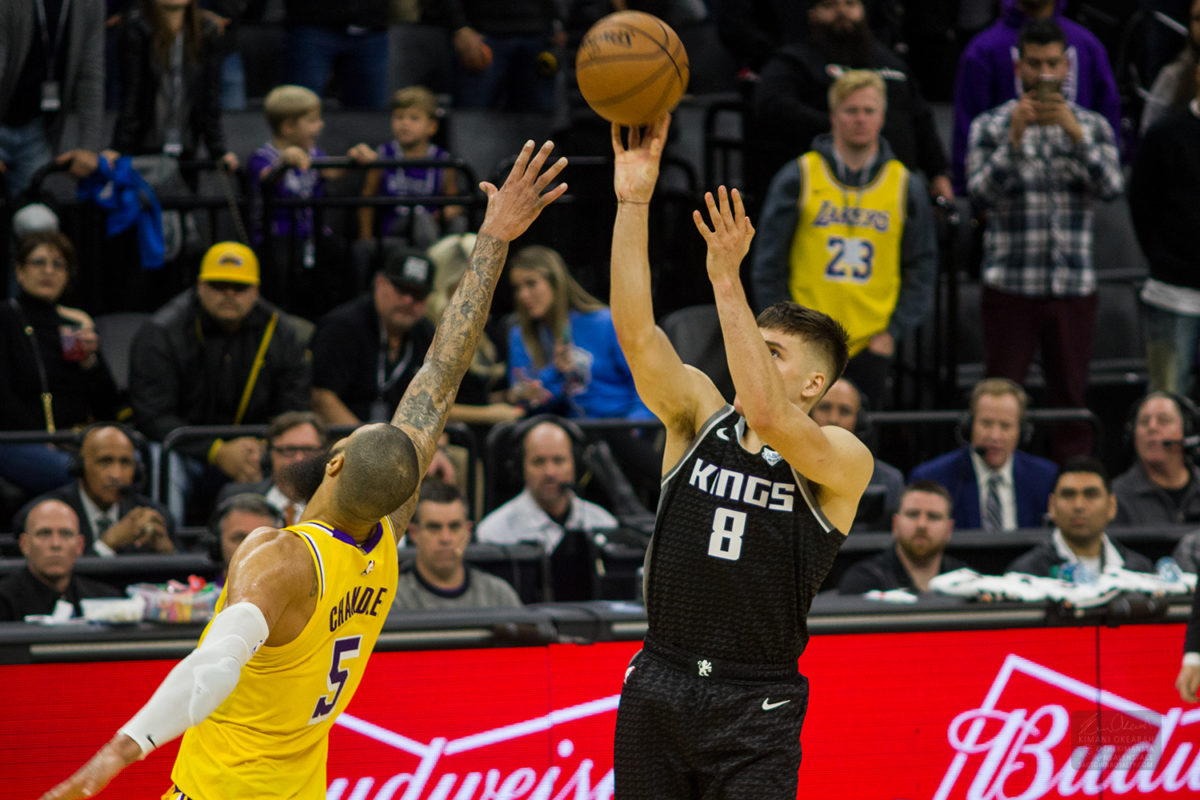 Back in December, I had planned to do a series of articles focused on the best of the decade for the Sacramento Kings€¦ and then I got fired. That kind of killed any motivation to provide content for certain other websites.
But now we're back in business, so I thought I'd bring the series back from the grave. Especially with no other sports on, let's relive some of the most fun moments from the 2010s.
#10 - Skal Labissiere puts it all on the line (3/4/2018)

The promise of Skal Labissiere was often so much more appealing than the reality of Skal Labissiere. But damn did he have his moments in his brief time in Sacramento. Just recognize the sheer audacity of this shot. The game was tied, meaning the Kings would win the game with any bucket at all. Skal Labissiere had at this point made just 10 three pointers all season and 13 in his career. The play was clearly not drawn up for him to shoot either, as evidenced by the confused look Bogdan Bogdanovic gives him when he isn't handed the ball and sees Skal instead turning to shoot. But that audacity was rewarded and the Kings won in dramatic fashion.
#9 - Willie Cauley-Stein caps off incredible Kings comeback (3/26/2017)

This game winner needs a little context. With 5 minutes remaining, this game was seemingly over. The Clippers had an 18 point lead and the Kings were at the point in the game where Georgios Papagiannis was getting minutes. This comeback was largely fueled by Buddy Hield, who scored 11 points including a sequence in which he hit a three, stole the ball out of the inbounds, and then hit another three. But Cauley-Stein is the one who capped off the comeback despite almost bobbling the ball away. Up until the Minnesota game from this season, this was one of the most improbable comebacks in Kings history.
#8 - DeMarcus Cousins with his best Kawhi Leonard impersonation (2/8/2015)

Cousins didn't really hit a lot of game winners in his time in Sacramento but his first one was his best. Off balance, fading away, and getting the shooter's bounce.
#7 - Isaiah Thomas Steals the Game and John Salmons Seals It (1/28/2013)

This game winner was particularly impressive because the Kings shouldn't have even had the opportunity. The Hornets had the lead and the ball, but Isaiah Thomas was able to pick off the inbound and found a streaking John Salmons for the go-ahead score. Special credit to Marco Belinelli for one of the few times he actually managed to help the Kings.
#6 - Buddy Hield's Motown Miracle (1/19/2019)

While most people will only remember the final shot here, this was one of those games where Buddy Hield simply decided to take over. The Kings were down late but Buddy scored 15 of Sacramento's final 17 points, including this obnoxious one-footed game-winner after nearly turning the ball over twice. This was an absolute theft and one of the greatest performances of Buddy's career to date.
#5 - James Johnson feat. Yakety Sax (12/28/2012)

James Johnson isn't the most fondly remembered King by any stretch of the imagination (quite the opposite actually) but this moment might be one of the few positive memories. This final sequence featured broken play after broken play with multiple game-winning attempts either coming up short or being stymied by New York's defense until the ball came out to James Johnson, who had yet to hit a single three pointer all season€¦ until this one. I actually remember being at this game with Rob Hessing (aka section214) and it was the first game-winner I ever got to experience in person. I don't think I fell asleep till 2 AM off the adrenaline high.
#4 - Houston, you have a problem (12/9/2019)

Someone who isn't very familiar with the Kings or Nemanja Bjelica might be shocked at how far out Bjelica was when he shot this three, but Kings fans quickly learned that Professor Big Shots will shoot from just about anywhere. Nemanja treats the three point line as a mere suggestion and this was no different aside from the game situation. Incredible shot.
#3 - Bogi stepback at the buzzer to beat the Lakers (12/27/2018)

I was at a brewery in Folsom celebrating a friend's birthday while this game was on in the background. That friend happens to be a Lakers fan too, so I was extra miserable when it appeared the Kings were pissing the game away after starting out with such a big lead. I shouldn't have been worried though, because Bogi came to the rescue. I had to cut three other Bogi game winners off this list just to cut it to 10, so we know how clutch he can be, but this was another level. Fading away, well behind the three point line, over the outstretched arms of Tyson Chandler€¦ safe to say, it was not my friend's favorite birthday, much to my delight. Sorry, not sorry, Bryce.
#2 - When Foxes fly (1/25/2018)

Until this game, the Kings hadn't won in Miami since November of 2001. De'Aaron Fox was just four years old at the time. Fast forward 16 years and the Kings were on the verge of breaking that streak. The Kings put the ball in the hands of Bogdanovic, who had already hit several big shots that season, but his jumper fell just short. Fortunately for him and the Kings, Goran Dragic didn't feel the need to box out his man at the three point line and De'Aaron Fox grew a pair of wings and slammed the ball back in to win the game. It was an incredible display of athleticism and cemented Fox's status as the franchise's future.
#1 - €œTyreke, Tyreke, at the hoooooooooooooooorn. YEEEES OH MY GOODNESS€ (12/29/2010)

You knew coming in what #1 would be. It couldn't have been any other shot. This was not only perhaps the best shot in Kings history (only Bibby's game-winner in Game 5 surpasses it thanks to the situation and importance) it was one of the best game-winners in NBA history. To this day, I regret that I was not able to watch this game live. I was at Disneyland with my family at the time, and I remember being at the World of Color, checking my phone every few minutes to see how the game was going. After I saw my ESPN app show O.J. Mayo hit a shot to put the Grizzlies ahead, I figured the Kings had lost and put my phone away to enjoy the rest of the show. Once it ended, I checked again and saw something peculiar in the play-by-play that I assumed was an error.
00.0 - Tyreke Evans makes 50 ft. 3 pointer - 100-98
I immediately went to Twitter and saw Kings fans going crazy. I spent the rest of the night watching the video over and over again. There are just so many great moments, including the fact that Donté Greene was celebrating before the shot even went in. I don't know if we'll ever see a better game-winner in our lifetime.