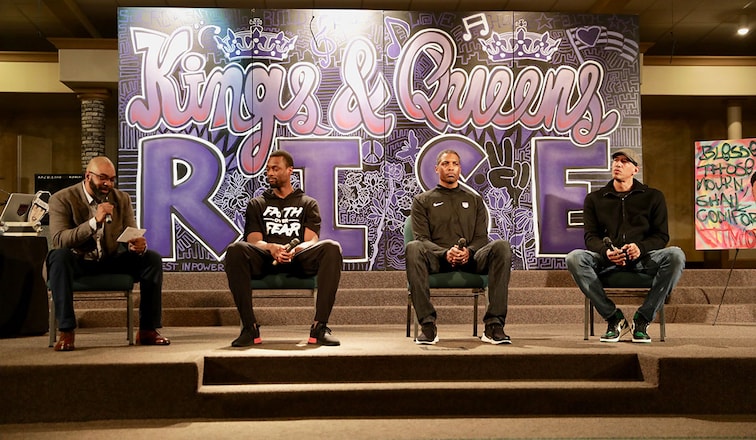 These are harsh times, but according to the current actuaries I'm just teed off on the 14th hole of my 18-hole life (and I shanked it into the woods). Could be worse: if I were an African American, I'd be further along the course, already in the green-side bunker on 14 (and probably getting nervous looks from nearby club members). For me, the issue of equality will be resolved soon enough, but for my children (and eventually, their children), my generation has done a fairly piss-poor job of making real progress in how we all manage to get along.
Some of this was blinders. After the Civil Rights movement of the sixties, I think that most white Americans were ready to proclaim racism dead. Heck, we even had a black family on our block, right? And I heard a Latino family just bought the house down the street. Progress!
But technology (social media, smartphones with cameras, etc.) has exposed to white America how far we still have to go (I say to white America, because I don't think this comes as a news flash to people of color). In this regard, kudos to technology. But that comes with a disclaimer€¦
Technology is easier to get your hands on than a gun, or even a fishing license. Anyone can get access, and anyone can attempt to mobilize. This means that on any given day we can hear from anyone and everyone. And there is a lot to parse.
Think of it in terms of your neighbors. Some you would be comfortable having them watch your kids or your dog or cat or fish. Others you attempt to make yourself invisible at the sight of them. Now remove their identities, give them all 100% freedom of speech with complete anonymity and no real threat of reciprocity, and what do you have? Social media! It all comes down to our conscience, both individually and collectively.
Add to this that many of our government €œleaders€ on both sides of the aisle have seized social media as a platform not for solution, but for promotion. I don't know if the days of looking to our leaders is dead, but it is at least comatose in the here and now.
And the cherry on top are the extremists on both the left and the right, attempting to utilize protests to forward their own respective agendas.
In other words, we really need to vet what we see and read, and force ourselves to slow the conversation down to a pace where we can not only speak, but LISTEN as well..
As an example, I serve up last night's Grant Napear twitter fiasco, in which DeMarcus Cousins asked Napear a simple question: Do Black Lives Matter? Napear was way too quick to answer €œAll Live Matters€ and it was game on. Let's unpack this a little bit.
Cousins does not ask Napear this question if he does not have a pretty good idea what the answer is going to be. It's a bit of a troll job by Cousins, but one that dies on the vine if Napear isn't€¦well€¦Napear. A simple response of €œBlack Lives Do Matter, and we need to put an end to these senseless deaths€ may or may not have satisfied Cousins, but it is an answer that any reasonable person would agree with, and it would, under reasonable circumstances, springboard into HOW to enact change.
Napear's tone-deafness is amazing given his standing in the community, his two employers, and his long career of working side-by-side for and with people of color. €œAll Lives Matter€ was born as a racially-tinged response to Black Lives Matter€, created to diminish the €œBlack Lives Matter€ movement. If one were to venture down that path at all, it would need to be along the lives of €œYes, Black Lives Matter. And while I believe that all lives matter, right now people of color in this country, and especially African Americans are facing risks to life and limb that is far over and above their white counterparts.€
Additionally, Napear has enough baggage in his past (a defense of Donald Sterling, calling out Bobby Jackson and Kevin Martin as soft) that he needs to be better than average here. Understand, I don't think that Grant Napear is racist. I think that Grant Napear is a person of white privilege that does not understand the plight of people of color. And what is more disconcerting is that he apparently does not care enough to try to understand. And in that regard, Grant Napear is a perfect, albeit unfortunate example of the people that are driving this country right now (not a political statement €" neither party gets a passing grade when it comes to real change to attain real equality right now).
As I venture off into the woods in search of my golf ball, and while the gentleman in the foursome in front of me shows his ID to a 3-iron wielding course Marshall, I ponder what it is that we can do to stem this tide and enact some sort of real, impactful, lasting change. And I really have no ideas. I'm really the last person to take direction from, a white kid that grew up in the bottom of the middle class but never lacked for food, clothing, a roof over my head, or an education. A kid that has always been given a chance, an opportunity. But this is what I have told my kids. I hope that it helps them and what is to be their world:
Be Involved: Simply voting is not enough anymore. Find a cause that you believe in and invest your time and your heart and your soul in it. As you are striving for a better life for yourself, always remember that a better world around you makes for a better life for yourself. Invest in your community, your world.
Listen and Share: This one is where I do a lousy job of leading by example. I was a former debate team member. In Civics class I once got Adolph Eichmann cleared of his Nazi crimes (and I'm Jewish €" mom didn't talk to me for a week!). For much of my life it was about winning arguments. I never lost an argument in my first marriage, right up to the moment where my ex-wife said she wanted a divorce. I am the poster child for my generation when it comes to give and (no) take, and although I don't participate on Twitter or other social media platforms (TKH is it for me), my €œstyle€ can be found everywhere. Win at all costs, out-talk the other person, don't bother to listen. I am now attempting to convince my 16 and 18-year-old children that no one knows everything. They are half-convinced, as they agree that I know nothing. Progress. My 26-year-old daughter has lived just enough real life to agree that you never know everything, and that there is always something to be learned and gained through listening and sharing. Not to be a sheep, but to be open to new and alternative perspectives, and to be confident enough in yourself to know that just because you don't agree with someone, that does not make them wrong, and it certainly does not make you right. Living life through one set of eyes and experiences is the sound of one hand clapping. Experience life through the eyes of others, and grow from that. And no cherry-picking, experience the full gamut.
See the World Through Non-Judgmental Eyes: You are no better or worse than anyone else. You will always be special to me, and you have a gift, but that does not make you better or worse. You are a human being, and it is your mission to live and thrive with all other human beings.
Negate the Hate: Years ago, I wrote of my old baseball coach, Al Simas. Al said the opposite of love was not hate, but apathy. Al said to ignore your opponent, not hate them. It worked. We never bought into engaging with our opponents during a game €" we would instead take that energy and re-channel it back into our collective selves, and it made us even tougher to beat. You can't just ignore hate, lest it go unchecked and fester. However, no one ever said you have to take on hate head-on. Because when you fight hate with hate, they win. When you fight hate with love, you're wasting your time. When you faced that hate, hand them apathy, and then take that energy and apply it where it can make a difference.
Love Life: Find the love, even in the darkest moments. As far as we know, it's the only life you get.
Understand: I saved the biggest one for last. There is such a gulf when it comes to the lack of understanding of what people with different backgrounds and upbringings and socio-economic standing are faced with on a daily basis. Take the time to do a deep dive into the real issues that face our country and the world. Don't get de-railed by troll tweets of voter fraud or name-calling. Don't buy into the fifteen minute news cycle. Find the things that are truly important and spend time researching that, and speak with people on the front lines of those issues. Hell, become one of the people on the front lines of those issues.
To be clear, I'm not trying to preach that this is what all of you should do. This is what I am telling my kids, as well as my wife and myself. And under the umbrella of these bullet points, I look forward to a thread where I can listen, share, be non-judgmental, love and understand. And maybe, just maybe we figure out a way to make a difference individually and/or collectively along the way.
I do not say this cavalierly: I love you all for being here, and I thank you for giving me the opportunity to have this self-induced therapy session with you. Better days lie ahead if we determine it to be so. Keep your heads up, and don't succumb to Team Racism, ever. Ever.