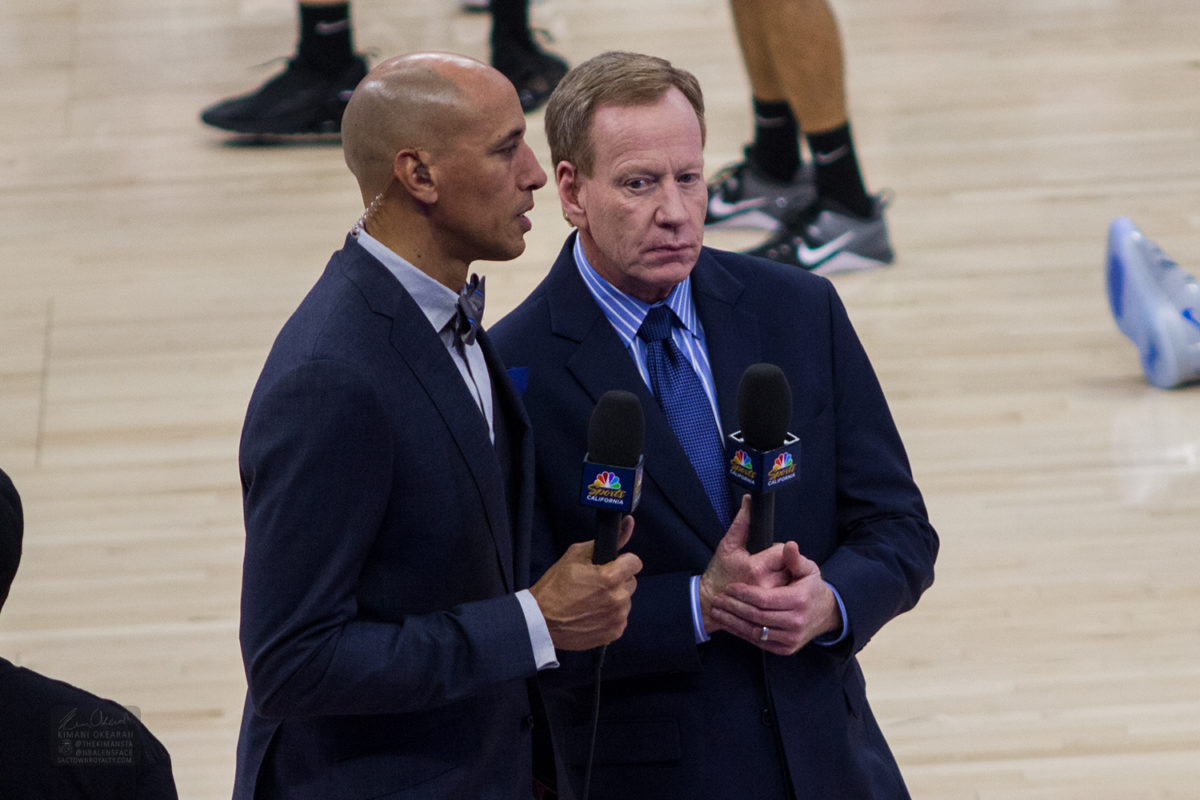 In the wake of nationwide protests following the on-camera killing of George Floyd, former Sacramento Kings center DeMarcus Cousins asked Kings play-by-play announcer Grant Napear for his thoughts on Black Lives Matter. Napear's response was "All Lives Matter":
Hey!!!! How are you? Thought you forgot about me. Haven't heard from you in years. ALL LIVES MATTER...EVERY SINGLE ONE!!! https://t.co/DfzKl3w0jm

— Grant Napear (@GrantNapearshow) June 1, 2020
This sparked a backlash from former players, beginning with DeMarcus Cousins, but then Chris Webber and Matt Barnes also chimed in:
Lol as expected.

— DeMarcus Cousins (@boogiecousins) June 1, 2020
Demarcus we know and have known who grant is. The team knows as well. I've told them many times. They've seen it. They know who he is. 🤡🤡 https://t.co/4DI4f1DGUp

— Chris Webber (@realchriswebber) June 1, 2020
Would expect nothing less from a closet racists

— Matt Barnes (@Matt_Barnes22) June 1, 2020
Grant added addition tweets to clarify his position, but they only served to increase the backlash against him. As of this morning, Napear apologized on Twitter:
If it came across as dumb I apologize. That was not my intent. That's how I was raised. It has been engrained in me since I can remember. I've been doing more listening than talking the past few days. I believe the past few days will change this country for the better! https://t.co/Gsh84BPBEk

— Grant Napear (@GrantNapearshow) June 1, 2020
We will continue to keep an eye on this story to see if anything develops further.
UPDATE 2:00 PM:
Grant Napear spoke with the Sacramento Bee's Marcos Breton and apologized for his words.
€œI'm not as educated on BLM as I thought I was,€ Napear said to me. €œI had no idea that when I said €˜All Lives Matter' that it was counter to what BLM was trying to get across.€

Napear was emotional on the phone and was sincere.

€œI'm in pain,€ he said. €œI'm 60 years old and I still have a lot learn.€
Napear also says he will apologize publicly on his KHTK radio show later today.
UPDATE 3:03 PM:
KHTK announces radio host and Kings play-by-play announcer Grant Napear "has been placed on administrative leave while we are investigating the statement that was made on twitter."

— Jason Anderson (@JandersonSacBee) June 1, 2020