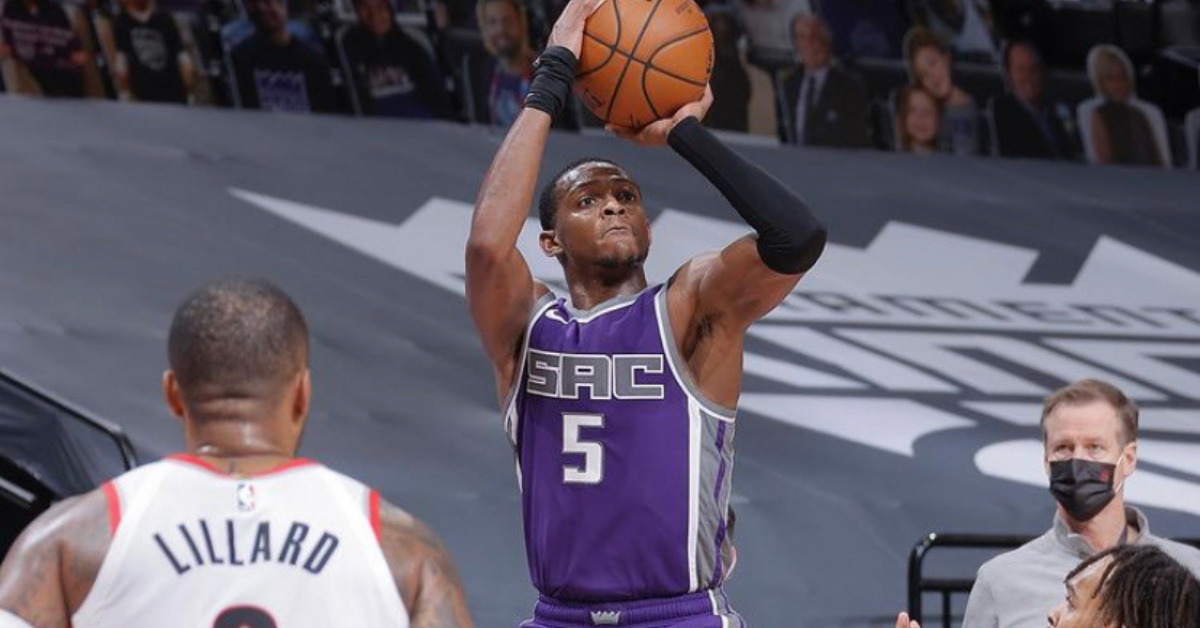 Are the Sacramento Kings the worst team in the league? Without hesitation, they've clearly entered themselves in the conversation, as opponents have pummeled them during this 1-4 stretch.
While the 5-10 record isn't indicative of how atrocious the Kings are (thanks to some early wins), Sacramento is barely floating above water with opponents swarming around, waiting to pounce. The team defensive rating continues to plummet, and the offense isn't consistent enough to outscore the opponent, except in the lone win over the Indiana Pacers.
Sacramento's scoring output is inconsequential; they're allowing a bazillion times as much on the other end €" the end that wins you games.
Let's extract some takeaways from the 1-4 stretch:
Defense, blah blah
I won't bury the lede: Sacramento's defense is [insert any synonym of bad]. Whatever word popped into your head is likely an understatement.
Players are wagging fingers at each other signaling who to guard, no one responds because everyone is busy pointing fingers, and it's an easy bucket for the opposition; you send two defenders to trap Paul George on a pick-and-roll, but he seamlessly splits through and dunks it down because the weak side help arrived late; the opponent's ball movement enthralls players to chase the ball instead of trusting rotations and switches, leaving players, like Patrick Beverley, wide open from deep.
After 15 games, the Kings' team defensive rating sits at 119.9, which is 5.5 below the next worst team (Washington, 114.4). Their net rating differential of -9.5 is in last place too.
Simple solutions aren't nearby. You just hope the defense doesn't become habitual for the players, regardless of the coach. The players clearly aren't buying into the defensive system, and that's perturbing.
Is any player having a €œgood€ season?
€œGood€ in this scenario is ambiguous. I attempted to alleviate the depressing discourse about defense by highlighting players who have stood out, but I stumbled.
The main takeaway here is that the entire team is flawed, and no one has displayed the ability to rise above those deficiencies. As efficient as Richaun Holmes and Tyrese Haliburton have been, they now look mortal. And asking Haliburton to shoulder the burden when the going gets tough is pretty telling for the rest of the roster.
Let's look at the veterans: Harrison Barnes peaked against Indiana €" who struggles to guard wings because of shallow depth €" and has disappeared since; Buddy Hield started a three-point only diet, which has worked because his percentage has ascended, but if the shot's not falling, he's now a liability on both ends. Cory Joseph continues to deteriorate on both ends; Nemanja Bjelica has plunged to the bottom of the roster, and his future with the roster is vague; Hassan Whiteside's movement has dwindled, and even though he's a fine situational big to have on that contract, he's not moving the needle; Glenn Robinson III needs to be placed on timeout for attempting to dribble drive and finish over superior defenders. It's not surprising that he excels in catch-and-shoot scenarios like he just did vs. the Los Angeles Clippers.
De'Aaron Fox has exhibited flashes of brilliance on both ends €" the challenge is to exhibit consistency. But with the entire roster underperforming, ambiguity remains supreme.
Things are going great.
Nemanja Bjelica's situation
Speaking of Bjelica, I hope he's alright.
Luke Walton on Nemanja Bjelica: "I'm not going to play Belly again tonight. Me and him have talked. ... There's some personal stuff and I'm just going to leave it at that, but we have been in communication and we are very confident in the player he is still."

— Jason Anderson (@JandersonSacBee) January 21, 2021
We're in the middle of a pandemic, and if the personal issues are separate from the on-court play, the personal issues are more imperative.
Bjelica won't solve any of the many on-court concerns Sacramento's dealing with, but how the situation develops will be interesting.
Time to let the youngsters loose?
Developing the youngsters was a key priority entering this season. If wins came on the backs of impressive performances by the youngins, that's just gravy.
But so far, the Kings aren't developing, and they aren't winning. At this rate, the only functioning positive is Sacramento's hopes to land a Cade Cunningham or an Evan Mobley *cranks up Tankathon for the 15th straight season*.
While that's fine in a nutshell, you don't want it coming at the risk of having these players broken beyond repair *stares at Jim Boylen*. Fortunately for Chicago, crucial pieces like Wendell Carter Jr. look like basketball players again, but if these problems linger for Sacramento, it's something to store in your mind.
That being said, why not insert the youngsters? And I don't mean giving Justin James first-quarter minutes so he can initiate pick-and-rolls while Haliburton roams the wings. Let's see what Robert Woodard II can do with meaningful minutes. Kyle Guy turned in a promising preseason, and although that's an obvious caveat, he brings more offensive juice to the floor compared to Joseph. The defense is already suffering €" with Joseph replaced, at least the offense won't too.
DaQuan Jeffries would be a rotational player had it not been for injuries, so that's one semi-decent positive. And when Jahmi'us Ramsey returns, I'm on board for seeing him fire away some triples. Walton elevated Chimezie Metu after Whiteside's injury, and it'd be nice to maintain that.
Winning with veterans is nugatory considering the way the team is trending. Sure, throwing the youngsters into the fire may not be the best idea, but it's a nebulous one. Sprinkle in minutes for the youngsters alongside Fox, Haliburton and a slowly improving Marvin Bagley and see what that produces.
Marvin Bagley's improvements
I didn't include Bagley under the second takeaway because I wanted to save that discourse for here. He was always going to start rusty. Coming off a season where he only logged 326 incoherent minutes, didn't play in the bubble and dealt with limited preseason minutes, the early struggles weren't shocking. The bunnies were hopping out; the touch needed refining; and the jumper wasn't salivating.
Once in the 0th percentile for eFG%, he's now jumped into the 22nd. The rim finishing has increased to 70%, good for the 62nd percentile, which would be a career-high if sustained. The mid-range level €" the bulk of his attempts €" needs tuning. The three-point shot, at 39% (per Cleaning the Glass), is in the 67th percentile (all percentiles per Cleaning the Glass).
The defensive concerns haven't vanished. There have been flashes of solid reads as a weak side and individual defender, but just like the entire team, it requires addressing. On a positive defensive note, his field-goal defensive-rebound percentage of 22.5% is in the 73rd percentile, per Cleaning the Glass. That's the second-best mark on the team besides Whiteside, who has logged more minutes at center. The Kings are 29th in the league in rebounding. They're struggling to close possessions, but Bagley's silently been a bright spot in that area.
Bagley would also benefit from an uptick in touches. Per NBA.com tracking data, Bagley averages 43.3 touches a game, fifth on the team. But his points per touch €" 0.311 €" is the third-best rate on the team among players with meaningful minutes (Woodard is #1, give him more minutes).
I won't delve into the many other issues besetting the squad (because we'd be here a while), so what else has stood out to you?