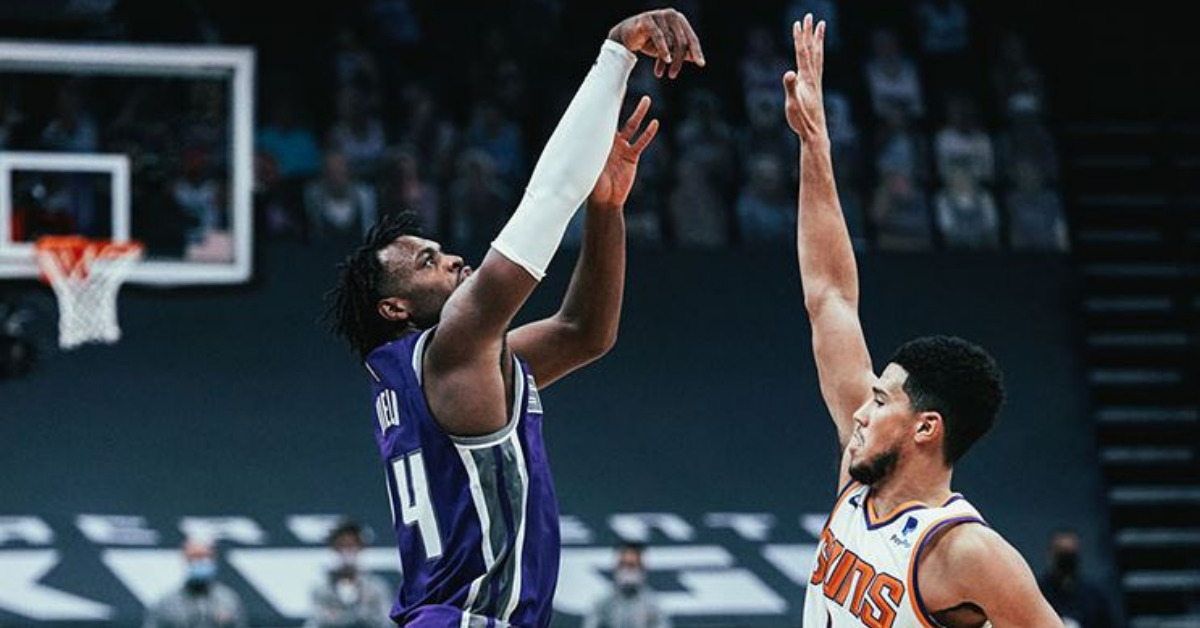 There's no doubting it: Buddy Hield's campaign is off to a deviant start.
The Bahamian shooting guard posited a high standard for himself following a breakout season in 2018-19, where he notably struck gold on 43% of his 646 three-point attempts. We can delve into the nuances of how the Luke Walton hire affected his play last year, a year in which Hield became a point of emphasis into the team's struggles, but those nuances are well-documented to this point. The same issues linger over to his defensive woes, woes that are plaguing the entire team this season (more so than ever *looks at the team defensive rating*).
Instead, this discourse will probe into a different department of Buddy's shooting arsenal: the interior game. Hield's current three-point percentage of 36.7 (38 via Cleaning the Glass, which filters out heaves and garbage-time attempts) holds little weight to me. We're only 14 games in, and his percentage has increased after a perplexing start. But there's a reason why: His abandonment of shots inside the arc has ushered in an escalated focus on three-point shots.
Important caveat: The sample size for this specific stat is small, but because of his interior struggles, the trend may persist.
In the last five games, Hield has attempted 65 shots. Fifty-seven (57!) of those are three-pointers. Though he's seen varied success per game, Hield is shooting 40.3% from deep over this five-game stretch. On those eight two-point attempts, he's made just three (37.5%).
The concerns on twos play into a larger trend: Hield is converting 60% of his shots at the rim (39th percentile) and 21% on mid-range jumpers (13th percentile), per Cleaning the Glass. For context, last season Hield was in the 57th percentile for rim-scoring and 54th on middies.
Let's watch some tape:
On this middle pick-and-roll between De'Aaron Fox and Richaun Holmes, Holmes will smartly slip into an abundance of space. That slip prompts Nickeil Alexander-Walker to provide the low-man help. Alexander-Walker is now tasked with splitting the difference between blocking the passing lane to Holmes and closing out on Hield if necessary.
The latter occurs, and Alexander-Walker closed out before the pass arrived. Two things: 1. A hard closeout on Buddy is a must. You can't grant him any shooting room. 2. A hard closeout forces Buddy to make quick decisions, and he tends to stumble in those scenarios.
Alexander-Walker's defensive stance forces Buddy to drive left down the baseline, which targets another weakness: Buddy's not a strong left-hand dribbler. Steven Adams recovers his position and congests Hield's driving lane, forcing him into a tough turnaround jumper. You see the result. New Orleans hit two birds with one stone; make Hield react quick, and make him operate with his left hand.
Here's a striking stat: Per NBA.com tracking data, seventy-five percent (that's 75%!) of Hield's shots are coming from deep this season. Last season, threes comprised 59.1% of his overall attempts.
Because of the bad misses, it appears that Hield is suffering from a confidence issue. He looks uncomfortable inside, and it's been glaring.
In the clip, Sacramento runs a high pick-and-roll with Hield and Holmes. Reggie Jackson isn't reputed as a talented defender, and that's evident based on how he goes over the screen. Jackson needed to back into the screen and shadow Hield to Hield's left. If you're going to permit a downhill lane for Hield, force him left.
Jackson doesn't, and there's a small window for Hield to launch a pull-up three following the screen, but he checks the distance between him and Jackson, pushing himself closer to the rim. Serge Ibaka is playing drop coverage and rightfully so. You can't grant Holmes his push-shot look. Ibaka eventually contests on Buddy's attempt, and Buddy misses. (These instances are also why I don't prefer Hield to initiate.)
Let's move to some side pick-and-roll action from the most recent Portland match, with Hield and Holmes as the personnel. Hield will curl off the Holmes' down screen, but CJ McCollum does well to fight through it, repelling Hield with a solid contest. I can't tell if that's an airball or if McCollum nicked it, but Hield didn't need to shoot that contested look.
Pause at the four-second mark and move your eyes directly down from the ball. Who's that wide open? Tyrese Haliburton, a current 51% three-point shooter. If Hield had surveyed the floor as he came off the screen, he would've noticed Haliburton relocating to the wing while Portland's defenders slept. An over-the-head pass above Gary Trent Jr. to Haliburton would've been a significantly better shot than what Hield produced.
Buddy's emphasis on more three-point attempts has been palpable this season: Sixty-three percent of Hield's overall attempts are coming from non-corner threes (99th percentile, up 12 from last season); he's in the 92nd percentile for overall three-point attempts (up 17 from last season); Fifteen percent of his shots are from mid-range (26th percentile, down 24 from last year); Eleven percent of his shots are from the rim (12th percentile, down seven from last year).
While Hield's three-point numbers are sufficient, it's also not his best. The abandonment of the interior presents some problems: It makes Buddy less dynamic, making him easier to guard. Hield, like the entire team, is also struggling defensively, and when Buddy isn't bringing the buckets from deep, it's difficult to justify his minutes. That's perturbing for both his on-court impact if the team hopes to win and for any possible trade value.