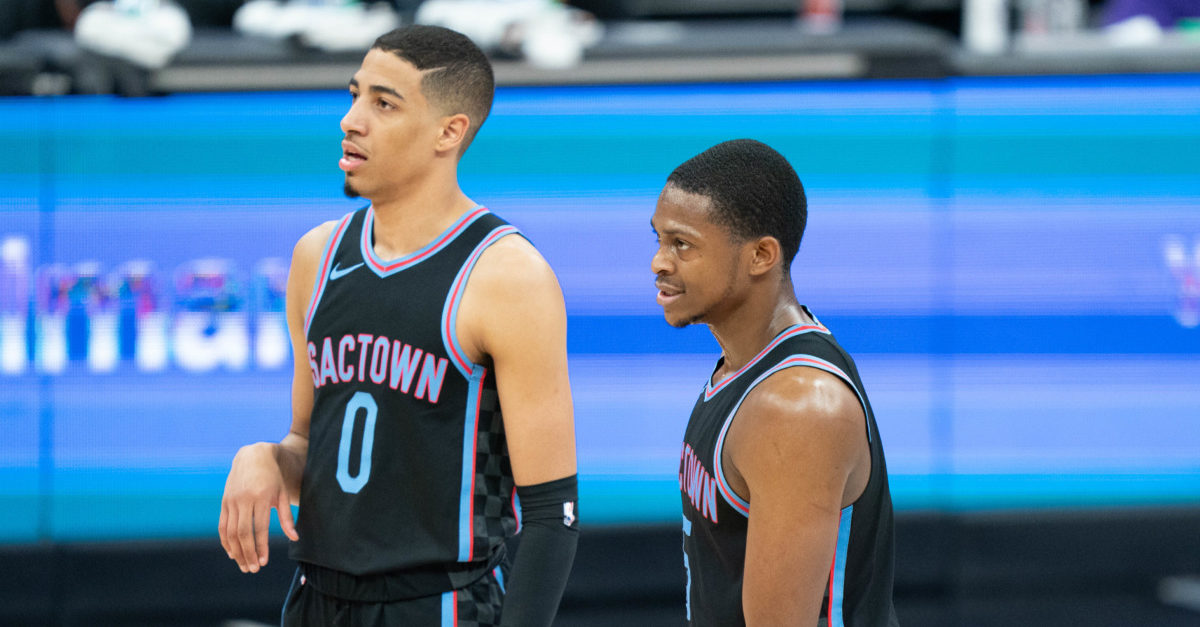 Defense and playoffs. Playoffs and defense.
This isn't really a chicken or the egg question; defense (for the most part) comes first, and then the playoffs. The Kings have been letting the offense dictate the defense and trying to outscore opponents ever since Ron Artest last wore a Sacramento jersey, which was the last time the team made the playoffs.
A good defense is about having players who have talent on that side of the ball, but a large part of it is sheer will. That is why the question of whether the Kings can become a good defensive team and make the playoffs depends on its star players to set the tone. The coaching staff needs to put an emphasis on it, yes, and we saw what can happen as a result in the NBA Summer League, but the guys on the floor also need to take some pride in it.
The star of this team is De'Aaron Fox. Fox has been a part of the poor Kings defense for four seasons now. He, along with the rest of the team, has spoken a lot about the need to get better on defense, yet we haven't really seen it translate. In reality, the bigs are largely left to clean up the mess when the guards, including Buddy Hield, let opponents skate right to the basket. Richaun Holmes is a good defender, but can only do so much whack-a-mole every game. The question of Hield's future with the Kings and his role in the rotation continues to linger, but all signs point to Fox and Tyrese Haliburton being the backcourt of the future. And it is going to take a big shift in how they approach defense for this team to take the next step.
Fox admitted as much in his final interview at the end of last season.
"One thing I was taking about with Monte [McNair] is we should be a much better defensive backcourt. So, with that, 1 comes experience and 2, we just have to be able to continue to understand the game and be able to uplift our team on that end of the court," he said.
It has been well documented that the Kings ranked last in defensive rating and last in opponent field goal percentage at 48.8% last season. While Fox and Haliburton didn't play a ton of minutes together, when they did, things were not good defensively.
In the top three most-played lineups featuring Fox and Haliburton, according to Cleaning The Glass, their opponents' effective field goal percentages were:
(853 possessions) De'Aaron Fox, Tyrese Haliburton, Buddy Hield, Harrison Barnes, Richaun Holmes: 55%
(124 possessions) De'Aaron Fox, Tyrese Haliburton Buddy Hield, Harrison Barnes, Marvin Bagley: 63.7%
(76 possessions) De'Aaron Fox, Tyrese Haliburton, Buddy Hield, Harrison Barnes, Hassan Whiteside: 51.5%
These two just have to get better at stopping the ball, and there are three reasons why I think that can happen.
The first is what seems different about Haliburton. Not only is he extremely talented on the basketball court, but he is very self-aware and seems to understand and acknowledge the constant narratives surrounding the Kings. He knows players often talk about what needs to change, but it never seems to actually happen, a trend we have become all too aware of.
"For 72 games we've got in front you guys in the media and talked about our defensive effort, and on the days it was good how we can continue that and on days when it was bad how we can get better. So that's going to be important for us to be better defensively," he said at the end of the season.
An historian of the game, Haliburton appears to be very dedicated to the success of the team and is a hard worker. He seems like the kind of guy that simply isn't going to be OK with the status quo repeating itself anymore. This, mixed with the fact that he is 6'5'' should translate to better defense (along with some added muscle).
The second reason is the defensive potential of Fox. He possesses the speed, size and strength to be a good defender in the NBA. (He has the nickname Swipa for a reason.) He's crafty reading passing lanes in order to get steals and can pull off some impressive blocks on occasion, but if he can get a little more consistent on the ball it would do wonders for this team. Granted he has had to shoulder much of the offensive load in years past, including scoring and playmaking. With the emergence of Haliburton, however, maybe Fox can put the pieces together on defense a little more. We have seen when he wants to lock someone down, he has the tools to do it.
Lastly, and I know you were waiting for this one: The Kings now have Davion Mitchell. Haliburton has said defense has to be an emphasis right when training camp starts. So, imagine for a minute when these three guards compete against each other for the first time in camp. Think about the speed and offensive skillset of Fox matching up with the speed and defensive skillset of Mitchell. Mitchell is not a 19-year-old rookie. He is 23 (his birthday was Sept. 5) – the same age as Fox and two years older than Haliburton. He also is coming off a national championship and an NBA Summer League championship in which he led a team with the mentality of not letting opponents score rather than outscoring them.
We heard last season how Fox would give Haliburton the business in practice.
Haliburton on Fox: "I guard him every day in practice you don't know the half of it."

— The Kings Herald (@thekingsherald) February 2, 2021
Mitchell is a different dude though, and I fully expect him to get into Fox and Haliburton in practice. And he should challenge these guys from day 1 regardless of his rookie status. This team needs it because Fox and Haliburton must put action behind their words and take defense more seriously.
"Leading by example. Just showing in training camp that I'm doing the little things, being that guy up there pressuring the ball, making it hard for the guards, and I think if my teammates see that they're going to want to play hard because I'm the head of the snake," Mitchell said at the conclusion of Summer League. "I'm going to be up there playing pressure defense, so my teammates are going to follow behind me. I think if I just lead by example and be myself in training camp, I can change the identity here."
Let's hope that is the case. Chances are he can be the guy who uplifts the team on that side of the ball.
Fox and Haliburton are great offensive talents and because of that scoring will likely never be a problem. It really hasn't been a problem even before Fox's time. It's always been the defense with this team, and it's good that they both acknowledged it at the close of the season.
"Offensively we're fine. What we did this year was enough so defensively we just have to be better as a backcourt and as a team," Fox said.
Here is Haliburton: "We can score, that's not a surprise to anybody or anything like that. We know how to put the ball in the basket, but we just have to be better defensively for us to take that next step and obviously like I've talked about, and we've talked about the whole year, we want to get the Sacramento Kings back to the playoffs, but that's not going to happen if we're not better defensively."