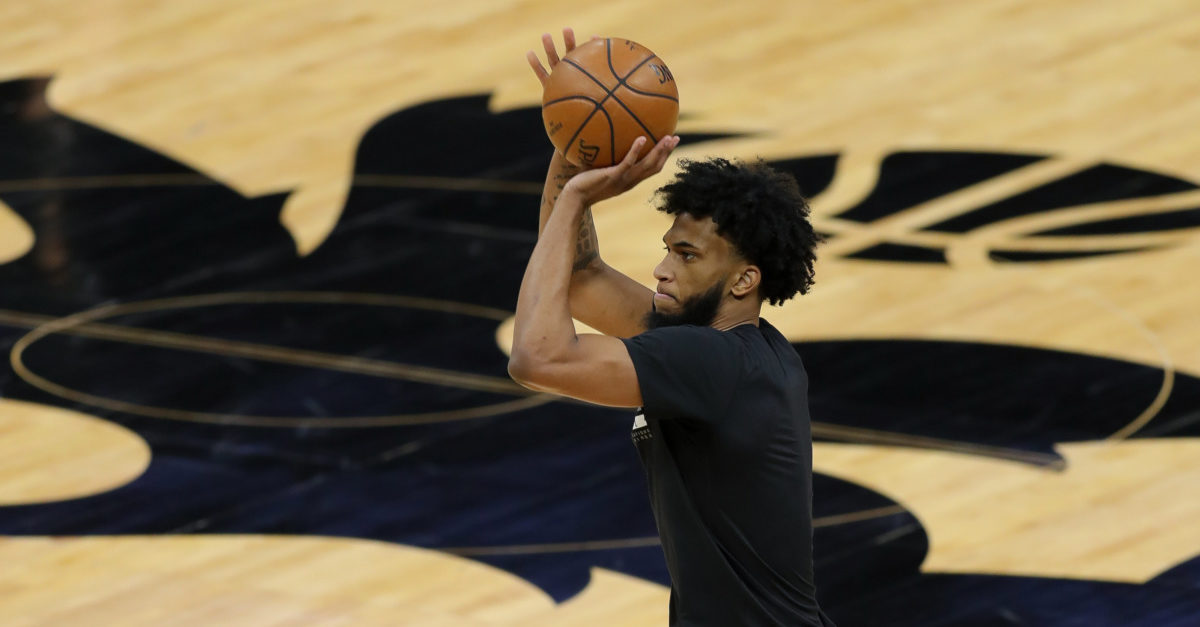 Even after it became clear that the Kings had made a mistake in drafting Marvin Bagley III over Luka Doncic back in 2018, there was still hope among Kings fans that Bagley would become a star in his own right. His rookie year was very promising, showcasing all the athleticism and tantalizing potential that made him such an intriguing prospect. Unfortunately it's been downhill ever since.
In 2019, Bagley broke his thumb in the first game of the season and missed the next 22 games. His return was short lived as well, as he played just over two weeks before suffering yet another injury that would keep him out for an additional 8 games. Finally, after returning in mid-January, he played just 4 games before a leg injury ended his season. The Kings didn't even activate him for play in the Orlando bubble, despite his injury taking place more than half a year earlier.
Last season was more of the same. While Bagley was able to play for most of the first half of the season, he ended up suffering another hand injury that cost him a month and a half. In a somewhat confusing situation, it seemed as if the Kings were simply going to shut him down for the season but instead they brought him back for 6 games toward the end of the year, before guess what, another injury cost him the rest of the season.
Perhaps more disappointing than Bagley's injuries (something he can't control) has been his lack of significant improvement. While the injuries (and the whole Covid-19 shutting the league down for half a year) haven't allowed him a whole lot of consistency, he still managed to play a little more than half a season last year in a row and what we saw wasn't that much different than what we saw as a rookie. In fact, if you look at the numbers they're amazingly similar:
2018-19: 14.9 PTS, .504 FG%, .313 3P%, 7.6 REB, 1.0 AST, 0.5 STL, 1.0 BLK, 1.6 TOV in 25.3 MPG
2020-21: 14.1 PTS, .504 FG%, .343 3P%, 7.4 REB, 1.0 AST, 0.5 STL, 0.5 BLK, 1.4 TOV in 25.9 MPG
Offensively, the one area he showed a minor improvement in was in his three point shot, particularly the corner three, although he was still far from consistent. He also continued to be a black hole on offense, posting a negative assist to turnover ratio. Defensively, he was one of the worst defensive players on an already bad defensive team. And yet there were still flashes of greatness, like a 31 point, 12 rebound performance against the Pacers late in the season where he looked unstoppable.
A liked tweet from over the summer (as well as continued noise from his father over social media) has fueled speculation that Bagley wants out of Sacramento, but for now it appears that both Bagley and the Kings are stuck with one another. Bagley's value has never been lower, and the Kings don't want to come away empty-handed after investing so much into him.
This is going to be an incredibly important year for Marvin, and it will be interesting to see how the Kings handle this situation should he indeed still be on the roster post-training camp. Last season, the Kings made him the starter from Day 1, giving him all the opportunity he could handle. I don't know if that will be the case this year. Sacramento saw some success last season with going small, and with the additions of Moe Harkless, Terence Davis and now Davion Mitchell, the Kings will probably be playing smaller lineups most of the time.
Bagley has always made the most sense to me as a center, and it wouldn't surprise me if the Kings brought him off the bench to backup Richaun Holmes to start this season. Holmes and Bagley together don't offer up a whole lot of spacing, and Bagley could also be more of an offensive focal point with the second unit. We've even already seen this role work to great effect in his rookie season, as Dave Joerger had Bagley come off the bench for most of that year.
Of course, the best ability is availability, and Bagley hasn't shown that he can stay healthy for an entire season yet. It's hard to convince a team to invest time and resources into you if they can't count on you being able to play when the time comes.
Still, even if Bagley plays well this season, it's hard to envision a future where these two sides mend fences enough to enter into another long-term commitment. Bagley will be a free agent this summer, and it remains to be seen if the Kings (or another team) will even offer him the qualifying offer; Because he was the 2nd overall pick, his QO is already over $11.3 million. If I had to guess, I think that even if Bagley starts the year in Sacramento, he'll end it elsewhere.