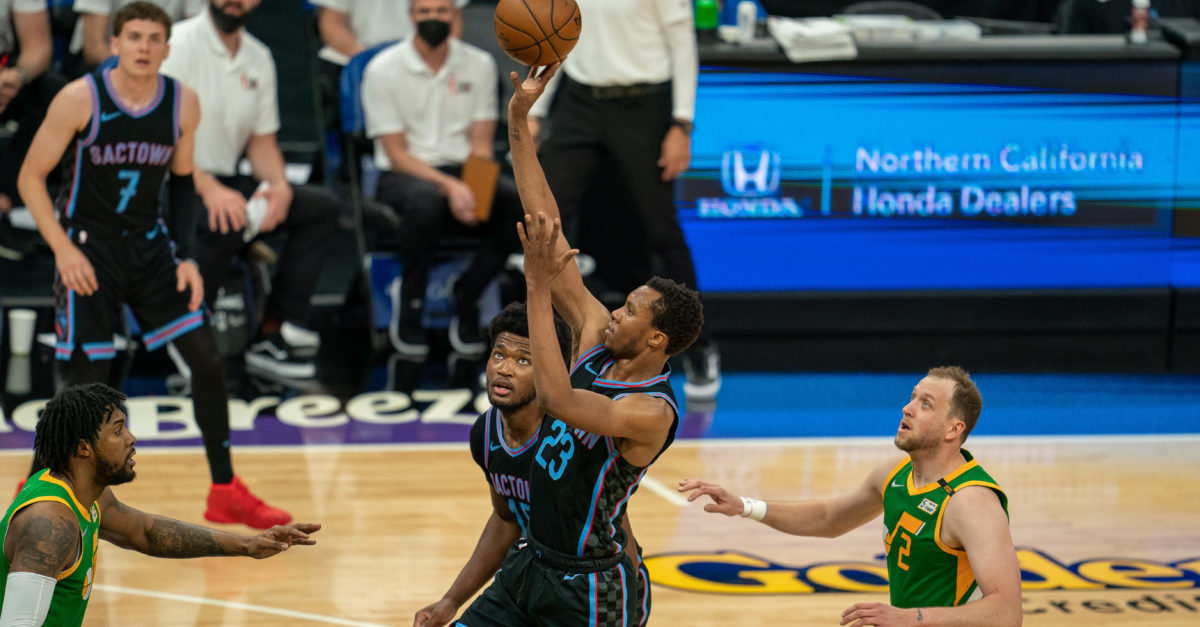 With training camp soon approaching and no blockbuster deal yet on the books, the Sacramento Kings roster is stuffed with guards and bigs -and, as seems to be the case every year, has a bit less depth when it comes to wings and forwards. While Harrison Barnes (as well as the dawn of the three guard De'Aaron Fox-Davion Mitchell-Tyrese Haliburton lineup) demands obvious minutes, the depth behind Barnes is less than ideal. Only 3 of the Kings 19 man training camp roster can answer yes to the question "can he play traditional small forward?" - Barnes, veteran Mo Harkless, and 21-year old Louis King.
The 6'8 King is back for a second season on a two-way contract with Sacramento, and is coming off a promising Summer League. After being mostly invisible in the California Classic, King had an strong run in Las Vegas, scoring 14.6 points a game and knocking down 45% of his three pointers. He showcased movement shots, shots off the bounce, and a few highlight transition dunks. He was also fast and aggressive on defense, finishing with a team high 3.2 steals (an impressive feat, considering he was playing on a team with Davion Mitchell). He had 24 points, 4 three pointers, and 5 steals in the Summer League title win, earning himself the Championship game MVP award.
We've seen this script before - an unheralded prospect comes to Sacramento and shows some early promise. It didn't work out in recent years for Troy Williams, DaQuan Jeffries, or Justin James, who all failed to carve out meaningful roles. But in a league that demands versatile forward talent, smart teams should keep taking as many gambles as possible on upside wing players like Louis King. Sacramento could have a real, meaningful role for a shooter like King this season if he's ready for it.