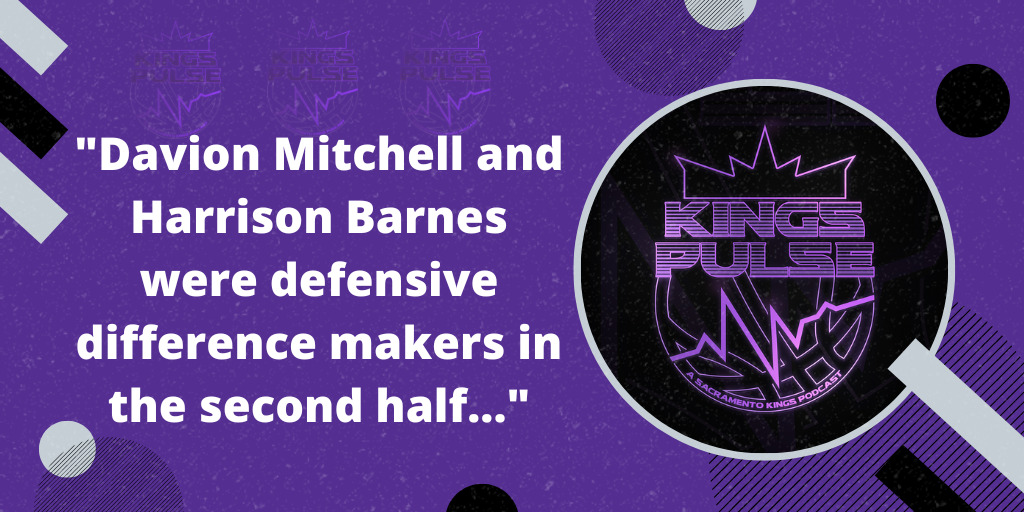 The Sacramento Kings won this game in a fitting fashion. They were atrocious on defense in the first half, largely thanks to effort and attention to detail, but the second half was an entirely different story.
In this episode of the Kings Pulse podcast, I broke down what I viewed as the differences between the two halves. That included some matchup adjustments, discipline, sticking to the game plan, and more.
Postgame quotes from DPOG Harrison Barnes, Kevin Huerter, and Coach Mike Brown were added to this episode as well. All three of them spoke on the impact that the Golden 1 Center crowd had on this game.
De'Aaron Fox did head back to the locker room in the middle of the third quarter due to right hamstring soreness. We were given an update on Fox's status postgame that I expanded on in this episode.
With Fox unavailable, the offensive strategy in the clutch was intriguing to me. The answer seemed to be Harrison Barnes, which is something I asked about postgame and included the audio.
That was far from the only way Barnes made his impact, however. I spent some time talking about how both he and Davion Mitchell were essential in slowing down the All-Star backcourt of Chris Paul and Devin Booker. I would've been remiss to not have also acknowledged the struggles of rookie Keegan Murray when asked to slow down Booker.
Kevin Huerter loudly returned from a few-game absence. This episode includes how outstanding his numbers have been when playing as of late and why his teammates deserve some credit for his outbursts as well. Huerter's impact goes beyond scoring the ball, as he also recorded a season-high in another statistic.
Also included is some questions from the chat regarding the Kings' magic number to clench a postseason birth, division banners, Chezimie Metu's big start to the fourth, the Pulse Performer, and more.
The Kings Pulse podcast is available on all major listening platforms and also in video form on YouTube!
Subscribe: iTunes | Spotify | YouTube