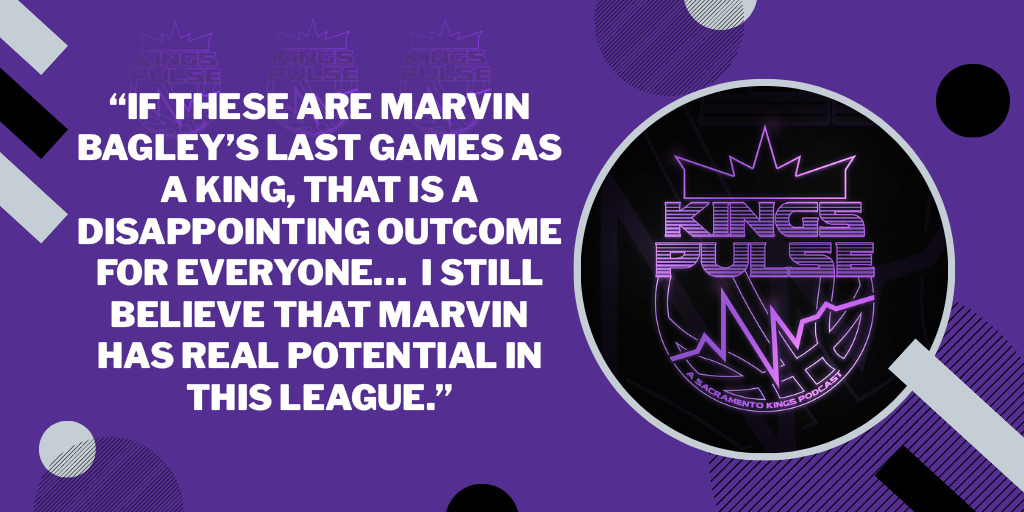 The roller coaster ride continues for Sacramento Kings fans - the Kings won two straight games against teams desperate to avoid the play-in tournament, but we're all still waiting with bated breath for the results of Tyrese Haliburton's MRI. In the absence of news about Sacramento's star rookie, Brenden Nunes and I had a chat about the return of Marvin Bagley, who came back from a 23 game absence on Friday and had one of his best games of the season on Sunday against the Mavericks - 23 points, 9 rebounds, 3 assists, and 10 of 16 from the field, with some right-handed shots to boot.
I think Marvin Bagley used his right hand more in this game than any other single game I've seen him play.

Still needs to make a lot of progress there, but it is encouraging. pic.twitter.com/ykUR90LZRy

— Brenden Nunes (@BrendenNunesNBA) May 4, 2021
The Mavericks game featured some real flashes of the player that Bagley optimists, myself included, always hoped he could be. He was physical (especially on the glass), determined, and scored in multiple ways for a Kings team that really needed an offensive boost with both De'Aaron Fox and Haliburton out (Tyrese left the game in the 3rd quarter). But the flashes of potential don't hide the truth - we know these may be Bagley's final games as a Sacramento King, and if that is the case, it's a disappointment for all involved.
There are many reasons why Bagley's time in Sacramento may end this season, and Brenden and I covered nearly all of them in the pod - from the Kangz organization that drafted him, to his own sky-high expectations for himself, to the team's inability to optimize him on offense or defense, and his own failure to develop in certain areas of his game. But the endpoint of every conversation about Marvin Bagley as a basketball player is his health; we can highlight all his strengths and weaknesses as a player, but if he hadn't missed nearly half of his career games (114 games played over the 218 games the Kings have played since drafting him) and hundreds of hours of team practice due to feet, hand, and wrist injuries, we'd be talking about a totally different player.
That all said, it's not impossible that Bagley returns next year - he's on the books for $11.3 million next season and is still only 22 years old. Perhaps the next Kings head coach would want to work with Bagley and make this whole mess work. But if the Kings want to re-sign Richaun Holmes this summer and he ends up with contract offers outside of the range they can pay him, Bagley may be easier to move to get capspace than either Buddy Hield or Harrison Barnes.
Do you want to see Marvin Bagley in a Kings uniform next year? What are your hopes and expectations for him over the rest of the season? Let us know in the comments.
The Kings Pulse podcast is available on all major listening platforms.