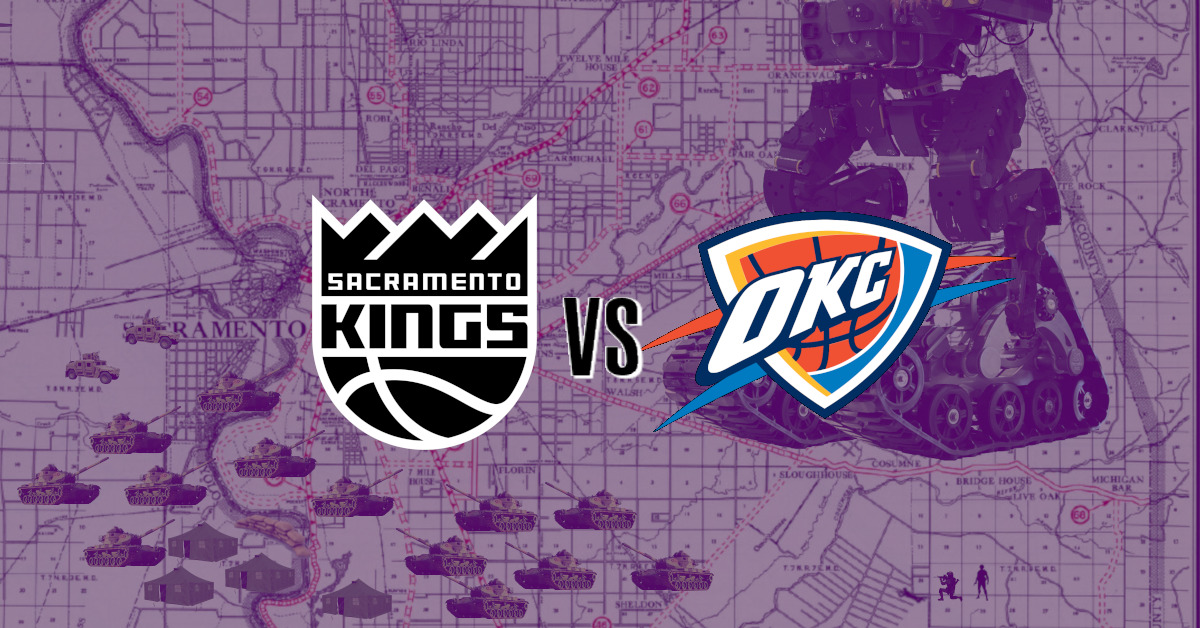 I have no idea why the schedulers took so long to stack the Kings and Thunder against one another in the schedule, but I have to say that this, this set of games here against the Thunder might be the final reason I'm hanging onto this season, unable to let go. Losers in 17 of their last 18 games, the Thunder have spent every moment since an injury to their star point guard Shai Gilgeous-Alexander, thinking about the tank. They've pretty much spent this entire season doing what I had hoped the Kings would do, and now we get to see the resulting horrors can do against an injury plagued, apathy induced Kings squad. Deep breaths, bud.
Let's talk Kings basketball.
When: Tuesday, May 4th, 5:00 PM PST
Where: Chesapeake Energy Arena, Oklahoma City, OK
TV: NBCSCA - Kyle Draper (play-by-play)
Radio: KHTK Sports 1140 AM
For Your Consideration
I've made it fairly clear through out the last year or so that this Thunder team is who I wish the Kings had likened themselves after. Now, with Tyrese Haliburton being as good as he was and De'Aaron Fox taking another step towards superstardom, I'm not sure how well the Kings could have emulated the Thunder plan, but in a year where we weren't getting to see many games in person, with a compressed schedule, this was the year to bottom out and Sam Presti & Co. have done a marvelous job at it. Ample time for young guys to grow and experiment with their games on both the NBA and G-League levels, with a few quality vets in the locker room and aggressive draft pick accumulation - I swoon for OKC far more than I should.
Just take a look at who is in their Top-5 in minutes played this season: Theo Maledon (Rookie), Darius Bazley (Sophomore), break out player Lu Dort (Sophomore), Kenrich Williams (3 Years Experience), Isaiah Roby (Sophomore). [Shout out to Rob Hessing for pointing that out this morning!] They're fully committed to that youth movement - and it shows in some of their stats. For one, they're the worst team in the league when it comes to turnovers, coughing the ball up over 16 times a game. They're in the bottom five in both two point and three point percentages while also taking a decent amount of both. Jacking shots is timeless but for a team as young as the Thunder are, it's also probably expected. Oh, also, they're worst in the league in free throws as well, so, yeah woof. They're 7th in the league in pace, but bottom of the league in offensive rating and third to last in points scored a game. I wouldn't stan for a GOOD team, would I??
This game overall is going to be rough on the eyes. I could see either side blowing the other out just as readily as I can see this coming down to the wire - though I suspect that if it comes down to a final shot, the score is going to be like 89-87. The Thunder all about promise and they have it in spades. They just don't promise you're going to enjoy watching them very much this season.
Predictions
Someone is going to get all the way through the preview and realize that I haven't even once mention Poku. Well, guess what jerks, he's probably not playing tonight because he bonked his popsicle stick knee on something. I'll gush over him another day.
Buddy Hield takes 25+ shots.
Kings: 112, Thunder: 99