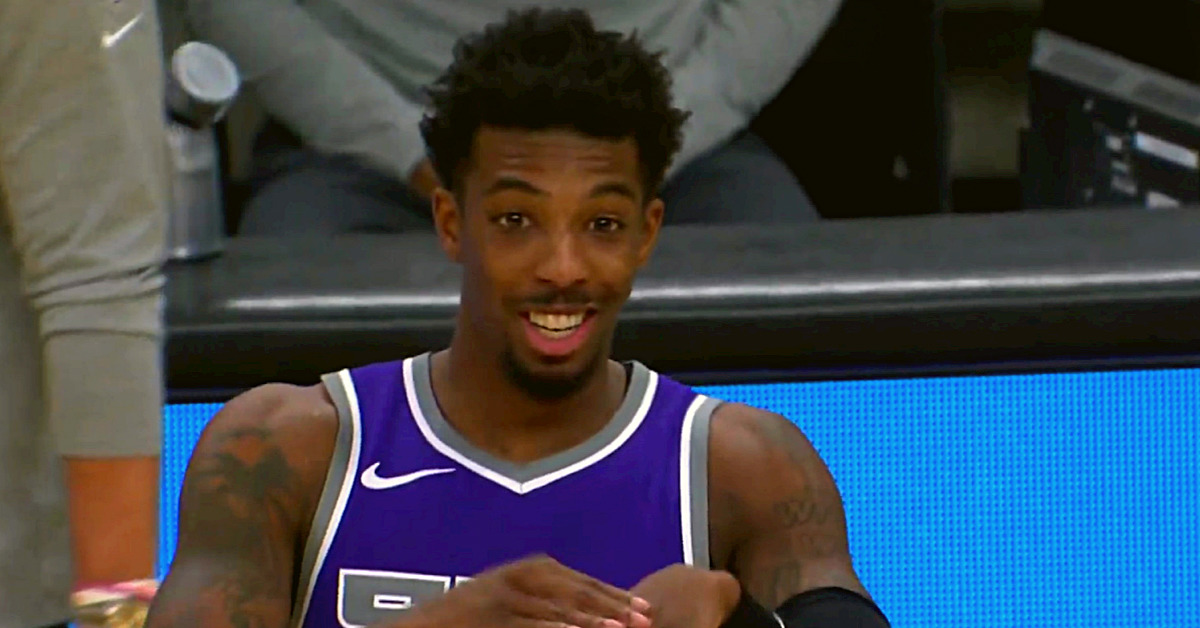 Don't look now but the Sacramento Kings are streaking. The Kings won their fifth straight game, and tonight's 132-115 victory over the Spurs is easily the most impressive of the bunch. Seven Kings finished with double digit points, led by De'Aaron Fox's 23 points. Richaun Holmes (23 points and 12 rebounds) and Tyrese Haliburton (15 points, 10 assists) both had double-doubles, and Buddy Hield had a very efficient 20 points as well.
The Kings had a very good night from long range, making 18 of 36 three pointers to just 10 of 27 for San Antonio. The Kings also got to the line more, making 20 free throws to San Antonio's 11. The Spurs hung in there in part thanks to a 22 to 6 advantage in 2nd chance points, but Sacramento was too efficient in the end.
Sacramento's trade deadline is also looking better and better as Delon Wright, Terence Davis and Moe Harkless all played significant minutes off the bench and each had their moments. Wright scored just 2 points in 22 minutes, looking tentative and deferential at times, but still added 5 assists, 4 rebounds and a steal. Terence Davis led the bench in scoring with 14 points, shooting 3 of 5 beyond the arc. Harkless chipped in 13 points in just 14 minutes and also made three triples.
The Kings also weathered several runs by the savvy Spurs. At one point in the third quarter, Sacramento held a 19 point lead, only to see it dwindle all the way to just 6 points in a matter of minutes as DeMar DeRozan and Rudy Gay started getting it going. San Antonio eventually got the game down to just one possession after Drew Eubanks made a layup to cut the lead to 104-101 with 9:24 remaining.
Then something that has been rare to see in Sacramento for the last decade happened. The Kings started playing defense.
Terence Davis, Tyrese Haliburton, De'Aaron Fox, Moe Harkless, Richaun Holmes and even Buddy Hield at times disrupted several San Antonio possessions, forcing turnovers that led to fast breaks and getting stops when it mattered. The Kings pushed the lead back to double digits and didn't look back.
Kings are running on the break 👑 pic.twitter.com/FOaSTeuXeo

— Kings on NBCS (@NBCSKings) March 30, 2021
This was an important game for Sacramento to keep their dream of the playoffs alive, and they didn't back down from the challenge. Sacramento is playing really good basketball right now, but they have to keep their eye on the prize. They get these same Spurs again next on Wednesday, and if we know Pop, he'll be making some adjustments.
Random Obervations
Tyrese Haliburton is an absolute wunderkind. Some of the passes he made tonight were unreal. He's got really good chemistry with Richaun Holmes as well, as the two of them killed the Spurs down the stretch with simple pick and roll action. It feels really good to finally hit on a potential second star in the draft.
Speaking of stars, De'Aaron Fox is one. While tonight wasn't up to the unreal standards he had been setting, Fox still came through in the clutch, slamming the door shut on San Antonio and locking the deadbolt and latch for good measure.
Buddy Hield's stats aren't eye-popping in this game, but this was one of the best games of his career because he was contributing on both ends of the court. He had some possessions guarding DeMar DeRozan where DeMar hit some tough shots, but he kept with it and wasn't giving up easy looks. He also had a couple nice takes to the rim as well. Buddy seems to do a lot better with Tyrese and De'Aaron both in the starting lineup taking all the playmaking opportunities so he can focus on doing what he's best at: scoring.
Speaking of another guy that should probably focus on what he's best at, Terence Davis had a good game overall, especially since he hit his outside shots, but please don't ever dribble for more than five seconds ever again. In the first half he had multiple possessions where he was a complete black hole on offense. Part of that is probably his lack of chemistry with the team so hopefully that goes away as he gets more comfortable with his role.
Who knew Moe Harkless could still play? I totally disregarded Harkless' addition to the team, but in limited minutes he can hopefully provide some nice depth as a 3 & D player. Harkless strikes me as the type of guy that past Kings teams in the "Can he play SF?" era would have acquired to start and play big minutes. Thankfully this team doesn't need that.
These games have been fun. More of this please.